Erik Kratz once made $2,000 on a dare to faceplant during Opening Day introductions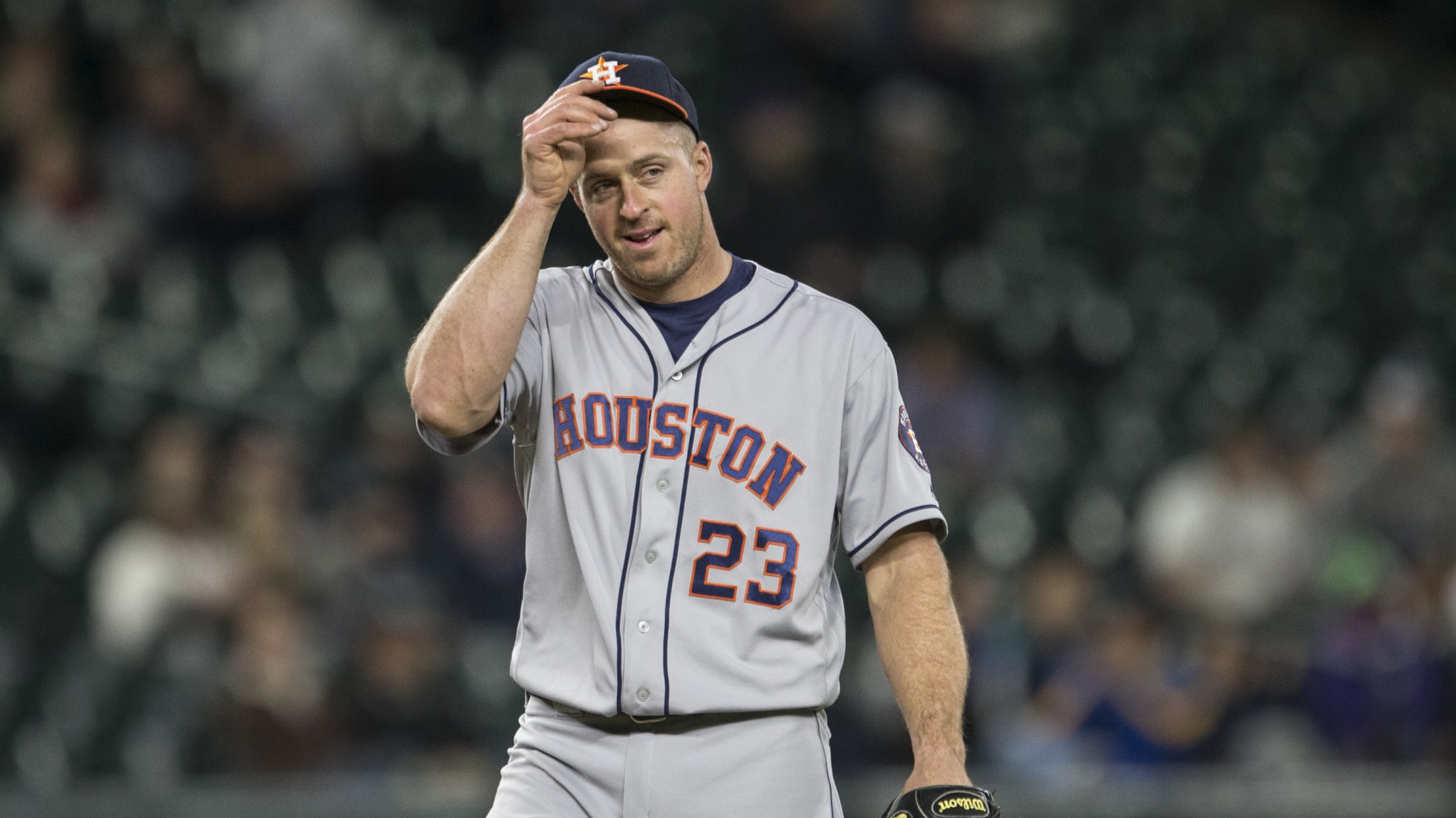 SEATTLE, WA - APRIL 26: Erik Kratz #23 of the Houston Astros, whose position is catcher, reacts while pitching eighth inning of a game against the Seattle Mariners at Safeco Field on April 26, 2016 in Seattle, Washington. The Mariners won the game 11-1. (Photo by Stephen Brashear/Getty Images) *** Local Caption *** Erik Kratz (Stephen Brashear/Getty Images)
The Brewers were off on Thursday, as they rested up for the critical Game 6 of the National League Championship Series, which will be back at Miller Park on Friday. If the Brewers lose, their season will be over, but if you're wondering whether veteran catcher Erik Kratz is tense, you don't have anything to worry about.
ESPN's Buster Olney relayed a funny story and video on Thursday night about one of Kratz's previous stints around the Majors. In 2016, he began the season on the Astros' Opening Day roster. Supposedly, one of his teammates offered up a cash prize to anybody willing to faceplant during introductions.
The journeyman happily accepted:
Heard a classic story about the highly respected and greatly appreciated Erik Kratz today: When the Astros went through Opening Day intros in 2016, an Astro offered $1,000 to anybody who would do a face plant. Kratz: I'll do it. And this is what followed: pic.twitter.com/jDzct3iMWj

— Buster Olney (@Buster_ESPN) October 19, 2018
Kratz was quick to confirm the story to Olney -- albeit with a slight edit:
$2,000. But I would've done it for $250

— Erik Kratz (@ErikKratz31) October 19, 2018
Amazing. That's why Kratz is so easy to love.
We have to wonder, though: What was Kratz's reaction in the clubhouse upon winning the dough? We're guessing it was a combination of this ...
... and the infamous Johnny Manziel money sign.
Either way, it's clear that Kratz is taking business advice from Creed Bratton. It makes sense, as Kratz later followed Bratton to Scranton, where he began the 2018 season before moving on to glory with the Brewers.
Teams in this article:
Players in this article: