The best moments from the Brewers' win streak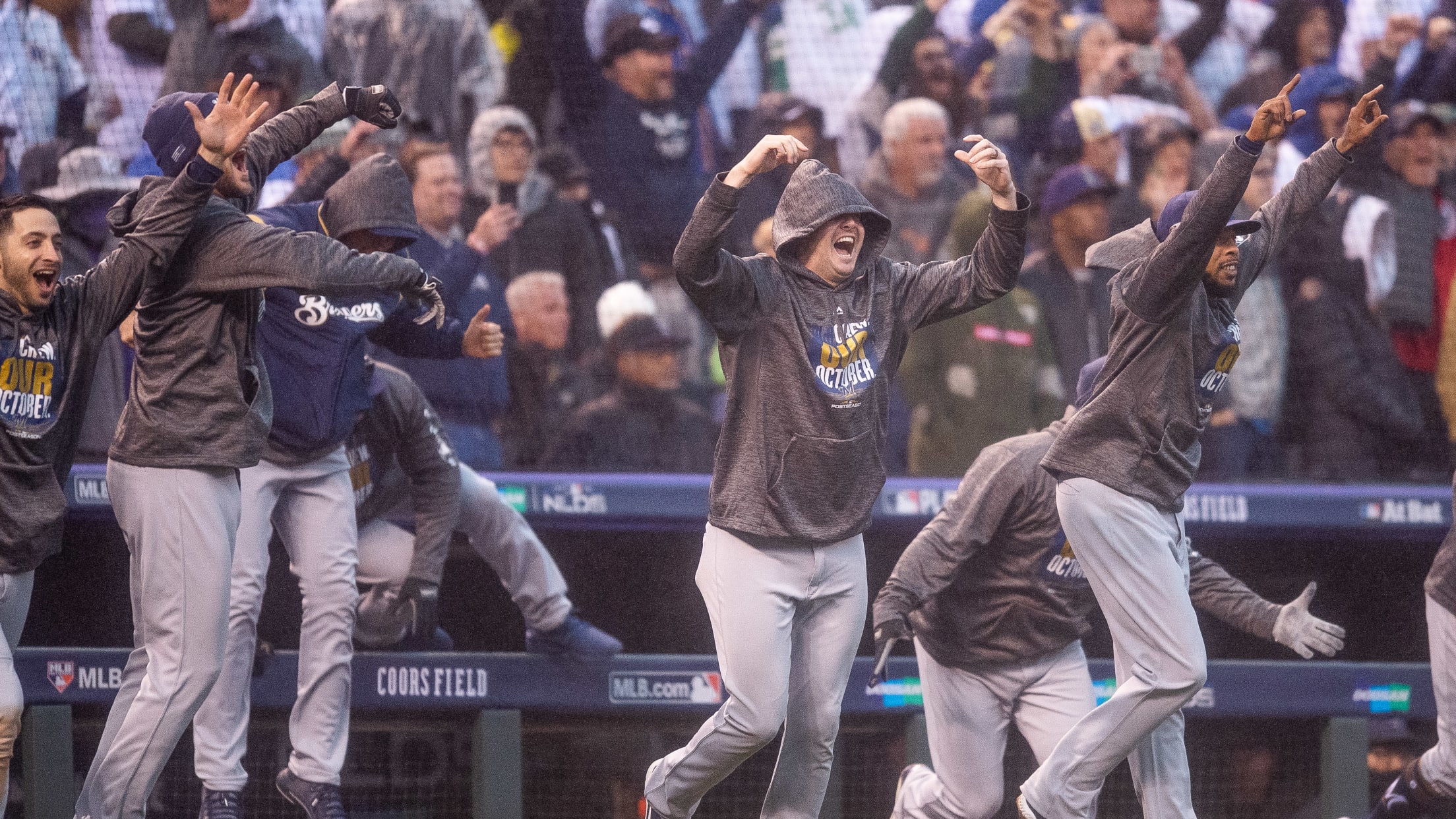 (Dustin Bradford)
Perhaps the most basic reality of sports is that winning makes teams feel good, and losing makes teams feel bad. The difference in atmosphere in a Major League clubhouse following a win compared to a loss is stark, and that's true at any point in the season. As the World Series draws nearer and the stakes become higher, winning and losing can feel all the better or all the worse.
The Milwaukee Brewers have decided to stop losing at the best possible time in the baseball calendar, and the spirits of the team's players and fans are at an exceptionally high level. The Brewers last lost on Sept. 22 when they fell, 3-0, against the Pirates in Pittsburgh. Since that Saturday afternoon, the Brewers have won 11 games in a row -- eight in the regular season, and three in the postseason -- with a run differential of +44.
Before the team begins its NLCS against the Dodgers on Friday, here's a look back at the best moments from this magical, seemingly indestructible run by the Brew Crew:
Sept. 20 -- Baker Mayfield announces his support for Christian Yelich's MVP campaign
I 👀 you @bakermayfield ! pic.twitter.com/oRSsmfhnMD

— Christian Yelich (@ChristianYelich) September 20, 2018
This happened right before the Brewers' win streak kicked off, but it seemed to push Yelich to an even higher level of his already-elite performance.The No. 1 overall pick in the 2018 NFL Draft and All-Star outfielder became friendly over this past offseason when they worked out together in Los Angeles. Yelich hit .452/.630/1.097 for the rest of the regular season after Mayfield donned his jersey, helping solidify his case for NL MVP. He didn't slow down much once reaching October either, reaching base eight more times in the three NLDS games against Colorado.
Sept. 23 -- A single wild pitch scores three Brewers baserunners
This was probably the first sign that it was about to be a good few weeks for the Brewers. Sometimes it's better to be lucky than good -- and it's even better to be lucky and good.
Sept. 26 -- A postseason spot is clinched -- with a little more luck
It wasn't quite "three runs on a wild pitch" lucky, but some baserunning slippage by the Cardinals preserved the Brewers' 2-1 lead and clinched a postseason berth for them for the first time since 2011.
Sept. 30 -- Brewers force Game 163; Jesus Aguilar insists that the Cubs "know they got a problem"
Milwaukee completed a sweep of the Tigers on the final day of the season, forcing a Game 163 against the Cubs the following day to determine the NL Central champion. Aguilar launched his 35th home run in the fourth inning, and shared some choice words for his Chicago rivals after the game:
Oct. 1 -- Brewers win Game 163, proving that the Cubs did indeed have a problem
Behind the first career four-hit game for Orlando Arcia (AKA the best dabber in baseball) and three more hits from Yelich, the Brewers defeated the Cubs, 3-1, at Wrigley Field to clinch the NL Central crown.
Oct. 4 -- Brewers walk off in extras in Game 1 against the Rockies; Hernan Perez fails to properly execute the celebratory Gatorade bath
You had one job, Hernan. Come on.
Oct. 6 -- Brewers clinch a trip to the NLCS; Bob Uecker parties with the team
After two victories in front of the home Miller Park crowd, the Brewers traveled to Denver and emphatically completed the series sweep with a commanding 6-0 performance over the Rockies. Thirty-eight-year-old catcher Erik Kratz delivered a couple clutch hits, and the postgame celebration featured legendary radio broadcaster Bob Uecker getting in on the action:
Oct. 7 and 8 -- Brewers probably hang out and relax while the other teams continue to play stressful postseason games
The NLCS begins Friday. What else is in store for this magical Brewers squad?
Teams in this article:
Players in this article: