We should celebrate all of life's accomplishments with giant bottles of champagne the size of our torso
Eugenio Suárez has become a home run machine this season. The Reds' third baseman has a chance to top 50 dingers on the year -- a number that is usually reserved for only the very best power hitters in the history of the game -- and could wind up with the MLB home run crown this season.
He's already set one record though: On Wednesday night, Suárez went deep for the 48th time, setting the record for most home runs in a single season for a player from Venezuela.
Now, normally a home run is a celebration in itself. You get to circle the bases. You get to jump up and down. Your teammates all await you to slap fives. You can dance. But because this was a very special home run, the Reds' celebration was much better.
When Suárez returned to the clubhouse after the game, his teammates greeted him by singing the Venezuelan national anthem:
#PonleAcento a BRAVÍSIMO. Eugenio Suárez de los @Rojos celebra en grande su HR #48, rompiendo récord en el proceso. #Corte4 #HispanicHeritageMonth

LEE MÁS 👉 https://t.co/xS67hMKVWA pic.twitter.com/ySd9wKhqv1

— Corte4 (@corte4) September 19, 2019
Fittingly, they also gifted him the largest bottle of champagne I've ever seen:
The clubhouse is rockin' for Geno's record breaker! 🇻🇪 pic.twitter.com/rC67CPzcIH

— Cincinnati Reds (@Reds) September 19, 2019
That's not a box, that's a small coffin. It's large enough that I was half expecting someone to jump out of the bottle. This is a literal champagne supernova.
But, of course, that bottle couldn't actually be filled with liquid, right? I mean, that would have to weigh like 80 pounds. It must all be for show and Suárez would get to celebrate with a real, normal-sized bottle ... right?
Wrong:
"It's really special to me."

Eugenio Suarez appreciates all of the support from his @Reds teammates, fans and the Queen City. #BornToBaseball pic.twitter.com/MhC7yxS4WJ

— FOX Sports Ohio (@FOXSportsOH) September 19, 2019
I mean, just look at this: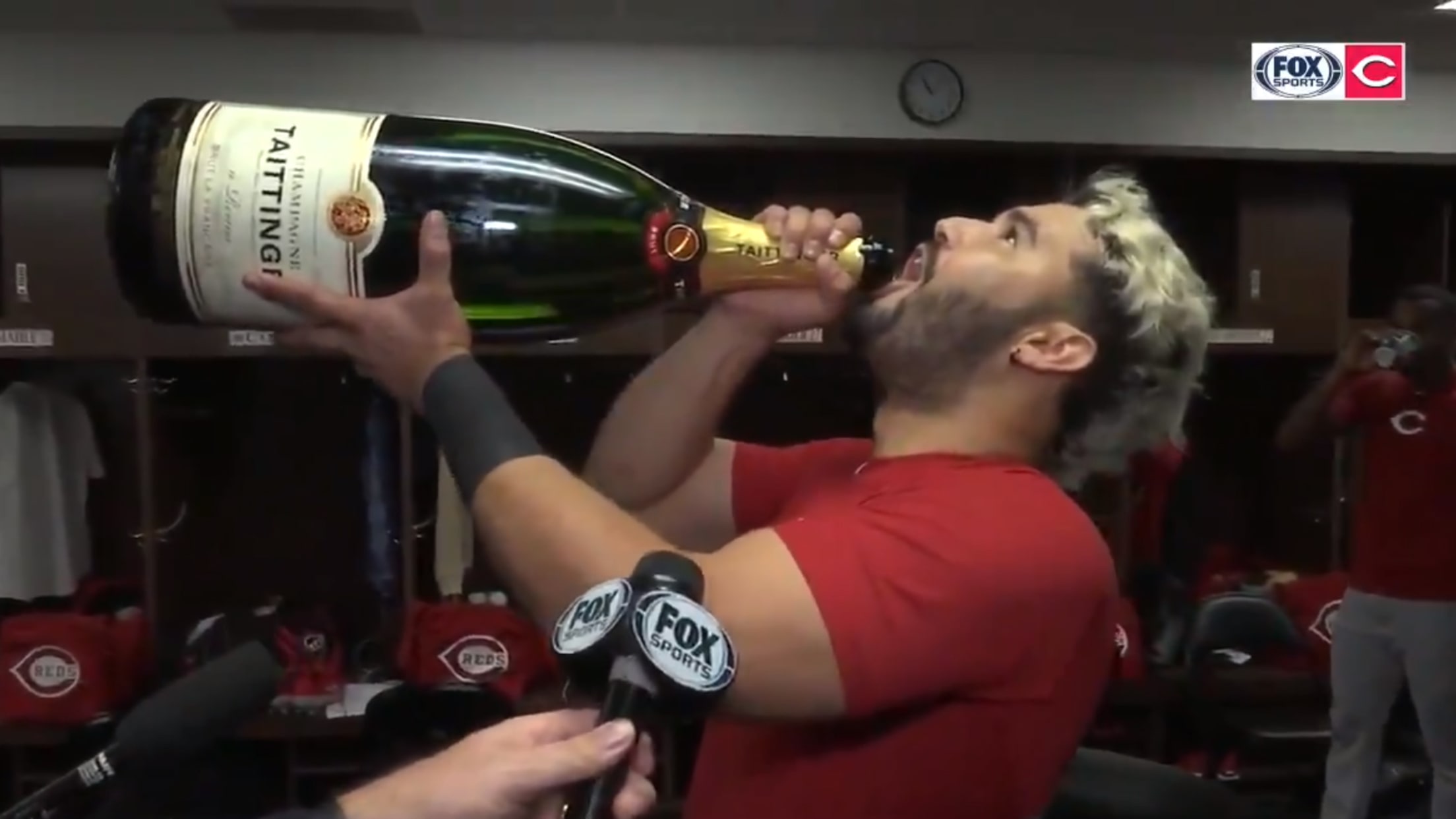 This is amazing. Suárez is a big dude and this thing is roughly the size of his torso. The slugger lifts heavy things every day and he would probably be exhausted in a few seconds trying to hold this thing up.
But it's also proof that we need to be celebrating more accomplishments in life with giant champagne bottles: Birthdays. Anniversaries. Typo-free days. Because giant, human child-sized bottles of champagne just make life better.
Teams in this article:
Players in this article:
Topics in this article: