Let's rank the 2018 All-Stars by how cute their pets are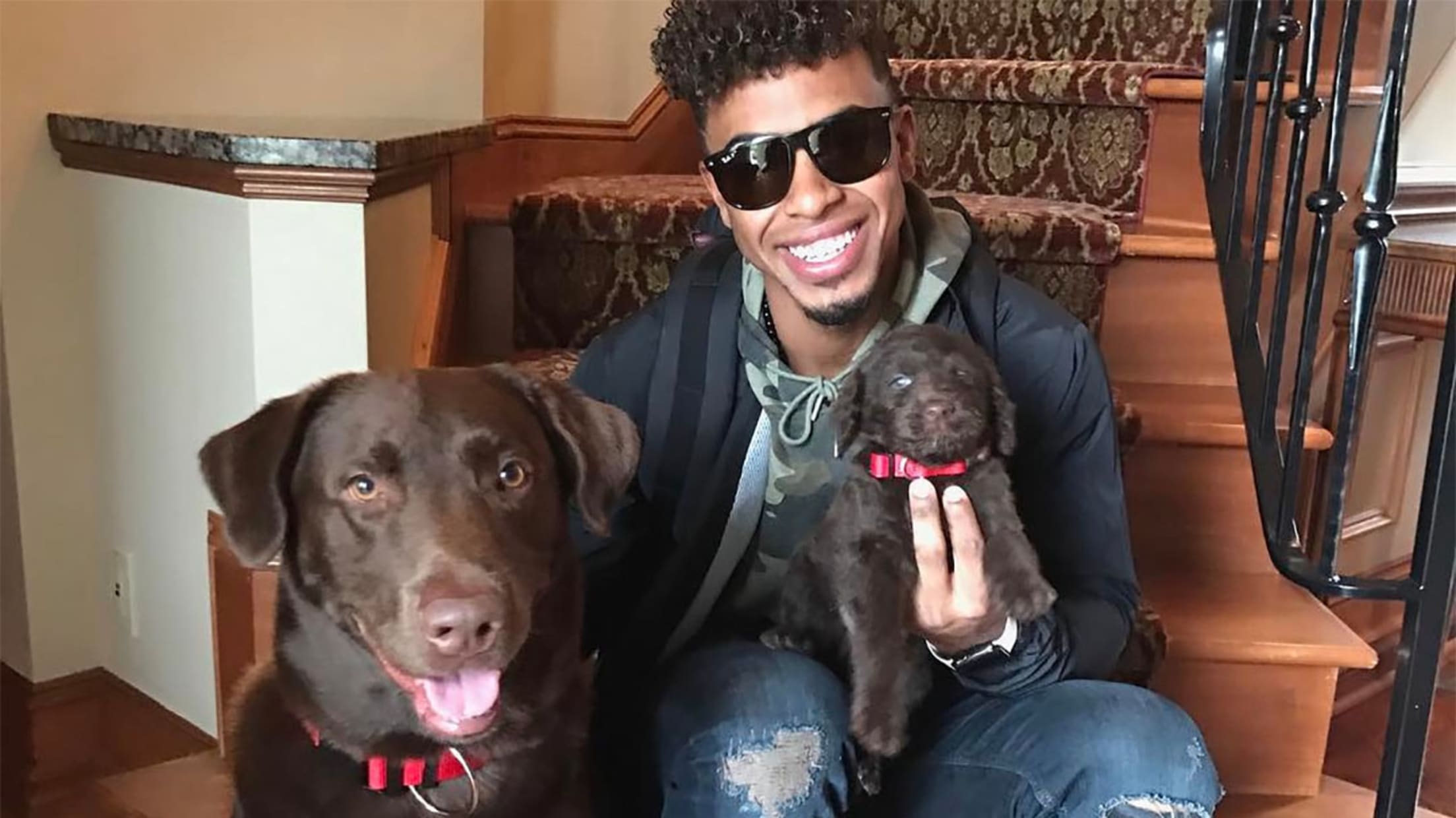 There are a lot of ways to rank this year's class of All-Stars. We could do it by WAR, by time in the league or even by height. But you can click "sort" on spreadsheets yourself. Why not get a little more adventurous? We're here to rank every All-Star by … pet cuteness.
If you don't see your favorite All-Star on this list, it's not because we think his pet is ugly! Now, not every All-Star appears to have a pet, and some, like Joey Votto, have pets that are a bit camera-shy. Additionally, every single one of these pets is cute and perfect, and the difference separating each one is just a fraction of a degree (but the difference is still there, those are just the rules of ranking things).
And now, in ascending order, your 2018 All-Stars ranked by pet cuteness.
He has two dogs named Judd and Sage, and you can see them over at this 2016 story from the Dallas Morning News. Mitch, give us more dog pictures so we can rank you higher.

26. José Ramírez
September 29, 2017
Ramirez has a dog! But we need more photos of it at once.

25. Javier Báez
Maybe Max will make an appearance at the Home Run Derby to shag any fly balls Javy doesn't hit out.

24. Bryce Harper
Harper has two dogs - Wrigley and Tuck.

23. Brandon Crawford
#FamilyPictureDay 👩‍👧‍👧👨‍👦@JalynneC35 pic.twitter.com/0dk88az0M6

— Brandon Crawford (@bcraw35) August 7, 2017
What an adorable family photo.
Back when Treinen was a National, he took a 3,200-mile road trip with his extremely chill bulldog Maxx.

21. Freddie Freeman
#FloridaBound pic.twitter.com/1fgYU9aWK2

— Chelsea Freeman (@chelseafree5) February 22, 2016
Freeman also likes to travel with his pet, a cat named Nala.

20. Josh Hader
Hader's dog Camden appears to love the snow.

19. Patrick Corbin
Corbin's dog knows how to mug for the camera.

18. Gleyber Torres
Meet and love Torres' dog, Achillies.
In 2017, the Dallas Morning News graced us all with a photo of Shin-Soo Choo and his sweet Doberman Ricky.

16. Sean Doolittle
Doolittle and his wife Eireann Dolan have two dogs: Stella and Sophia. But in addition to being extremely cute, they are also, uh ... gassy.

15. Scooter Gennett
Gennett's dog Leo may be the size of Gennett himself, but isn't as good at baseball.

14. Justin Verlander
Verlander and Kate Upton's dog Harley has excellent taste in accessories.

13. Mitch Haniger
Hazel is plenty cute on her own, but Haniger's dog gets a bit of a bump thanks to her puppy cousin.

12. Buster Posey
Chapin is so pleased to be Buster's best friend!

11. Jeremy Jeffress
Dom may be releasing an album soon. Jeffress is both his hype man and album artist.

10. Francisco Lindor
Look at Lindor, Paco and Paco's son. Are you smiling now? You definitely are.

9. Aaron Judge
Judge's puppy's ear is quirked because it can tell we're talking about it.

8. Mike Foltynewicz
Look how thrilled Foltynewicz's dog Rookie is to be on this list!

7. Manny Machado
Machado's dogs can take selfies. That's impressive.

6. Mike Trout
Trout's dog Juno can detect an imposter when she sees one.

5. Alex Bregman
This puppy loves Bregman so much it's melting.
Abreu's dog Limbo is extremely affectionate.

3. Mookie Betts
The ears! Look at the ears!

2. Zack Greinke
We are kitties and Wilsy's a baby.. Couldn't be more perfect! Happy Halloween! Lol pic.twitter.com/wr0hz2WKvh

— EmilyGreinke (@StyledbyEm) November 1, 2015
Greinke and his wife Emily love their cat Wilsy so, so much.

1. Max Scherzer
Scherzer and his wife Erica have four dogs! Four! They cannot help but top the list, because they have an entire pack's worth of cuteness.