Let's celebrate Joey Votto's 35th birthday with some of our favorite Votto moments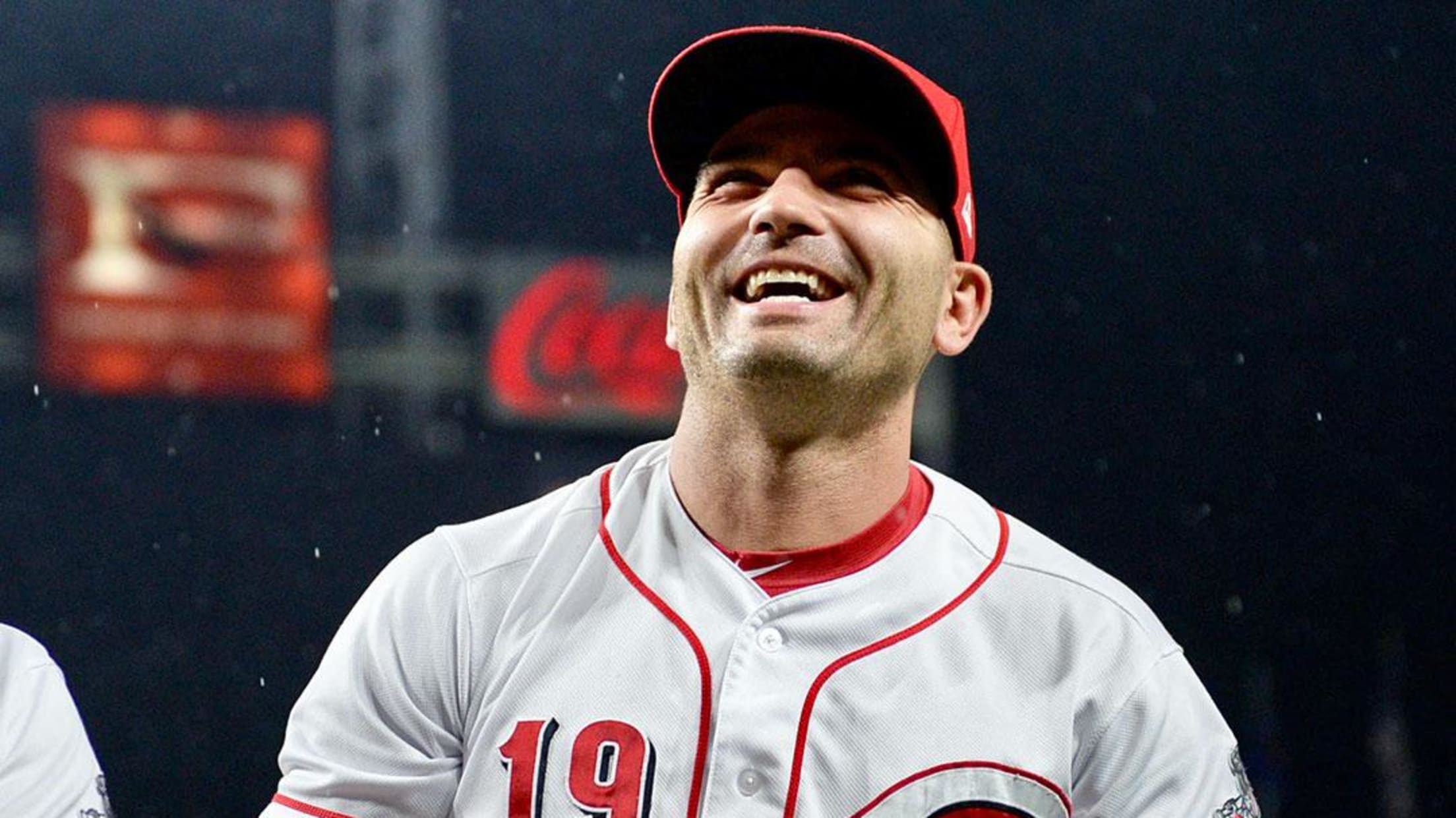 Joey Votto, it is your birthday.
The six-time All-Star and 2010 National League MVP will blow out 35 candles on his birthday cake on Monday, so we wanted to celebrate by listing some of our favorite Votto moments. There were many (seriously, there were a lot) of moments to choose from, so we did our best to highlight some of the more memorable ones.
For those who don't know, Votto is a native of Canada. So when he got the chance to talk about his home on an episode of Intentional Talk, he made sure to pay homage by dressing as a Mountie:
Co-host Kevin Millar could barely contain himself as Votto began the interview. But it made for great television. Make sure you click the link above for the clip -- it's epic.
In a moment where we beg Mr. Votto to never change, we were blessed with an in-game interview with a little help from FOX Sports Ohio's Jim Day:
Votto had the idea for a new segment called "Gym Day with Jim Day." It debuted during the beginning of the regular season and the Reds first baseman wanted to make some tank tops for the occasion. Day wasn't exactly excited about the idea … and Votto asked if it had to do with some sort of "nipple situation."
Hey, it's a valid question.
In 2018, Votto was selected to his sixth All-Star team. You would imagine, knowing Votto's talents, that he'd rack up hits like crazy during the Midsummer Classic. Well, no, that's not actually the case. As a matter of fact, he just got his first hit in an All-Star Game this season. And it just so happened to be a home run.
Have we mentioned how great Votto is to his fans? Let us indulge you.
During a game against the Pirates, Votto spotted a fan wearing a "Votto for President" shirt. Joey wanted the shirt and asked the fan, Kyle Olding, for it. Olding happily gave it up and got something special out of the deal: a signed Votto jersey with a hilarious message on it:
This is Kyle. Joey liked his "Votto for President" shirt so much that he brokered a trade.

Only one problem: Joey Votto can't run for president. So he signed it, "More like Prime Minister!"

Never, ever, ever change. pic.twitter.com/SQsvhVLjqz

— Cincinnati Reds (@Reds) September 3, 2018
So, perhaps a "Votto for Prime Minister" shirt should be next?
This might be the best Joey Votto moment you will ever come across. We talked about how Votto treats his fans, but this was something extra special. Oh, and be sure to grab some tissues.
Before an at-bat during a Reds matchup against the Mets last season, Votto was spotted pointing to the crowd. He was pointing at Walter. Well, we now know him as "Superbubz," a young boy who was stricken with a rare disease known as neuroblastoma. Moments after making eye contact and pointing at Superbubz, Votto hit a home run. Upon crossing the plate, he gifted young Walter his bat and, following the game, also gave him his game-used jersey:
Walter eventually lost his battle with the disease and passed away. Votto attended the memorial.
Votto is a man who always makes sure he is practicing his talents. He offers hitting advice to anyone who will listen, and when it appears nobody is watching, he's still making sure he's mastering his craft.
During a pitching change at Spring Training, Votto was spotted taking some hacks and working on his footwork while Chasen Bradford warmed up on the mound:
Votto. pic.twitter.com/zmA45pbdDi

— Jessica Kleinschmidt (@KleinschmidtJD) March 11, 2018
Does this dude ever stop working?
Did you ever ask yourself what you wanted to be when you grew up? An astronaut? A cowboy? Perhaps a baseball blogger? Well, it turns out that when Votto is done with baseball, he wants to be a school bus driver:
And did we photoshop Votto's face into a school bus? Yes, yes we did.
One thing that Joseph loves to do is be a bit of a heel. Which means, he really likes to deny foul balls to fans:
And he does it a lot:
He even fakes out his own teammates:
David Letterman grew up a Reds fan, so he's very aware of Votto and what he does on and off the field. During an interview with Jerry Seinfeld on his show, "My Guest Needs No Introduction," the two swapped Votto stories:
Jerry Seinfeld and David Letterman reinforce the notion that Joey Votto is, in fact, the most interesting baseball player in the world. (via @Netflix) pic.twitter.com/y9MsMSWSB5

— Cincinnati Reds (@Reds) June 1, 2018
Seinfeld was really excited that Votto knew who he was, and of course, Votto responded in a way that only he can.
We recently found out that Twins pitcher Trevor May spends his offseason pulling 16-hour days gaming. So, what does Votto do? Well, he spent this last offseason putting on weight.
"I tried to get fatter," Votto told reporters during Spring Training. "We did all the testing and I am fatter. I just wanted to take as much time away as I could and relax and really unwind. I needed it. Hopefully it pays off."
That sounds like the dream offseason if you ask me.
Coming up with the perfect gift can be a struggle sometimes -- but not when an All-Star spot is on the line.
In 2017, Votto dressed as a donkey to help former teammate Zack Cozart get on the All-Star roster. He also promised to get Cozart the farm animal as a pet if he got voted onto the team. Well, Cozart got his selection, and he got his donkey. Donald the donkey, to be exact:
Cooper, Cozart's son, named the donkey after his favorite cartoon character and the two got along right off the bat.
What a guy.
Happiest of birthdays to you, Joey. And thank you for being born.
Teams in this article:
Players in this article: