We just witnessed the greatest Home Run Derby ever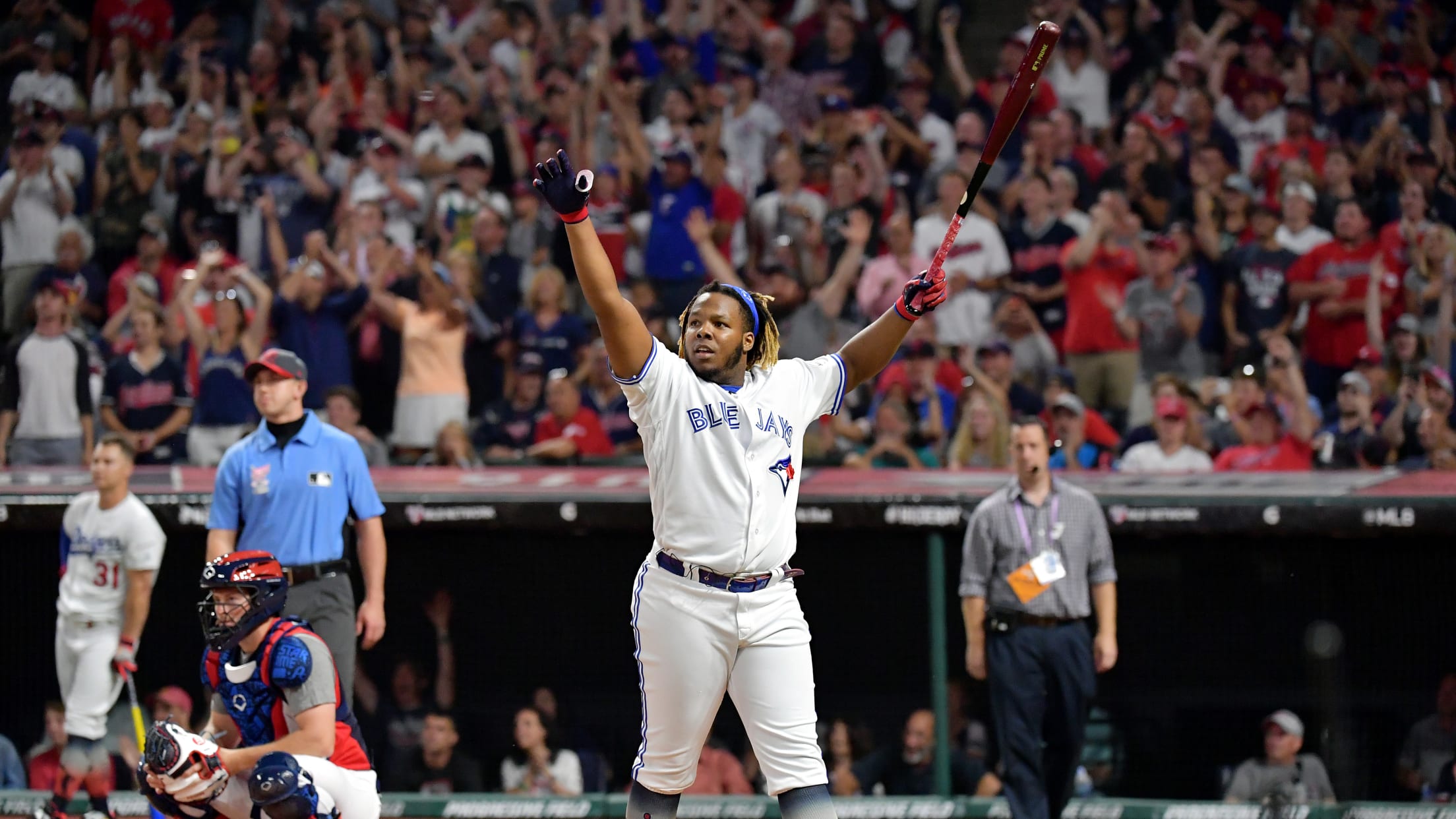 It was the best Home Run Derby ever held. There is simply no other way to describe it. No quibbling with the description, or offering disclaimers. This was a "Fast and Furious" movie, one of the later ones -- all burning rubber and smashing cars in ridiculous set pieces that don't rely on logic -- put on a baseball field.
So, sorry, Todd Frazier, but winning the Derby in front of the home crowd as time expired is a footnote now. Move over, Ken Griffey Jr. and your perfect left-handed swing. Even Bryce Harper's furious comeback last year with his Dad on the mound had nothing on the insane one-ups-manship in the head-to-head matchup between Vlad Guerrero Jr. and Joc Pederson.
It's hard to compare records across Derbies. But Guerrero, whose Home Run Derby participation was preordained since he was a young boy in an oversized Expos jersey, took Josh Hamilton's seemingly-untouchable 28-homer record down in the first round with 29 dingers. It made viewers feel almost bad that Matt Chapman had to face off against him -- like the way you feel bad for the recorder-playing kid at the school talent show.
VLAD JR. #HRDerby pic.twitter.com/q5uDsjaDU5

— MLB (@MLB) July 9, 2019
And then, in the next round, Guerrero hit 29 dingers again, falling just short of the mythical 30 that he had set in his sights. It was supposed to be over. I mean, Guerrero had set a record and then tied it.
Instead, Joc did the same -- tying him and the record with nine seconds left in his bonus time.
Already the Derby was in a new world. Guerrero and Joc went into tiebreakers to defeat each other. A one-minute tiebreaker started it off. Maybe the balls didn't fly as far as when Griffey launched them in the thin Coors Field air, but they came awfully close. Still, they were tied.
Guerrero and Pederson went to a swing-off, with each player given three swings to best the other. Once again, there was no difference between the two. Their swings were getting longer, the sweat dripping off their faces more intense. Their muscles must have burnt and screamed, but still they went on.
There is little in baseball, much less previous Derbies, to compare this to. It completely overshadowed the McGwire vs. Barry Bonds event in 1996, when the two went head-to-head over multiple rounds.
If anything, it was most like the ancient Michael Jordan vs. Larry Bird McDonald's commercial, where the two compete against each other with ever more insane shots.
Neither player blinked. Each time the bar was raised, the other matched it. Sports are made for moments like this, but it's rare when those moments actually happen.
Finally, in their third tiebreaker, Guerrero hit two dingers out of his three swings. Pederson didn't, popping up his final swing and looking to the heavens for relief. It was over, Vlad had won.
Thank you for a moment we won't forget. #HRDerby pic.twitter.com/af4glEuxfM

— MLB (@MLB) July 9, 2019
Already, this was the best Derby ever -- forget the outcome.
But still, there was one more round to go.
Guerrero somehow hit 22 more home runs. That was the second-most of any round not featuring the Blue Jays rookie, and he appeared exhausted doing it. He took breathers and timeouts to do it. It gave him a total of 91 on the night -- 30 more than Giancarlo Stanton had managed in 2017 when he seemed incapable of not hitting home runs.
But Pete Alonso, the Mets' bright spot in a season short of them, clocked 23 -- not even needing his bonus time to win. He roared like the Polar Bear he is nicknamed after when the final ball went.
.@Pete_Alonso20 won the #HRDerby, so by law he gets a BatCast. pic.twitter.com/BUcANOcTjZ

— Cut4 (@Cut4) July 9, 2019
It may not be the ending that we envisioned after watching Guerrero and Pederson slug it out, but that's beside the point. This had comebacks and tiebreakers on tiebreakers on tiebreakers -- all featuring the most enthusiastic young stars the game can offer. And next year, should Alonso, Guerrero and Pederson take part again, we might have some serious pride at stake.
Teams in this article:
Players in this article:
Topics in this article: