Here are six September callups whose stories you need to know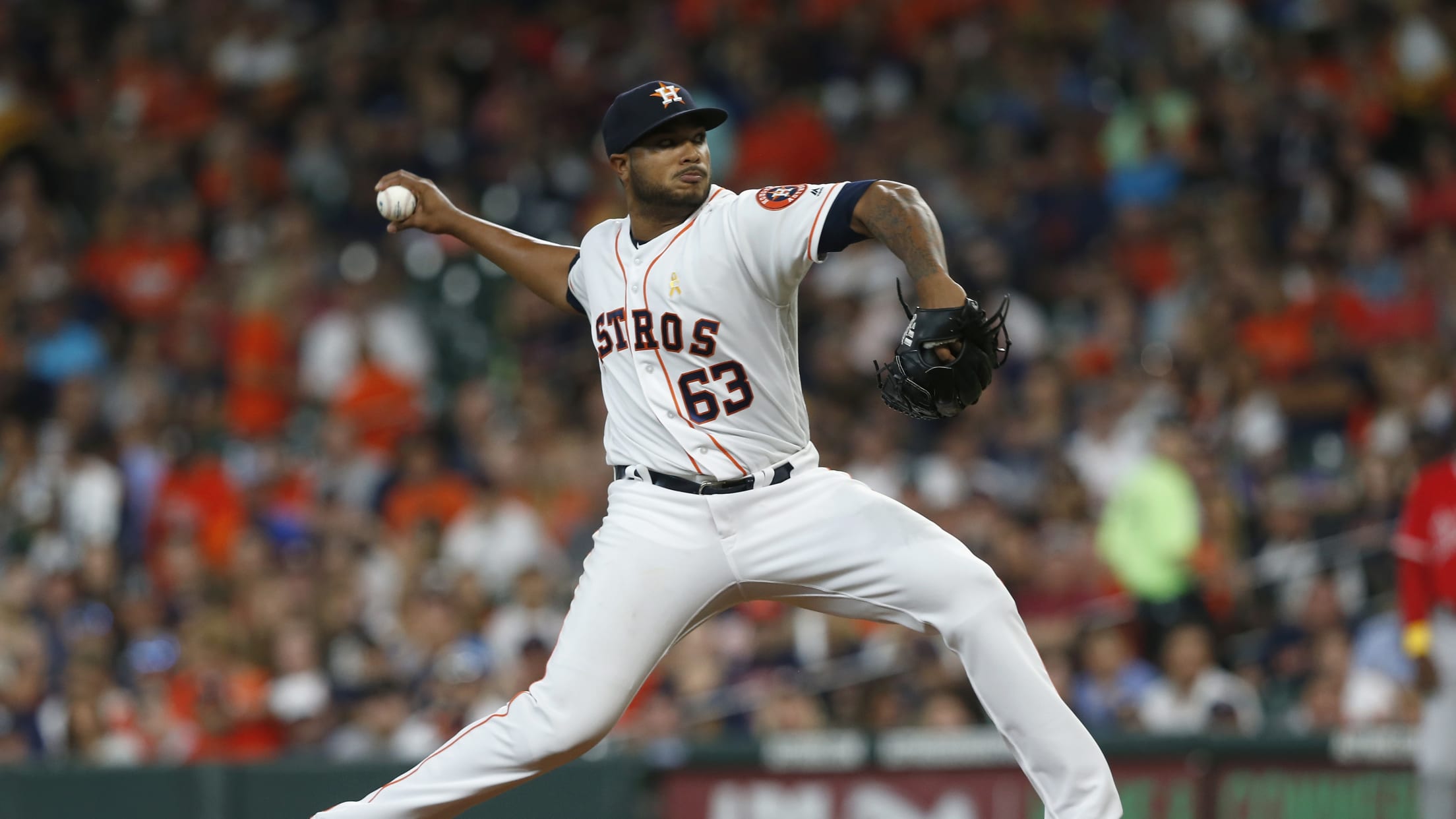 The start of September not only signifies the stretch run, but also the expansion of rosters from the strict 25 to the more generous 40-man limit. Bullpens are lengthened, benches get deeper, and dozens of players are called up from the Minors to make their big league debuts. September callups are always a fun opportunity for fans to get a glimpse at some of the exciting young talent in a team's system on the Major League stage, and allow fans to better visualize how these players fit on the roster going forward.
Not all September callups are created equal. Some are elite prospects with the hype to match, while others are late-round Draft picks performing in the upper Minors. No matter the background, these players earned their big league callup for a reason. These are the six September callups we can't wait to watch down the stretch:
2B/OF Tim Locastro -- Los Angeles Dodgers
Originally drafted in the 13th round by the Blue Jays out of Division III Ithaca College in 2013, Locastro was acquired by the Dodgers in July 2015 in exchange for international bonus slot money ultimately used to help Toronto sign Vladimir Guerrero Jr. Three years later, Locastro has developed into an intriguing bench bat thanks to his speed and positional versatility. But it's not just his solid bat and defense that make him appealing: Locastro also has been hit by more pitches than virtually anybody in professional baseball since the start of his career. He's been beaned 154 times in 568 career Minor League games, including 18 over the past month alone!
OF Gabriel Guerrero -- Cincinnati Reds
Vladimir Guerrero Jr. isn't the only Minor Leaguer related to Hall of Famer Vladimir Guerrero with big league dreams: His nephew, Gabriel, has had a much more gradual ascent up the Minor League chain, and is poised to make his MLB debut with Cincinnati. The Reds are actually Gabriel's third organization, after he signed with the Mariners as a 16-year-old out of the Dominican Republic back in 2011. Predictably, yet still incredibly, he moves, swings and celebrates just like his uncle. Here's a home run he hit in Spring Training with Seattle back in 2015:
Gabriel may not come with the same level of gargantuan expectations as his cousin, Vlad Jr., but he does also wield a legitimately potent bat. The 24-year-old was hitting .292 with 17 home runs at the time of his callup.
C Eric Haase -- Cleveland Indians
While Yan Gomes and Roberto Pérez remain the primary duo behind the plate for Cleveland, the club's July trade of top catching prospectFrancisco Mejía to San Diego suggested that if the Indians do have a catcher of the future in mind, it may just be Haase. The 25-year-old was a seventh-round pick out of a Michigan high school back in 2011, and has slowly developed into one of the more underrated catching prospects in the game.
His calling card is his power, which has resulted in 59 home runs over the last three seasons. He even showed it off in camp when he hit three dingers with the big league club, including a grand slam:
Haase got his first big league callup on Saturday.
OF Victor Robles -- Washington Nationals
The No. 5 prospect in the game is the highest-ranked prospect to make his debut this September. Robles was also a September callup in 2017, when he helped the Nationals with his speed and defense in the outfield. Entering 2018, he was supposed to be the team's super-young outfield phenom before an elbow injury and Juan Soto happened.
Now he's healthy again, and with Bryce Harper set to become a free agent in the offseason, instances of a Robles-Eaton-Soto outfield could well be a glimpse into the Nationals' future. That's a future that most definitely will include some excellent defense.
RHP Josh James -- Houston Astros
A 34th round pick by the Astros in the 2014 MLB Draft, James sort of came out of nowhere in 2018 in his second season with Double-A Corpus Christi to get to the point where he ranked as the sixth-best prospect in the Astros' system. He struck out 13.5 batters per nine innings this year and earned a September callup as a starting pitcher. In his debut Saturday, James became the lowest round pick to ever start a game for the Astros.
As for that leap forward, James credits finally finding treatment for his sleep apnea for his transformation into a high-level arm in the system. Since he's addressed the sleeping issue, his fastball has gone from 92-94 mph to the high-90s and sometimes triple digits.
He showed that velocity off in his debut, touching 101 with his fastball -- which he pairs with a slider and changeup -- against the Angels Saturday:
RHP Kyle Wright -- Atlanta Braves
Wright earned his first big league callup roughly 15 months after the Braves selected him with the fifth overall pick in the 2017 Draft. When the 22-year-old Wright makes his debut, he will become the first player from the 2017 Draft to reach the big leagues. Wright was one of the Braves' representatives at the All-Star Futures Game earlier this summer, and appeared out of the bullpen, which will likely be his role for the first-place Braves in September. His future is certainly as a starting pitcher, but it should be plenty entertaining to watch Wright go max-effort in high-leverage situations down the stretch for Atlanta.
Teams in this article:
Players in this article: