Which MLB player would you invite to your Thanksgiving dinner?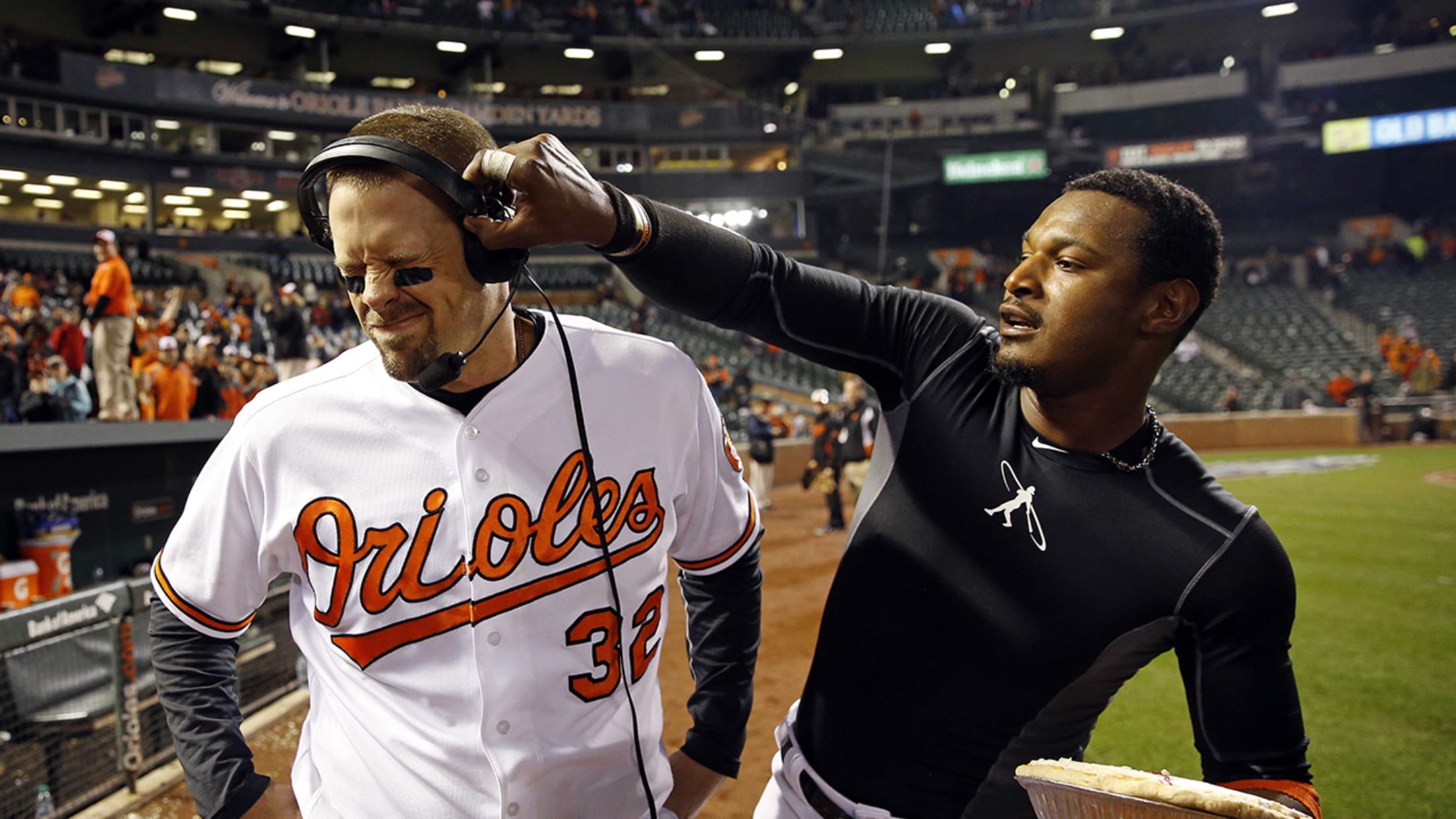 Baltimore Orioles' Adam Jones, right, prepares to hit teammate Matt Wieters in the face with a pie after an opening day baseball game against the Minnesota Twins in Baltimore, Monday, April 4, 2016. Wieters drove in the game-winning run on a single, and Baltimore won 3-2. (AP Photo/Patrick Semansky) (Patrick Semansky/AP)
The following is a transcript of a segment from this week's episode of the Cut4Cast podcast. To hear more of the Cut4 staff's weekly banterings about which position player is the best at pitching or how baseball would work in outer space, subscribe to the Cut4Cast by clicking here.
American Thanksgiving is just around the corner, so it's time to decide who you want around your dinner table. On this week's Cut4Cast, Dakota Gardner, Gemma Kaneko and Chris Landers picked the MLB players they'd most like to have a slice of pie with.
Dakota: The real way to make Thanksgiving … your favorite holiday is by inviting your favorite Major League Baseball players to your Thanksgiving dinner. So, Gemma, you're obviously the best cook on the Cut4 staff. … who from Major League Baseball would you invite to your Thanksgiving dinner?
Gemma: I thought about this, and I had to go through a lot of different options. I decided that I would like to have one couple. I would like to invite Max and Erica May Scherzer.
Chris: Oh, that's a good one.
Gemma: Because Max Scherzer is also a good cook. He really likes to cook. He gets kind of competitive about it, which I think is funny. So, great! Bring some food. Also, do you know what else they have? Dogs.
They seem fun! … You want to have people who are intense but not too intense at your Thanksgiving. My family tradition is that we always play board games -- we specifically play Trivial Pursuit, but we play other board games too -- and it is definitely competitive. I want somebody with that type of competitiveness to be there on that Trivial Pursuit team.
Dakota: … Interesting. OK, Chris, who's on your list?
Chris: So, my thought process was actually pretty similar to Gemma's. At my Thanksgiving, the Landerses also play board games -- in particular, Scattergories -- and so, my first pick in the MLB Thanksgiving Draft would be Yasiel Puig, because absolutely no one else would throw themselves more wholeheartedly into a game of Scattergories than Yasiel Puig would.
I'd imagine him somehow turning it into a game of charades, and just kind of like, dancing around the living room. But my other pick was Francisco Lindor, because first of all, he's a great guy to have around the house. But also, his mom is supposedly an amazing cook. If you remember, she made -- I think it was the TBS broadcast booth -- [she] made them all lasagna during last year's postseason, and while lasagna's not my Thanksgiving meal of choice, I'm assuming it extends to other kinds of dishes. So … I would take the Lindor family.
And also David Price, because of his dog.
Dakota: That's a very nice, happy Thanksgiving.
Chris: Dogs, board games, what else do you need?
Dakota: Yeah, I did not base mine on my actual Thanksgiving, because we're just all going to fight. Like if that was the criteria, who would fit into that, then it would be like, Adrián Beltré, or like, Madison Bumgarner, if I want people who are going to fight with my family.
Chris: Madison Bumgarner just glaring across the table for three hours.
Dakota: He could go instead of me at that point. I thought of just dudes who would be fun. So I thought, Eric Hosmer, Dee Gordon, life of the party.
Chris: Great choice.
Dakota: Right? Adam Jones! He loves food! He will source the best turkey for you.
Chris: And he has pie. We know he has pie.
Dakota: That would be great. Robinson Canó! What a lovely man. He would be great to have at your Thanksgiving. Todd Frazier! What is a Thanksgiving without Todd Frazier?
Chris: So far, Dakota's just listed guys who have the best smile in baseball.
Dakota: Yeah, we want just like friendly dudes.
Gemma: This list could also just double as a list of guys who would help you change a tire.