This top prospect loves baseball so much he watches Spring Training games from the stands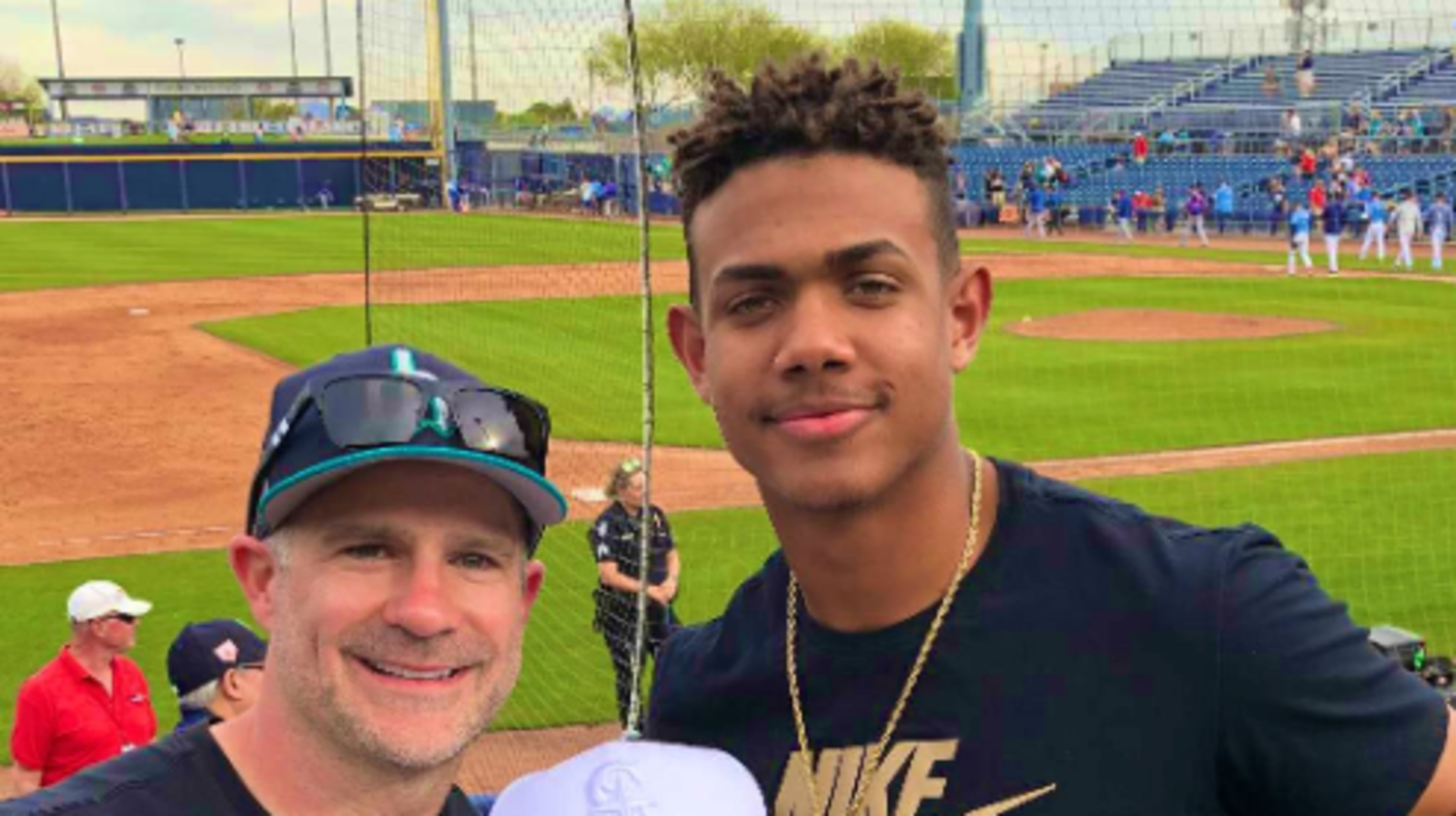 For many reasons, Julio Rodriguez is a guy you should know about. First off, he could be really good one day: The 18-year-old outfielder was amazing for the Mariners' Dominican Summer League team last year, impressing enough to be ranked seventh on the team's MLB Pipeline top prospects list. He's an enormous dude -- look at this picture of him towering over established large baseball man Nelson Cruz -- and can knock the absolute snot out of the ball.
But Rodriguez is way more than just his on-field talent. The vivacious and outgoing teenager has an electric personality and a confidence well beyond his years. He even proclaimed that he intends on hitting at least 37 homers during his rookie season in Seattle, one more than A-Rod hit in his rookie year there.
Just watch this video the Mariners made about him and try not to like the kid.
And so far this Spring Training, his first at the Mariners' complex in Arizona, J-Rod has been a blast of positivity. After finishing his own workouts with the other Minor Leaguers, Rodriguez has bounced over to the stadium to watch the big league club play its Spring Training games. To be clear, this is not a normal thing. Most prospects will head home to rest after a long morning of practice, but not this dude.
Here's Rodriguez's Instagram livestream from Monday of him cheering on fellow top prospect Kyle Lewis as he blasts a tater to left.
Get you a friend who supports your excellence like Julio Rodriguez supports Kyle Lewis pic.twitter.com/GKoutZcIXL

— Lookout Landing (@LookoutLanding) February 25, 2019
And on Tuesday, he sat down and watched most of the Mariners game with a father and son in the stands.
Great day with my boy kellen and his father so much fun watching the game with you guys!!!💯😄 #JRODshow #TrueToTheBlue #GOMS #mariners #marinersfan pic.twitter.com/XQhGlAFB4L

— Julio Rodriguez (@J_RODrodiguez44) February 27, 2019
So if you're heading out to a Mariners spring game anytime soon and you see a 6-foot-3 baseball player-looking dude sitting alone, maybe go sit next to him and strike up a conversation. He might just be an All-Star one day.
Jake Mintz is the louder half of the Cespedes Family BBQ. Despite a torn UCL in his right elbow, he still finds a way to tweet excessively during baseball games.
Teams in this article:
Topics in this article: