Kawhi Leonard's Game 7 buzzer-beater captured the exact magic of an MLB walk-off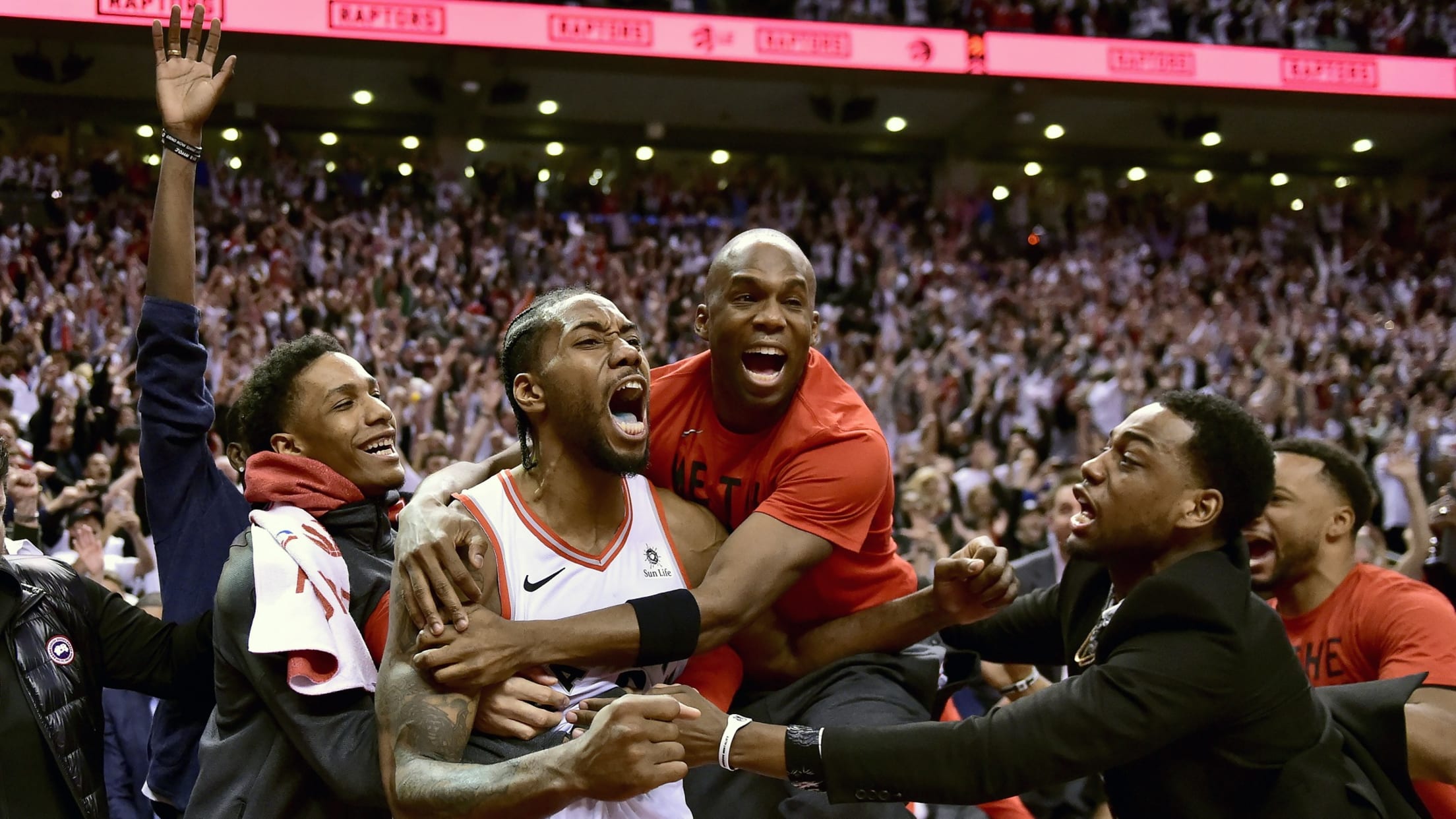 This is a baseball website, but some sports moments are universally appealing by their nature. The essence of the sports "walk-off" is applicable across all major sports, and Sunday night brought with it the latest example in Game 7 of the 76ers-Raptors Eastern Conference Semifinals.
The Raptors won on a last-second shot from Kawhi Leonard, and it was one of the most unbelievable sequences you will ever see on a basketball court:
KAWHI CALLED SERIES! pic.twitter.com/V4AIuMULNO

— Toronto Raptors (@Raptors) May 13, 2019
The emotion. The stress. The release. The nearly four seconds the basketball bounces perilously on the rim, thousands at the arena (and countless others watching at home) waiting, anticipating, hoping.
I watched the replay over and over after the initial shock wore off. Did that happen? Is this reality? This sort of reaction applies to baseball, naturally, all the time. If a guy throws an unexpected no-hitter, for example. Or, in keeping the theme with this piece, a player hits a walk-off homer under incredible circumstances.
The seconds that felt like minutes that Leonard's shot sat in limbo isn't unlike the span of time after a hitter makes contact on what could be a walk-off homer. Is it gone? Will it be caught at the warning track? It's an anxious feeling that either leads to euphoria or heartbreak.
Nothing packs in the drama quite like the playoffs, which was what elevated Leonard's shot to the upper echelon of sports drama, earning energized reactions from Blue Jays right-hander Marcus Stroman and longtime Blue Jay Kevin Pillar.
KAWHI!!! @Raptors

— Marcus Stroman (@MStrooo6) May 13, 2019
omg @Raptors

— Kevin Pillar (@KPILLAR4) May 13, 2019
The walk-off moment is among the most exciting in baseball -- perhaps the most exciting, objectively, which was provided to us in the most stressful circumstances imaginable two Octobers ago:
As fans, we root for our favorite team to persevere, to dispatch the opponent handily and without too much drama -- or, if the situation requires it, to pull off the incredible, as the Astros did in Game 5 of the 2017 World Series, as seen above.
On the flip side, there's nothing worse as a fan (or player, I imagine) than being on the wrong end of a walk-off. All the effort, all the sweat, all the mental fortitude, just taken away in an instant, the game relegated to what if? status.
It's a wistful feeling, for sure, but it's at the heart of the competitive nature of sport to begin with. Most of us who have come to make these athletic contests a part of our lives know what we're getting into ... and those who don't surely will, once their fandom increases and the obsession grows.
For those on the right side of Leonard's shot on Sunday night, or any of the countless amazing baseball moments of a similar nature and with similarly high stakes, it was an unforgettable moment.
For those on the wrong side, it was also an unforgettable moment -- in a way that will inspire nightmares and sore memories for years to come.
But objectively, it was about as unforgettable a sports moment as they come, and that's precisely why the buzzer-beater/walk-off is such a great moment, whenever it happens.
It's why we watch, after all. Maybe next time it'll be my team's favorite player crushing a walk-off homer ...
Adrian Garro joined MLB.com in 2016. Throughout his travels, both Bartolo Colon and Vin Scully have placed their hands on his shoulders. Not at the same time, though. That'd be amazing.
Players in this article:
Topics in this article: