In a record-breaking year, here are the 10 best walk-off homers of 2018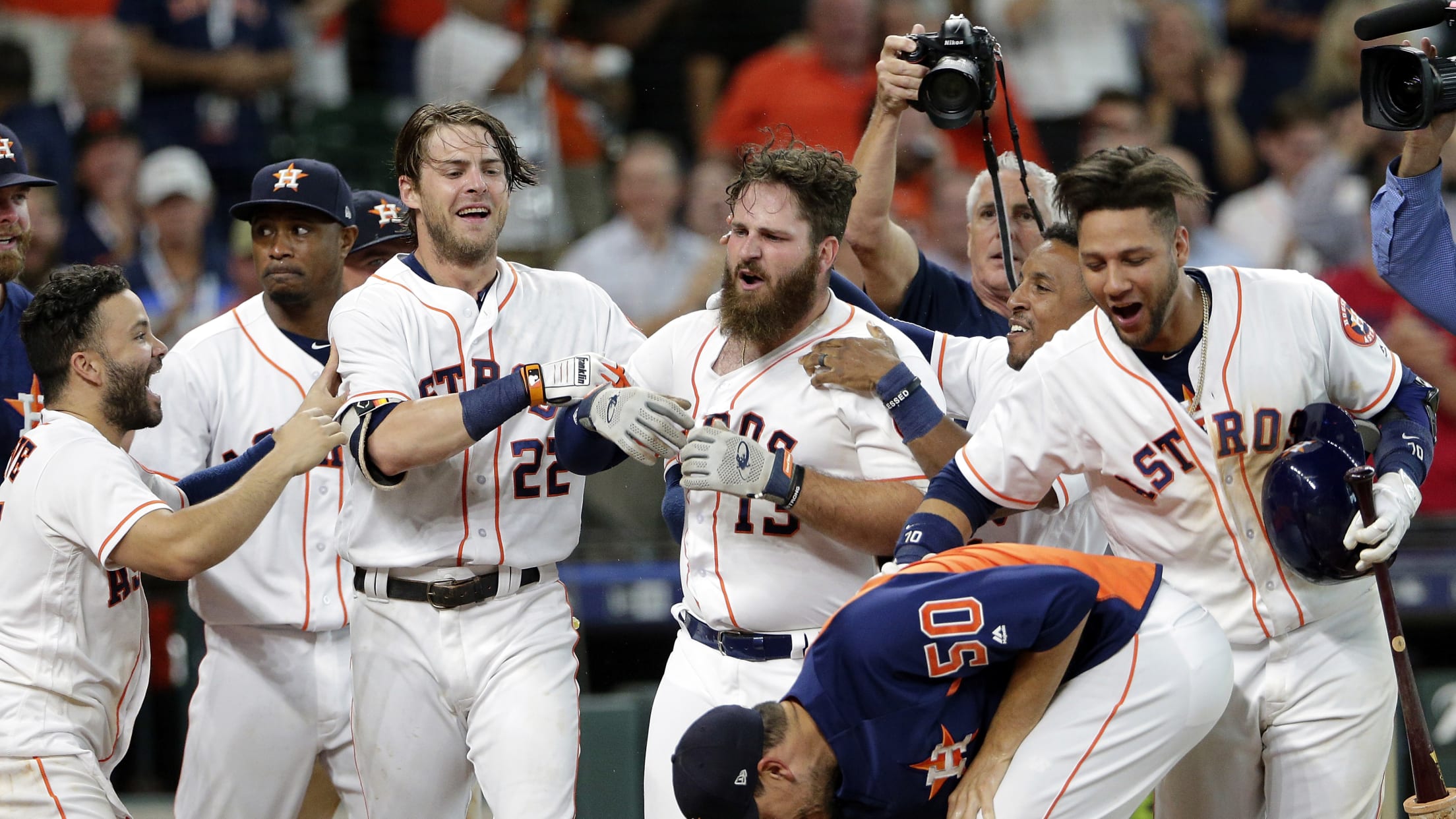 (Michael Wyke)
Tyler White hit a walk-off homer to give the Astros a 5-4 victory over the A's on Wednesday. It was, at 1 percent hit probability, one of the most barely-there homers this season.
But a home run is a home run. It was also the 81st walk-off homer of 2018 -- breaking a record set in 2004 for the most in an MLB season. In honor of this most joyous occasion, let's recap our 10 favorites from this year. Feel free to politely @ us at @Cut4 with yours.
10.) Ryan Braun and Christian Yelich, The Back-to-Back Walk-Off
OK, so it's impossible to have actual back-to-back walk-offs because once you walk-off, you walk off. That's it -- no more baseball. But the Brewers came as close as you can get during a game against the Cardinals.
9.) Adam Jones, The First Walk-off
Jones, perhaps the league's foremost walk-off pie connoisseur, kicked off the record-setting year with a game-winner in the 11th inning on Opening Day.
Nick Markakais also hit one on the first day of the season, albeit a few hours later.
8.) Ryan Zimmerman, The King of the Walk-Off
With a game-winning dinger against the Phillies this year, Zimmerman moved into a tie for eighth place on the all-time walk-off homer list with 11. He needs just three more to pass all-time leader and recent Hall of Fame inductee Jim Thome.
7.) Eddie Rosario, The Capping Off a Three-Homer Day with a Walk-off
You know what's better than simply hitting a walk-off homer? When it's the third homer you've hit on the day.
Rosario did just that during a game against the Indians in June, and, most importantly, he did it for his family.
6.) Andrew McCutchen, The Capping off a Six-Hit Day and 12-Pitch At-Bat with a Walk-off
Yes, that does indeed feel pretty good.
Cutch was ingratiated early on into the Giants-Dodgers rivalry back in April and, after a career day, he ended things in dramatic fashion.
5.) Shin-Soo Choo, The Passing a Legend Walk-off
Choo is having a breakout year, making a strong case that he's the best player to ever come out of Korea. One of his shining moments came when he walked off the Royals back in May and passed the legendary Hideki Matsui for the most big league dingers by an Asian-born player.
4.) Trevor Plouffe, The 16th-inning off Position-Playing Pitcher Walk-off
With no relievers left, Dodgers manager Dave Roberts put in Enrique Hernández to pitch the 16th inning during a July game against the Phillies. Trevor Plouffe, who hadn't hit a dinger in nearly a year, was very thankful for this move. He came up to the plate and rocketed an 84-mph fastball into the right-field seats.
3.) Carlos Gómez, The Performance Art Walk-off
I mean
What else
Do we need
To say
Watch it in all of its brilliance below:
2.) Maikel Franco, The Bat (and Helmet) Flip Walk-off
Look at this GIF. Seriously, just look at it.
Tied 2-2 with the Marlins in the ninth, Franco hit a fly ball to deep left field. He wasn't sure if it would get all the way out, so he carefully watched it ... and then let loose once it hit the stands.
1.) David Bote, The Ultimate Walk-off
It's the kind of thing you dream about while playing Wiffle ball in the backyard as a kid: Ninth inning, bases loaded, two outs, two strikes and your team is down three runs. It's only been done 29 times in MLB history and just seven when the batter, like Bote, is a pinch-hitter.
Teams in this article:
Players in this article: