Gold medalist Laurie Hernandez visited Citi Field and looked really short next to Noah Syndergaard
As not-quite-five-foot gymnast Laurie Hernandez posed next to 6-foot-6 Mets pitcher Noah Syndergaard on Saturday, the top of her head barely approaching the bottom of his shoulders, the Olympic gold medalist laughed.
"Wait," she said. "Is he really tall or am I really short?"
Well, both, though each of them seems suited to their particular height. At just a shade under five feet, Hernandez is one of the world's top gymnasts, a gold medalist in Rio alongside her "Final Five" USA teammates -- one of whom, Madison Kocian, threw out her own first pitch at Saturday's Rangers game. Standing 18 inches taller, Syndergaard is one of Major League Baseball's most dominant pitchers, using his frame to light up the radar gun and/or brand his own catcher.
Yes, this is 6'6" Mets pitcher Noah Syndergaard with 5'0" Olympic gymnast Laurie Hernandez. pic.twitter.com/jXP3z03q2X

— Anthony DiComo (@AnthonyDiComo) September 3, 2016
Saturday, the two met as Hernandez and her family toured Citi Field. The Old Bridge, N.J., native later threw out a ceremonial first pitch, and managed to put her own stamp on it:
"This is amazing," Hernandez said. "Baseball is something that I kind of grew up with. My brother used to do baseball when he was younger. [He] and my dad would watch it all the time, and every so often I'd hop in to watch it, too. So this whole experience is amazing."
The experience included meeting Syndergaard, whom Hernandez named as her favorite player, as well as David Wright, Yoenis Céspedes -- "Ooh!" her family called out when he emerged from the clubhouse -- and others. Puerto Rican Mets catcher René Rivera caught the pitch from Hernandez, who is of Puerto Rican descent and hopes to learn Spanish.
"This is such a great experience," Hernandez said. "Baseball is one of those sports that I think everyone kind of grows up with."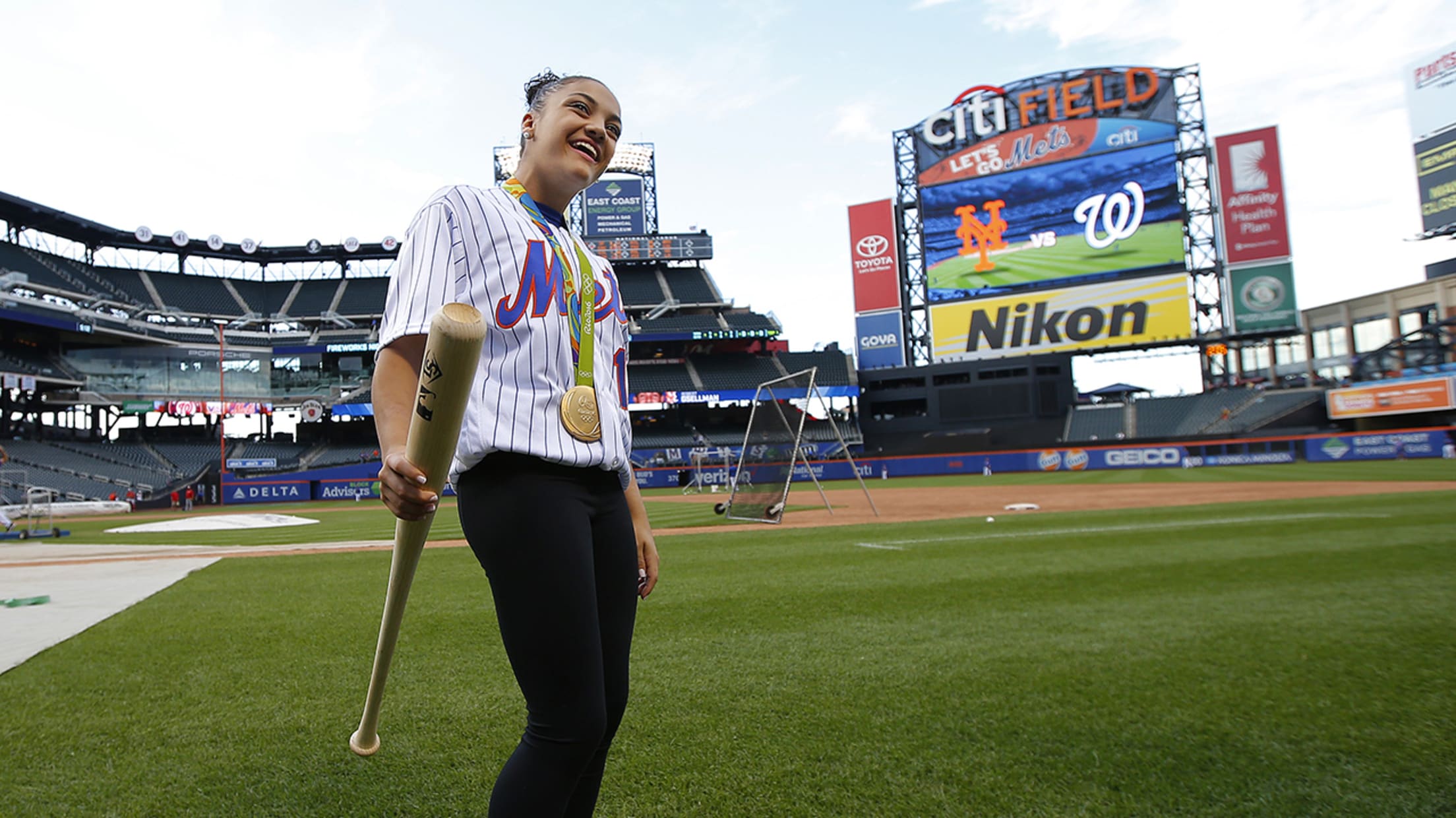 In the two weeks since returning from Rio, Hernandez has fielded countless media requests and appearance calls. She is set to participate on the next season of "Dancing With the Stars," and is about to go back out on the road as part of the Kellogg's Tour of Gymnastics Champions.
There, people like Syndergaard will be looking up to her -- not the other way around.
Anthony DiComo has covered the Mets for MLB.com since 2008. Follow him on Twitter @AnthonyDiComo and Facebook, and listen to his podcast.
Teams in this article:
Players in this article: