How often have the best players in two sports played in the same city?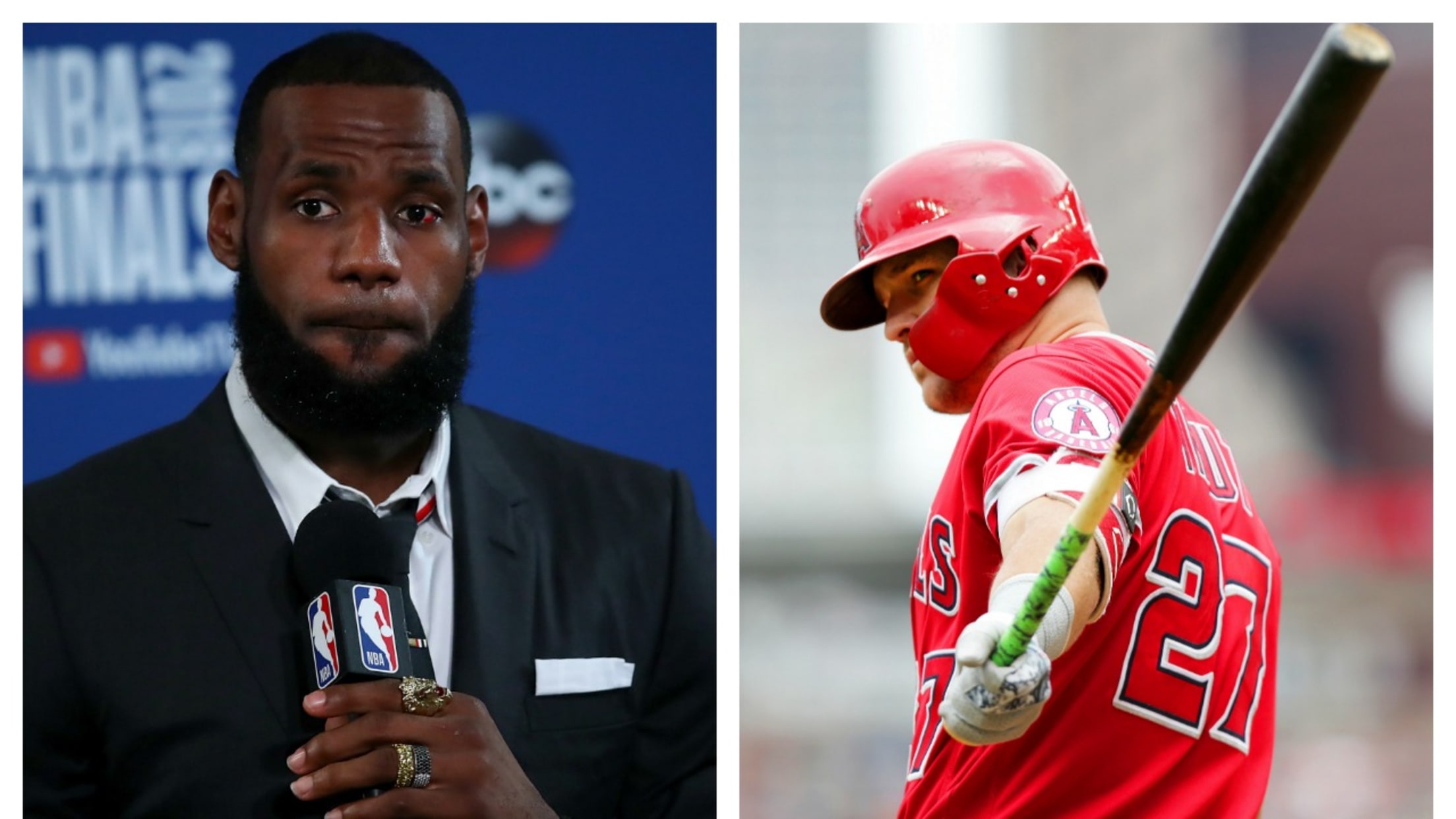 LeBron James upended the basketball world on Sunday, deciding to leave Cleveland and sign a four-year deal with the Los Angeles Lakers. But while it'll take some time to get used to LeBron in purple and gold, at least L.A. won't have to adjust much to watching the best player in a given sport -- after all, they've had Mike Trout in their town for a few years now.
Having James and Trout in the same city is historically rare -- two possible GOATs going to work just a few miles apart. But it's not the first time that one town has been able to lay claim to the best player in multiple sports.
Below are nine of the most notable examples. (If we left off your favorite, be sure to let us know by tweeting at us @Cut4.)
Washington, 2015: Bryce Harper and Alex Ovechkin
Ovechkin's been one of the best players in hockey for years now, and 2014-2015 was no exception. He scored 53 goals, tops in the league, and finished second in MVP voting.
And while he was putting the finishing touches on another awesome season, Harper was having the breakout everyone had been waiting for. Bryce's 2015 is still a little mind-blowing: He lead the league in OPS at 1.109 with 42 homers, and even his popups somehow left the yard.
Minneapolis, 2004: Johan Santana and Kevin Garnett
It's easy to forget now, but for a few years Santana was probably the best pitcher in baseball -- and 2004 was his masterpiece. The lefty and his Bugs Bunny change led the AL in ERA (2.61), WHIP (.921) and K's (a whopping 265 in 228 innings), and he even blanked the Yankees on the road in Game 1 of the ALDS.
Also that summer: Garnett put together the best season of his career, complete with an iconic 32 points and 21 rebounds in Game 7 of the Western Conference Semifinals.
St. Louis, 1999: Marshall Faulk and Chris Pronger
Really, St. Louis almost made this a trio: Mark McGwire followed up his record-setting 1998 with 65 more homers in '99.
Alas, thanks to turn-of-the-century Randy Johnson and Pedro Martinez, he probably doesn't have a claim to being the very best. Guess Cardinals fans will have to settle for just Faulk and Pronger -- both of whom won MVP awards that year, and one of whom helped spawn possibly the coolest nickname in sports history.
Houston, 1994: Jeff Bagwell and Hakeem Olajuwon
Altuve and Harden aren't Houston's only pair of MVPs. Bagwell's '94 might be one of the most underappreciated hitting seasons in baseball history: He slashed .368/.451/.750 (!) with half of his hits going for extra bases. Sometimes, he even hit dingers twice in the same inning:
As for Olajuwon? All he did was average 27 points and 12 rebounds in the regular season, then blow through Charles Barkley, Karl Malone and Patrick Ewing in the playoffs to bring H-Town its first pro sports title.
San Francisco, 1993: Barry Bonds and Steve Young
Bonds arrived in the Bay in December 1992 as the reigning NL MVP and one of the most highly coveted free agents in baseball history. Just a few months earlier, Young had officially overtaken Joe Montana as the 49ers' starting quarterback.
Point is, they both had a lot to prove in 1993 -- and they responded by just going ahead and being the best players in their respective sports. Young threw for over 4,000 yards and ran for 400 more, while Bonds won his second NL MVP Award in a row with a casual 206 OPS+.
Los Angeles, 1988-89: Wayne Gretzky and Magic Johnson
This is about as easy as it gets. Gretzky's first year with the Kings saw him named league MVP for the ninth time in 10 years. And Magic was, well, Magic: He averaged 22 points and 13 assists, was named MVP and led the Lakers to their third straight NBA Finals appearance. No wonder he convinced LeBron to come to L.A.
Boston, 1986: Roger Clemens and Larry Bird
Clemens did just about everything a pitcher can do in 1986: He led the AL in ERA and WHIP, won 24 games, took home the AL MVP and Cy Young Awards and pitched the Red Sox to their first World Series appearance in over a decade. He even set baseball's single-game strikeout record for good measure:
Bird's 1986 wasn't too bad either: He set career highs in assists and steals, took home another MVP and brought Boston his third and final championship.
Cincinnati, 1962: Frank Robinson and Oscar Robertson
Robinson won NL MVP in 1961, but he was even better the next year, leading on-base percentage and slugging percentage (and intentional walks, which seems related). The Big O, meanwhile, was a 23-year-old in just his second full season with the Cincinnati Royals -- and he became the first player to ever average a triple-double over a full season.
Teams in this article:
Players in this article: