When will Albert Pujols reach 3,000 career hits?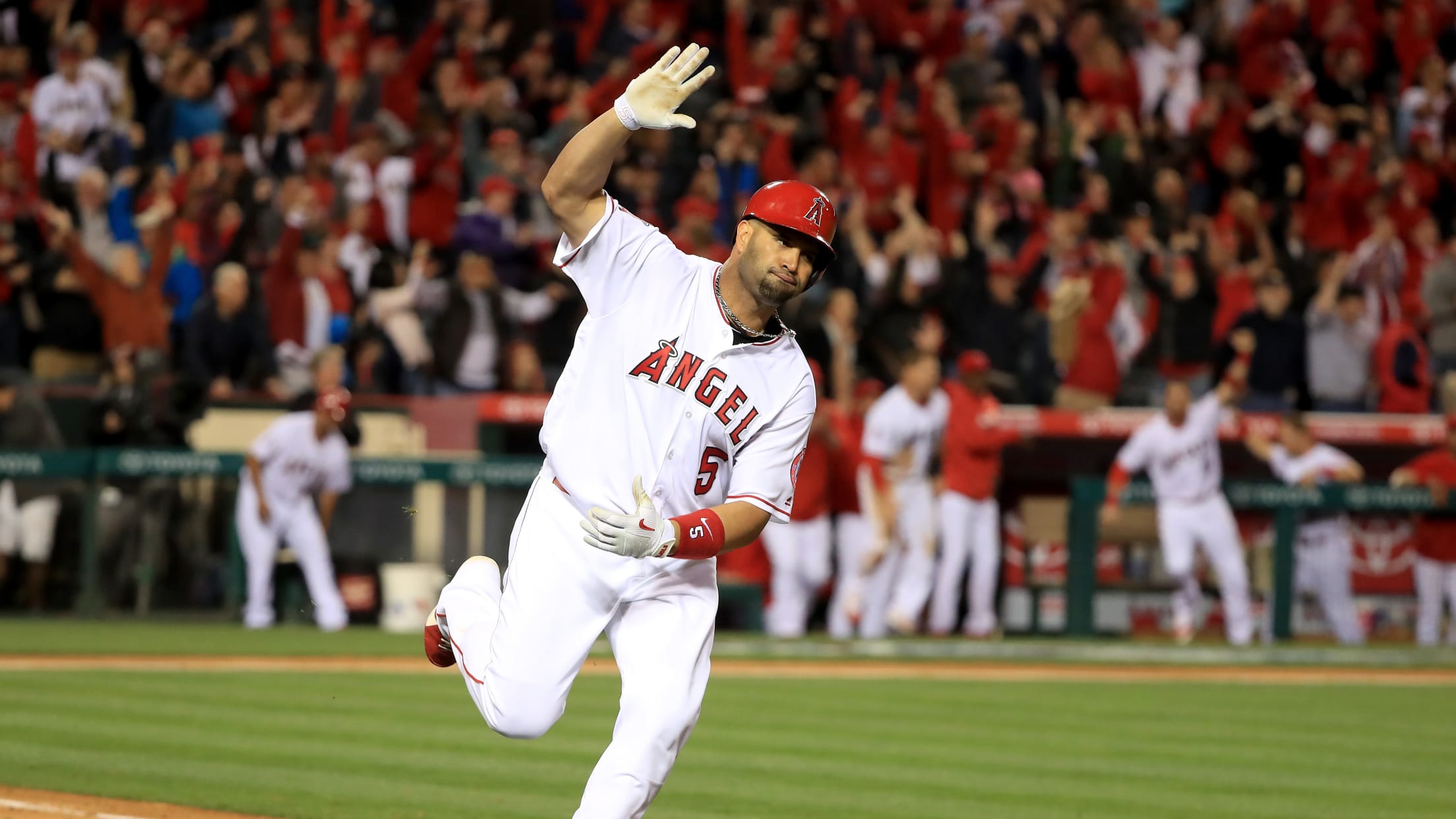 during the inning of a baseball game against the Texas Rangers at Angel Stadium of Anaheim on April 7, 2016 in Anaheim, California. (Sean M. Haffey)
Albert Pujols joined the esteemed 600 HR Club in 2017, launching his 600th career dinger on June 3 off Ervin Santana. With four years remaining on his contract, Pujols, now at 616 career dingers, has a decent shot at reaching 700, but certainly not this year. What is within reach for the future Hall of Famer, however, is career hit No. 3,000.
Pujols currently sits at 2,983 career hits, good for 33rd on the all-time list. Assuming he stays healthy, it is safe to assume his 3,000th hit will come at some point in the first half of the season. Surely the Angels are aware of this fact and are prepared to celebrate -- especially if the milestone hit comes at home -- but nobody knows exactly when the historic hit will occur. You can't predict baseball, of course -- but hey, let's give it a go anyway.
While Pujols has already notched 15 base hits so far this season, he entered 2018 only 32 hits away from No. 3,000. As such, the best way to go about predicting when he'll reach 3,000 is by looking at when he traditionally notches his 32nd hit of the season. More specifically, what number game of the season has he usually gotten that hit? Let's take a look…
Pujols' remarkable consistency actually makes predicting when hit No. 3,000 will come a relatively simple task. On average, Pujols has collected his 32nd hit of the season in the 31st game of the season. The earliest Pujols notched his 32nd hit of the season was Game No. 22 (in his rookie season), while the latest he reached that mark was Game No. 39, in 2016. We can then roughly assume it will be in this range that The Machine will reach the 3,000-hit mark.
Now, Pujols isn't quite the same player he was as a Cardinal, so it has taken him a bit longer to get hit No. 32 with the Angels than it did with St. Louis. The earliest he has reached 32 hits with the Angels has been Game 28, so let's set that as the earliest possible game.
To narrow our prediction further, let's also consider where some of these games are going to be played. Games 28 and 29 are against the Yankees, whose impressive rotation and super bullpen -- while currently struggling -- could be a tough matchup. On the flip side, if Pujols is still searching for 3,000 by Game 36, he'll have a couple of games in hitter-friendly Coors Field to reach the milestone. That also happens to be the site of Ichiro's 3,000th hit back in 2016.
But enough beating around the bush. It's time to muster up some courage and make an official prediction. On average during his time with the Angels, Pujols has collected his 32nd hit of the season in Game No. 35, so we can move up the celebration to before the series in Colorado. In addition, we should also consider that so far in 2018, Pujols has 15 hits in 12 games. With that in mind, let's count on a similar pace over the next month, landing us on Game No. 32: May 3 at home vs. the Orioles.
Book it, Angels fans. Save the date. Mark your calendars. May 3 will be a special day for Albert Pujols.
And if I'm wrong? Well, come on -- you can't predict baseball.
Teams in this article:
Players in this article: