Remember Andrelton Simmons? He's quietly been one of the best players in baseball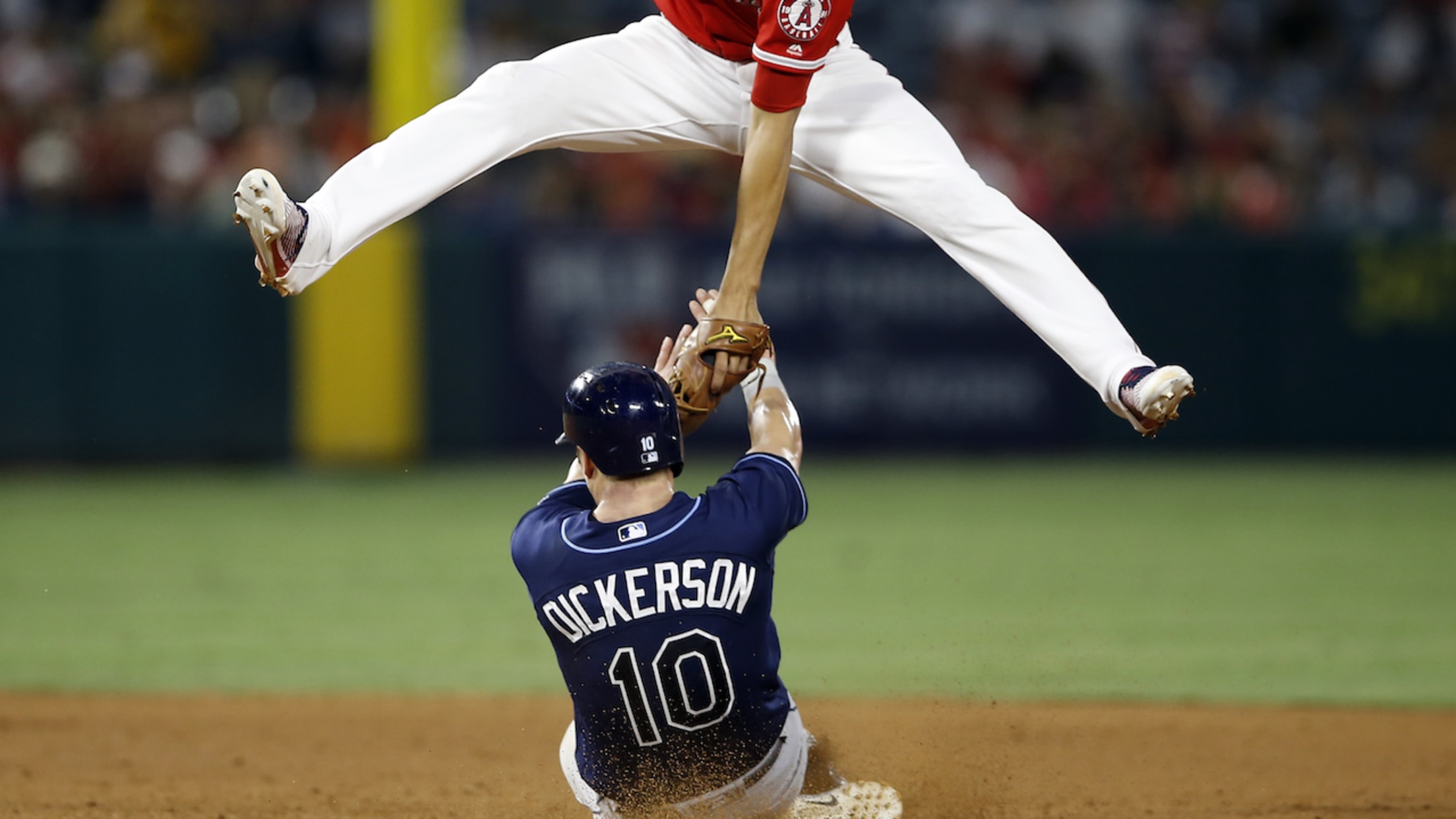 Tampa Bay Rays designated hitter Corey Dickerson slides under Los Angeles Angels shortstop Andrelton Simmons to steal second base on an errant throw from the catcher during the seventh inning of a baseball game in Anaheim, Calif., Saturday, July 15, 2017. (AP Photo/Alex Gallardo) (Alex Gallardo/AP)
From the day he broke into the big leagues with the Braves in 2012, Andrelton Simmons was not just one of the best defensive shortstops in baseball, but one of the best defensive shortstops in baseball history. He was a human highlight reel, finding a new way to drop jaws nationwide seemingly every other day.
Sure, he wasn't anything to write home about at the plate -- his slash line over four years in Atlanta was .256/.304/.362, good for an 85 OPS+ -- but when you can do stuff like this, who cares about OPS+?
And then, somewhere along the line, we all started to forget. Maybe it was the change of scenery: On Nov. 12, 2015, with the Braves rebuilding, Simmons was traded to the Angels for Erick Aybar, Sean Newcomb and Chris Ellis. Maybe it was the rise of a new crop of mold-breaking shortstops, from Carlos Correa to Francisco Lindor to Corey Seager. Maybe we just plain took his defense for granted.
Whatever the reason, Simmons began to fade into the background over the last year or two (the occasional bewildering behind-the-back tag notwithstanding, of course). Which is unfortunate, because we have an important announcement to make: Andrelton Simmons is still around, and he's better than ever.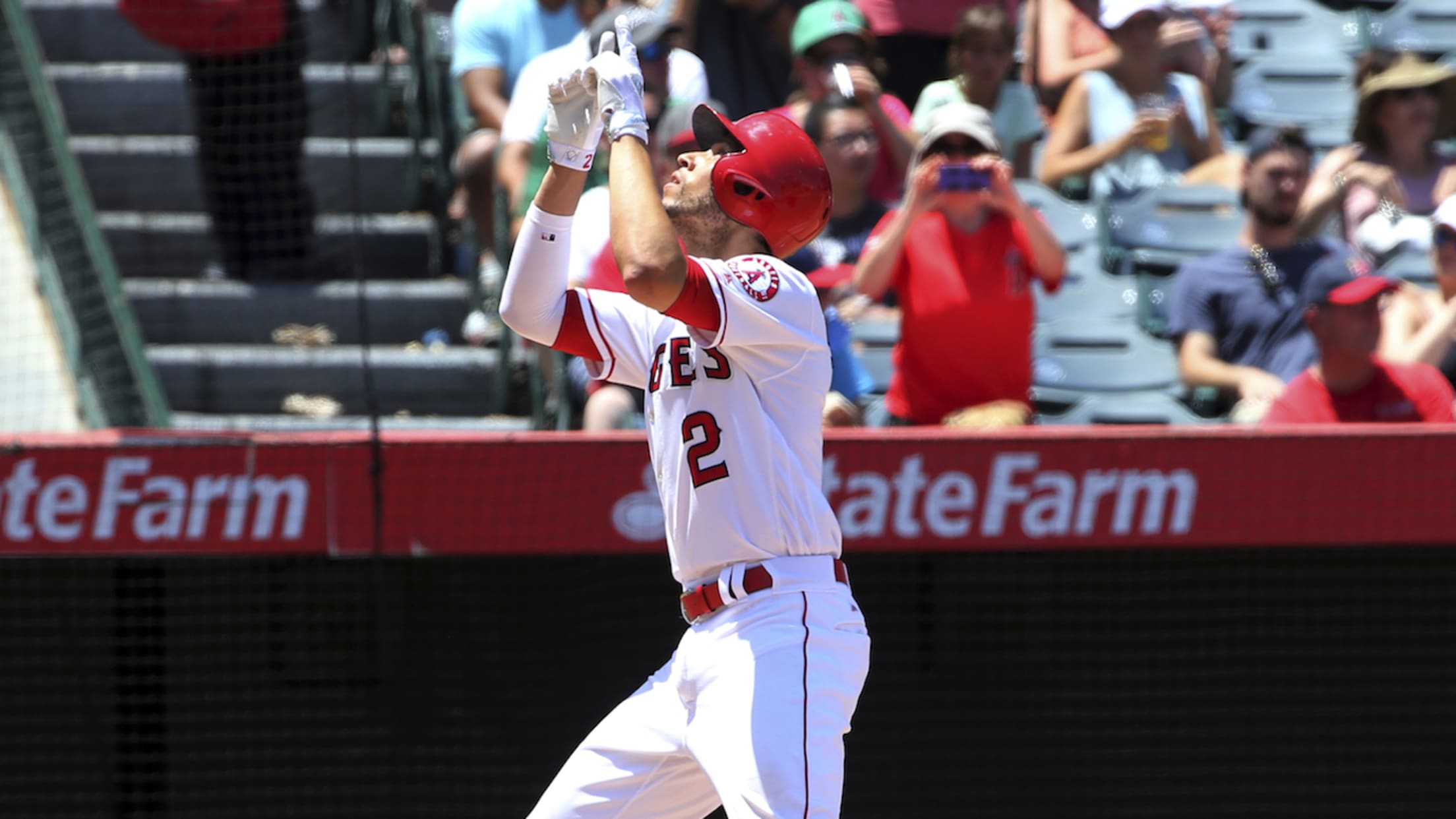 For years, the only thing keeping Simmons from full-blown stardom was his bat -- despite a 6-foot-2, 200-pound frame, he hit just 35 homers over his first five seasons, and he'd twice posted on-base percentages under .300. A funny thing has happened over the past few months, though: Simmons has very quietly transformed himself into one of the best hitting shortstops in the game.
Entering play on Wednesday, Simmons is hitting .306/.361/.459 with 11 homers, all of which are on pace to easily break his previous career highs. (His .820 OPS currently ranks fourth among all shortstops.) How is he doing it? His walk rate is way up and his ground-ball rate his way down -- simply put, he's seeing the ball and driving it better than he ever has before, allowing him to tap into power we didn't know he had:
He's even put together some positively Beltre-esque swings:
And if you're wondering if he's lost a step on defense, allow us to set your mind at ease: absolutely not.
As you might imagine, the new-and-improved bat plus the unbelievable-as-usual glove have made for a pretty great player: Simmons currently ranks seventh in WAR* among all position players, trailing only names like Judge, Altuve and Harper.
It's easy to get caught up in the next thing big thing. In just the past few months, the Baseball Gods have gifted us not one but two rookies seemingly put on Earth to do nothing but mash dingers. But Simmons is somehow still just 27, and if this is his new normal, he might well manage to morph from Hall of Fame defender to Hall of Famer while no one's looking. At the very least, it'll give us an excuse to break out the Andrelton Simmons GIF Siren again:
*Per Fangraphs
Teams in this article:
Players in this article: