Any trip to L.A. has to include this stunning new Jackie Robinson mural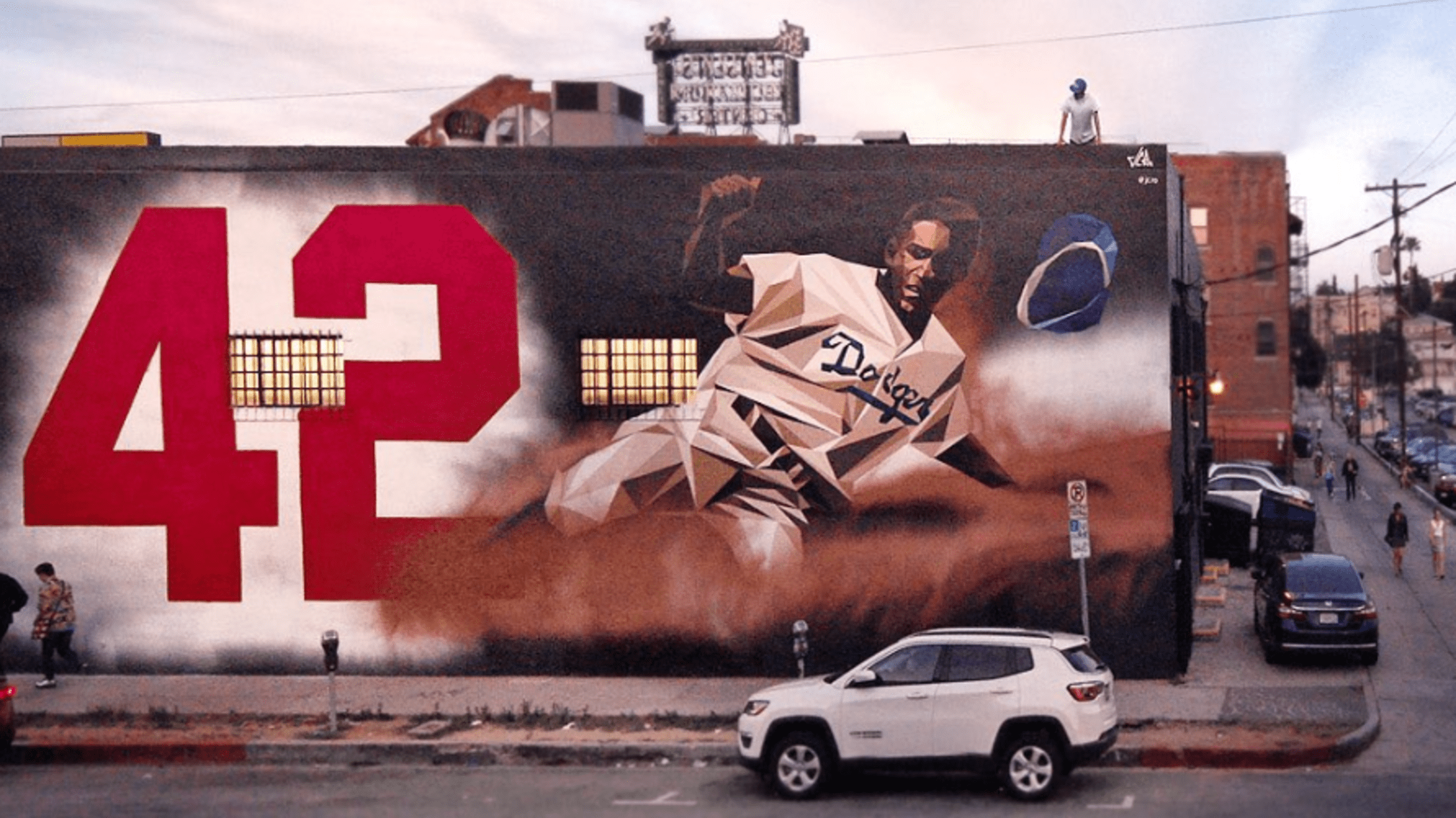 There's a lot of great art you can see in Los Angeles. There's the historically famous LACMA and Getty Center. There are art galleries galore and artwalks and spaces devoted to artwork inspired by pop culture. But the city just got a big boost thanks to this new Jackie Robinson mural.
Made by artist JC Ro, it can be found on the side of a shoe store at 1724 Sunset Blvd. in Echo Park -- just a short trip away from Dodger Stadium. Ro is known for his cubist-inspired designs, often featuring athletes like Michael Jordan and Kobe Bryant.
Though it's not on the side of a building, he also made this gorgeous painting of Ken Griffey Jr:
Ro's Robinson mural is just one of many great pieces portraying the baseball and civil rights icon. There's a Robinson mural in Philadelphia made by artist David McShane:
Happy 100th birthday to the legendary Jackie Robinson on this last day of January. Mural by David McShane for the @muralarts program. Located on 2803 N. Broad Street. #Jackie42 pic.twitter.com/V25Ecs27mA

— Philly City Rep (@PhillyCityRep) January 31, 2019
Fluke made a gorgeous, colorful design marking Robinson's time with the Montreal Royals:
Scenes from the unvailing of Montreal's new Jackie Robinson mural, corner St-Laurent and Napoleon. pic.twitter.com/PFNv5U7sNe

— The Montreal Royals (@Royals_46season) June 17, 2017
Of course there is art depicting his time at the UCLA stadium that bears his name:
Awesome New mural along the 1st base line at Jackie Robinson Stadium #UCLA #Legend pic.twitter.com/qSz9PjvZ6E

— Glenn White (@Whizzer89) April 14, 2013
And there are two murals near the site of the Brooklyn Dodgers' Ebbets Field:
While Ebbets Field is no longer part of the visual landscape, its image appears in two murals with Jackie Robinson across opposite sides of its former site. Menelek III's mural is outside @JRS_375 on McKeever Pl., while @KingBeeUW's work is on the RiteAid on Bedford Ave.
📷2018 pic.twitter.com/Nf9bTvbpaT

— Andy Bass (@AndyBassNY) February 23, 2019
Michael Clair writes for MLB.com. He spends a lot of time thinking about walk-up music and believes stirrup socks are an integral part of every formal outfit.
Teams in this article:
Topics in this article: