Here's a look at Manny Machado's pre-Draft high school scouting report from 2010
Every now and then, it's fun to look back at our high school selves. Sure, we may have made some dubious wardrobe choices and maybe quoted from "On the Road" a little too much, but who isn't slightly embarrassed by their 18-year-old self?
Well … probably Manny Machado. Here's the Orioles infielder, who got into an altercation with Yordano Ventura on Tuesday, showing more agility and speed than most of us will ever possess, even when we were most in shape:
Scouts were pretty impressed as well. Three months before Baltimore selected Machado third overall (behind Bryce Harper and Jameson Taillon) in the 2010 Draft, the Major League Scouting Bureau issued this report: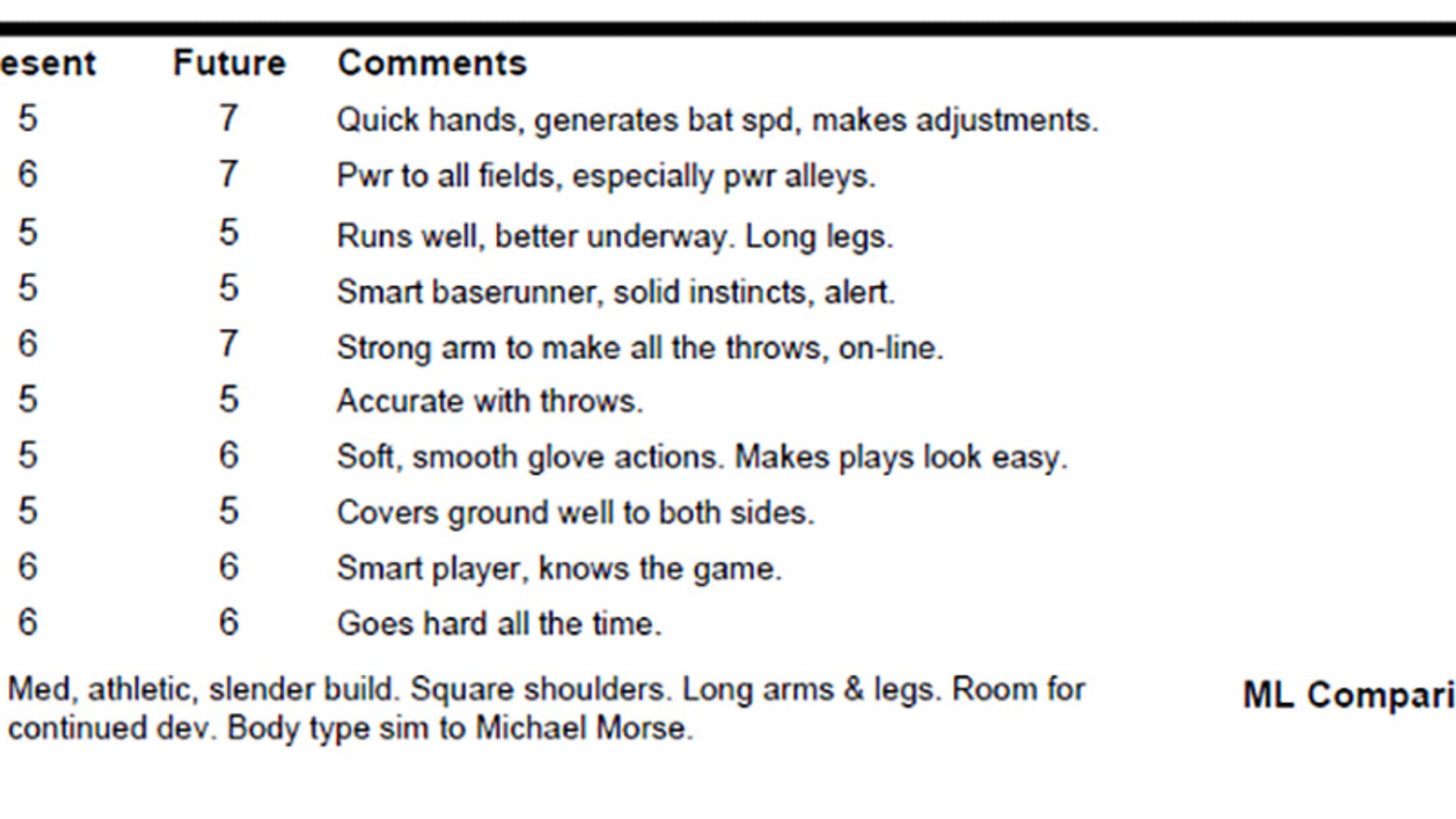 Click here for a full-sized version.
Scouting grades are on a 2-8 (sometimes 20-80) scale, where 5 is about average and 8 is "probably a superhuman baseball machine." 7 is All-Star quality. (Listen, the scale moves fast.)
And, according to the summation and the end of the report, he "has all the intangibles to be an impact player," plus a "good make up" and a "strong desire to get better."
Well, did that happen?
In his first full season in 2013, Machado made the All-Star team, came in ninth in AL MVP voting and won a Gold Glove. He batted .283/.314/.432 and led the AL with 51 doubles, but only hit 14 home runs. The "7" power wasn't there. Yet.
After coming back from an injury shortened season, 2015 was again an All-Star year for Machado, in which he hit .286/.359/.502, with 35 home runs. He also won another Gold Glove and came in fourth in MVP voting. "Strong desire to get better?" We think so.
And, like the report says, he definitely makes plays look easy:
The 2016 MLB Draft will take place from Thursday through Saturday, beginning with the Draft preview show on MLB Network and MLB.com on Thursday at 6 p.m. ET. Live Draft coverage from MLB Network's Studio 42 begins at 7 p.m., with the top 77 picks being streamed on MLB.com and broadcast on MLB Network. MLB.com's exclusive coverage of Day 2 begins with a live Draft show at 12:30 p.m. on Friday, with exclusive coverage of Day 3 beginning at 1 p.m. on Saturday.
Teams in this article:
Players in this article: