An ambitious Marlins fan dove into the pool to get Giancarlo Stanton's second homer of the game
Homerless on the season entering Wednesday, Giancarlo Stanton hoped to channel Marcell Ozuna's good luck from the latter's two-homer night on Tuesday by donning Ozuna's gear during a pregame interview. "I had Ozuna's outfit for the day. I said I needed two homers like him, and I got him," Stanton said.
It paid off, as Stanton sent a pair of home runs into the Marlins crowd against the Braves, though they lost, 5-4.
Here's the first:
When @Giancarlo818 steps into the box, you pay attention. 👀

🎥: https://t.co/NUXLB1kJQI #StantonSmash | #LetsGoFish pic.twitter.com/xRW70rg9lv

— Miami Marlins (@Marlins) April 13, 2017
Now, while Stanton might be a Marlins fan favorite, the ferocity with which he hits his homers does not exactly lend itself to easy catches. So when Miami native Frank Delgado saw Stanton's second dinger of the night headed his way at the Clevelander, he took a different approach.
Delgado was willing to get soaked in order to nab the ball. Now that's dedication.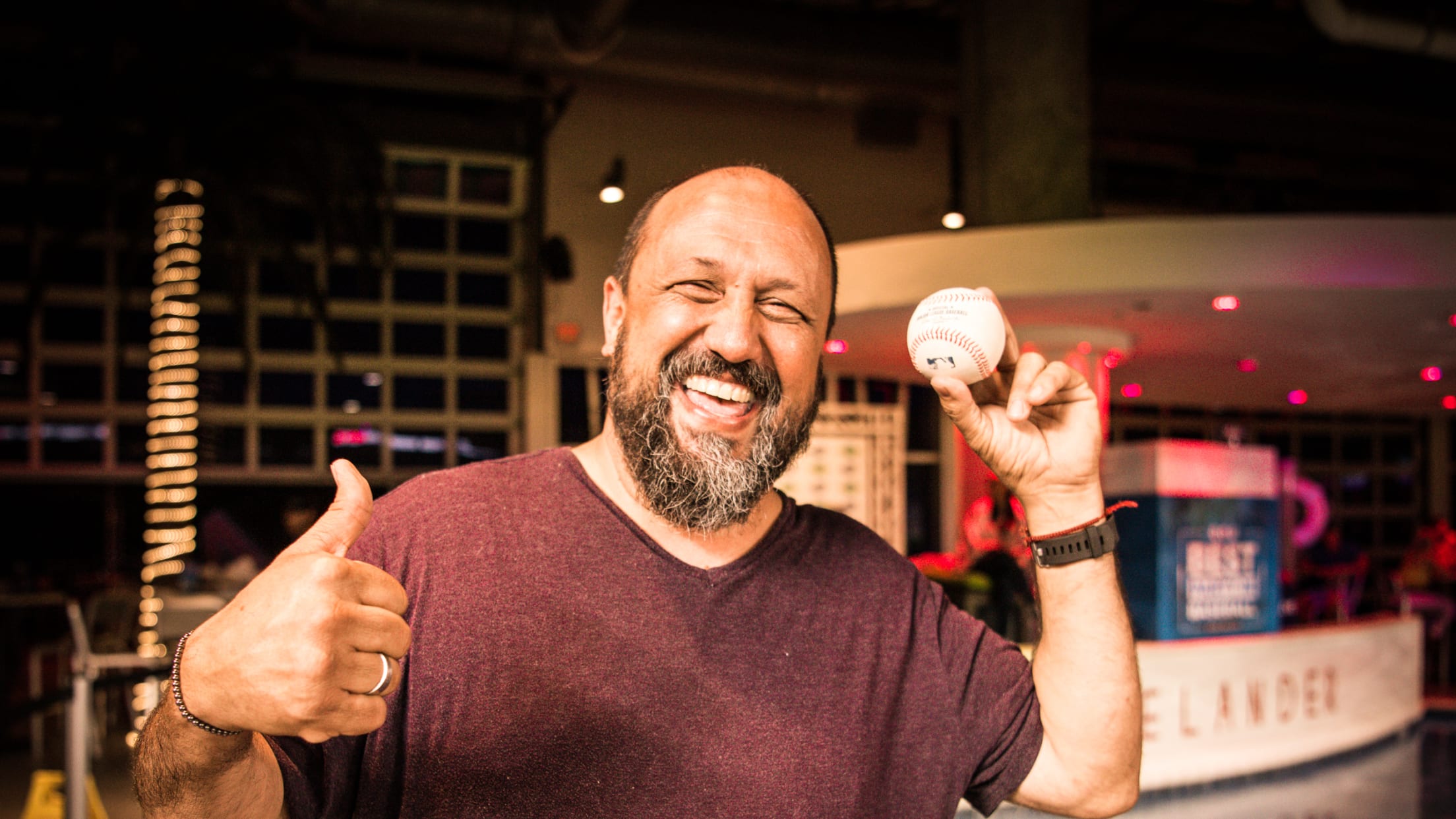 Photo via Manny Fernandez / MLB.com Real-Time Correspondent
It's a good thing that Delgado was smart enough to check his pants to make sure his cellphone would not be drenched as well.
Delgado said that he knew that there was no point trying to catch the drive, which he called "a heater." Statcast later measured the blast at 116 mph, so yes, that was a very smart decision.
It was a fortunate night for the fan, who mentioned that a José Fernández home run had once caromed off his seat while he was in the bathroom. This time, he was ready. Amusingly enough, Delgado thought that Christian Yelich would be the difference-maker in this game instead of Stanton. Getting this home run was not only redemption, but also a favor for his friend, a bigger Stanton fan:
"He was saying 'Stanton's a stud,' and I was like, 'I'll take Yelich.' ... Then Stanton hit a home run and nobody could get the ball! My friend asked for the ball, so I had to jump in the water to get it."
Delgado's friend definitely owes him one after that. Maybe a simple dry cleaning bill will do.
Teams in this article:
Players in this article: