The story behind Carleton College's 100-inning softball game named after an obscure MLB player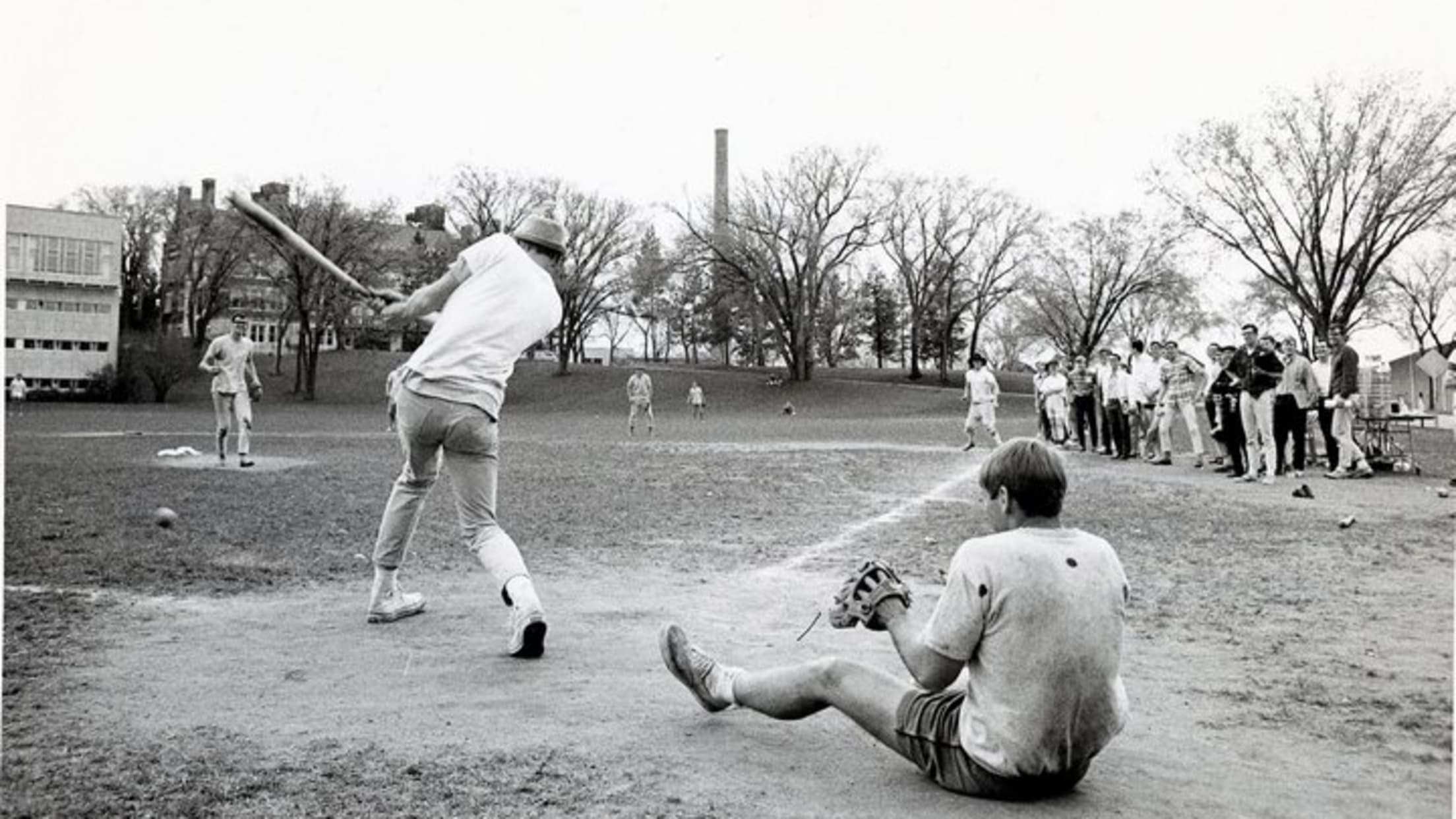 Marvin Rotblatt didn't have a long or very successful Major League career, but you can't deny he made his mark. While Rotblatt pitched for parts of only three seasons with the White Sox from 1948-51, posting a 4.82 ERA in 74 2/3 innings, he has found himself a part of history.
While at the University of Illinois, he set the Big Ten record for strikeouts in a game with 18 until it was broken in 1965. He was the first Major Leaguer ever to enter a game via bullpen cart. He appeared on the 1951 quiz show "You Bet Your Life," hosted by Groucho Marx. And Carleton College used his name for its annual 100-inning softball game: "Rotblatt." And no, the pitcher never attended the small liberal arts school in Minnesota. The connection, like the game itself, is much more random than that.
#WhiteSox pitcher Marvin Rotblatt at Comiskey in 1951.@whitesox #Chicago pic.twitter.com/f60QNon5Pp

— Chicago History ™️ (@Chicago_History) June 28, 2015
It all started innocently enough in 1964 -- 13 years after Rotblatt's final big league appearance and seven years after he stopped playing professionally. At the time, the college's official intramural softball league was overflowing and couldn't accept new students. So, a group of sophomores decided to start a new slow-pitch league. When they needed a name, the answer was simple: According to a fellow Rotblatter, "the founders were looking for the most obscure Major Leaguer from their childhood years."
At first, it was an incredibly serious and competitive 12-team league, complete with a full set of statistics, including slugging percentage (yes, in a slow-pitch league). That began to change on May 20, 1967. Looking to celebrate the 100th anniversary of the college, 20 players came together for a centennial 100-inning game.
The Class of 1967 described it thusly:
"Divided into two teams, 20 boys became men that day, all going the entire 100 innings with each of us playing 10 innings at each position in the field. The SOTS, captained by high commissioners Mort (Ken Mortenson) and Mose (Marc Mosiman), walloped the Dirty Old Men by a fitting 100-81 score."
The man behind the name even became a guest of honor at the event. After making his first appearance in 1966, he continued making appearances at his namesake sport. Attending one late '60s game, the pitcher "swung three bats over his head while in the on-deck circle, then pointed to left field when he stepped up the plate. His Babe Ruth impression was complete when he smashed the first pitch over the left-field wall and into the lake."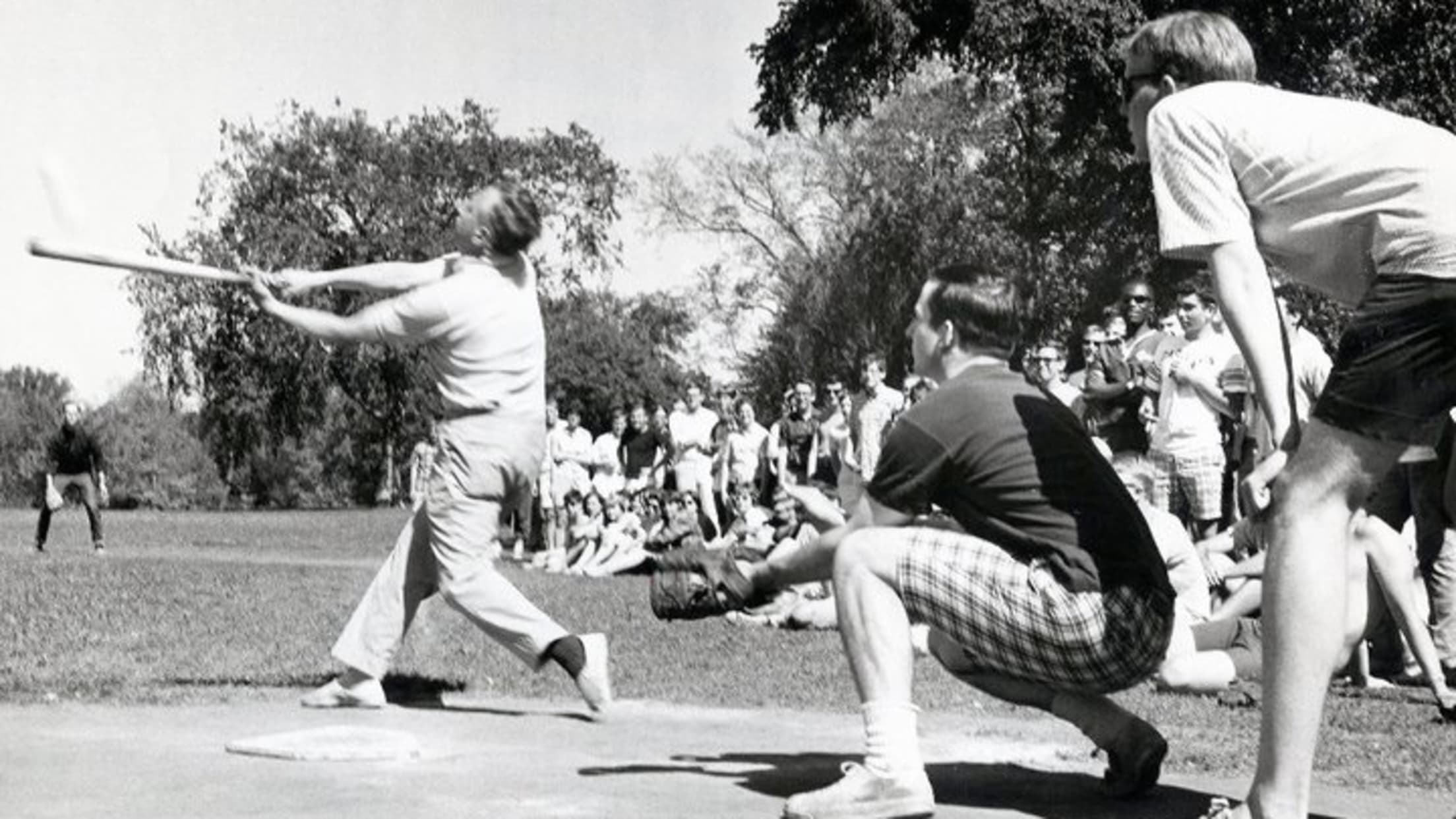 (Photo via Carleton College Facebook)
Rotblatt's son said his dad was a big fan of the event. "He just loved that he was a part of that. He knew he was picked as sort of a joke, but he was good at making fun of himself. He always said, 'The only thing worse than bad publicity is no publicity.'"
While the league would hold on until the 1980s, it is no longer just a softball event. Instead, the game has become a massive schoolwide celebration with over 1,500 students taking part. Every year, another inning is added -- one for each year that the school has existed -- with students dropping in and out of the game. There is one rule, however: You have to play with one hand holding a beverage-filled plastic cup. Traditionally, there is a "no pants" inning, too. Because ... college?
rotblatt on bell #carlreunion pic.twitter.com/zG1qePzmmV

— alumniladiez14 (@carletonladiez1) June 21, 2014
In recent years, the school has started making shirts to commemorate the event. Usually based on a famous artwork or pop culture event, they're modified to include beer and baseball. The shirts are so popular that students have to wake up at dawn on game day to obtain one.
Though Rotblatt -- the pitcher -- passed away in 2013 at the age of 85, this past spring saw the school celebrate the 150-inning Rotblatt game, though there's no word on whether all the innings were completed.
Not a bad legacy for a pitcher with 35 Major League games to his name.