Matt Carpenter and Adam Wainwright welcome you to the 'Scare Games'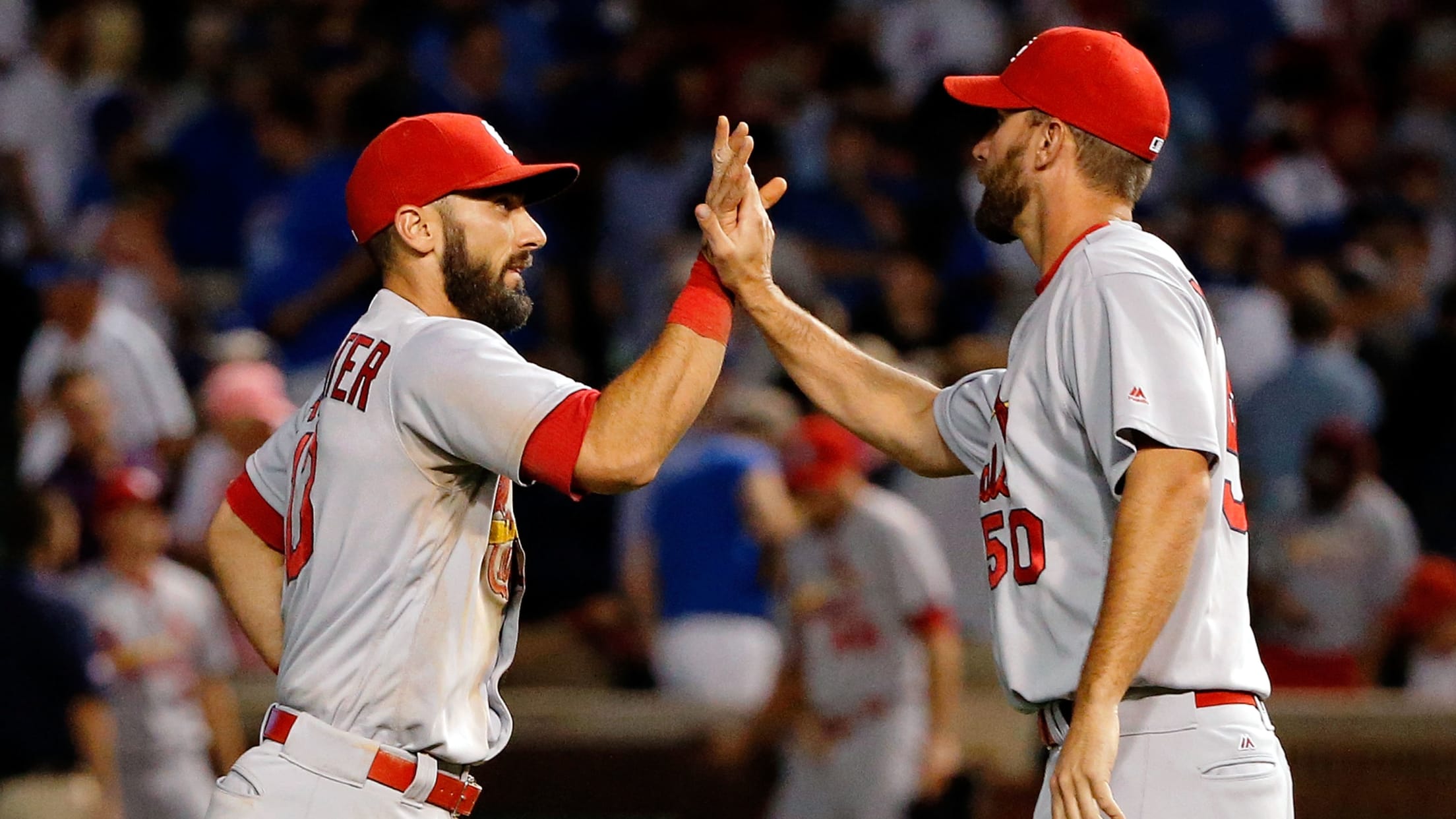 <> at Wrigley Field on June 20, 2016 in Chicago, Illinois. The St. Louis Cardinals won 3-2. (Jon Durr)
This offseason, Dodgers pitcher Kenta Maeda treated us to a video of his hilarious and effective attempt to terrify his translator Will Ireton. Similar scare tactics have seemingly made their way into Spring Training, where Cardinals veterans Matt Carpenter and Adam Wainwright are going head-to-head to see which one can successfully scare the other the best. Wainwright seems to have the upper hand so far.
Let the #2018ScareGames begin! Scare games... 1-0. Me vs @MattCarp13 we're keeping a season long tally. PS... this was his suggestion. #imbettingonme pic.twitter.com/VjElQAnNJP

— Adam Wainwright (@UncleCharlie50) February 23, 2018
I'm running out of ideas... someone had to have tipped him off.. HOW DOES THIS NOT SCARE YOU! @UncleCharlie50 still down 2-0 #scaregames2018 pic.twitter.com/YStd2yl2lU

— Matt Carpenter (@MattCarp13) March 5, 2018
Yes... another failed attempt by @MattCarp13 Cant wait to show y'all what I have planned! PS... anyone who helps him attempt to scare me gets payback also! I'm looking at you Walshy! #2018ScareGames #still2-0goodguys https://t.co/oEv5iFUpR6

— Adam Wainwright (@UncleCharlie50) March 5, 2018
Here are some other social media highlights from the past week on the baseball Internet:
Sure, Nelson Cruz only started 5 games in the outfield in 2017 -- all of which were interleague games on the road where there was no DH -- but that certainly doesn't disqualify the 37-year-old All-Star from an invite to dinner with all the other Mariners outfielders.
Back in January, Royals pitcher and noted Lakers fan Danny Duffy showed us how committed he was to his NBA2K Franchise Mode.
Fast forward to March and Duffy's Lakers squad is still dominating the virtual NBA -- and they've relocated!
Cheers to the Kansas City Lakers dynasty -- the greatest team in organized video game sports history.
Plenty of players were tweeting about the Oscars, but only Brandon McCarthy had suggestions for renaming some key categories.
i call the documentary category 'movies i should see but won't because watching Friends reruns is easier'

— Brandon McCarthy (@BMcCarthy32) March 5, 2018
Long-time Rangers third baseman Michael Young was in Arizona visiting with his former team and was treated to quite the honor -- at least, that was his interpretation.
Wow. Thank you so much to the city formerly known as Surprise, AZ.
So humbled and honored. And the exit number, too? Nice touch, kudos. Took too long for my taste, but I won't stress over details. pic.twitter.com/NaVwUlPMcz

— Michael Young (@MikeyY626) March 5, 2018
It was only a matter of time before the Mans Not Hot craze made its way into an MLB clubhouse. Here's Todd Frazier's rendition, courtesy of Jose Reyes.
Ichiro is back in Seattle, and that can only mean one thing, according to Dee Gordon:
It's safe to say Josh Donaldson disagrees with some recent comments regarding hip hop legend Tupac Shakur.
Bringing the West Coast to the East Coast. #2018walkup when they turn out the lights I'm there in the dark pic.twitter.com/gpb4wSMUc5

— Josh Donaldson (@BringerOfRain20) March 8, 2018
Had to look this guy up. Smh. PAC is boring 😂 to each their own. PAC is one of the greatest of all time for a reason.

— Josh Donaldson (@BringerOfRain20) March 8, 2018
Teams in this article:
Players in this article: