Eight things you need to know about the newest homer-hitting star, Max Muncy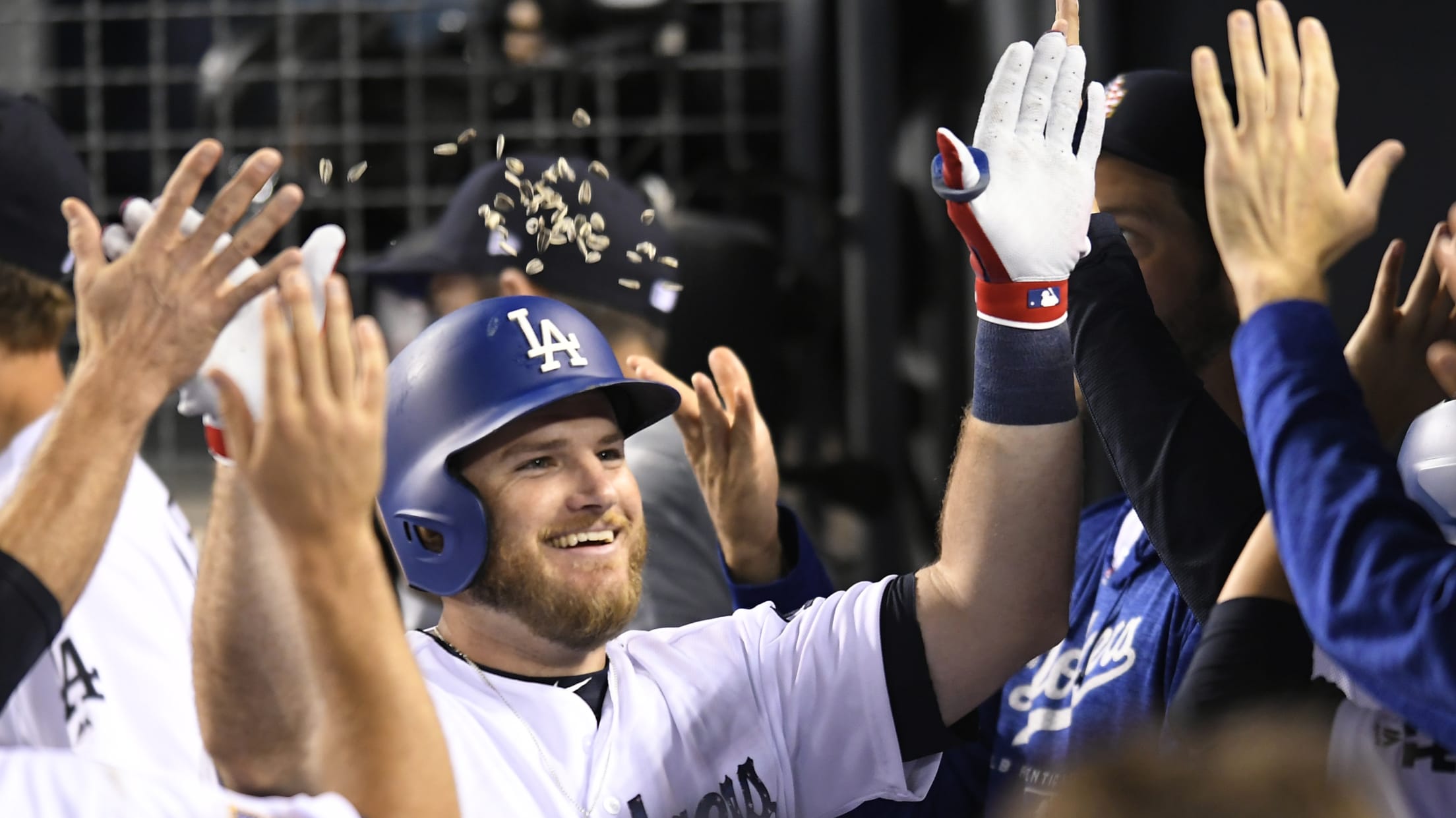 LOS ANGELES, CA - JULY 02: Max Muncy #13 of the Los Angeles Dodgers is congratulated in the dugout for his fourth inning home run against the Pittsburgh Pirates at Dodger Stadium on July 2, 2018 in Los Angeles, California. (Photo by John McCoy/Getty Images) *** Local Caption *** Max Muncy (John McCoy/Getty Images)
Last year, Chris Taylor emerged from seemingly nowhere to dominate the league. This year, the Dodgers have once again dipped their toes into the land of heretofore unknown players and emerged with Max Muncy. He's quickly become one of the best players in the league, crushing home runs the way Quint crushes beer cans.
But do you know anything else about him? Here's a quick eight-part primer to make you Muncy Proficient.
1. He didn't completely come out of nowhere
Though Muncy struggled in 2015-16 with the Athletics, he was actually a bit of a prospect during his time in the Minors. Drafted in the fifth round by the A's in 2012, he topped out at No. 10 in Oakland's system heading into the 2014 season. While Muncy never displayed much power in the Minor Leagues outside of a 21-homer barrage in the offense-friendly Cal League, scouts always knew this breakout was a possibility. His MLB Pipeline report noted, "he has always had solid pop waiting to be unlocked."
2. He was a star in college
Before reaching professional ball, Muncy was a starter for three years with the Baylor Bears. Playing primarily first base, Muncy hit .311 with 27 home runs and was a two-time All-Big 12 honoree. He also held the school record for most putouts at 1,623 when he was drafted.
3. While in college, he got to play at Fenway Park
The slugger played two seasons for the Wareham Gatemen in the Cape Cod League, which is widely known as the premier collegiate summer wood bat league. Named to the All-Star team in 2011, Muncy got to play at Fenway Park -- where he has only played once in his big league career (he went 0-for-4 with three strikeouts as an Athletic in 2015).
Muncy's Cape Cod League teammates included Brewers pitcher Brent Suter, Rays outfielder Johnny Field and fellow burly slugger in the White Sox' Daniel Palka.
4. His first professional at-bat resulted in a home run
Though Muncy may not have hit for much power in the Minor Leagues, his 2018 breakout was destined to be. In his first professional game for the Burlington Bees, Muncy took pitcher David Goforth deep. That was the only hit that Goforth allowed in five innings pitched.
5. He's afraid of needles
Who isn't? Plus, his favorite late snack is probably shared by everyone that has ever driven through Texas for even 15 minutes.
6. He's incredibly patient at the plate
He has the second-highest walk rate among all players with at least 200 plate appearances, behind only Mike Trout. He swings at only 14.8 percent of pitches out of the zone -- the fifth-lowest rate in the Majors. Even if he keeps his bat holstered most of the time, he did manage to drive in a run against Max Scherzer on one of the few occasions that he did swing at a ball:
7. He'll play all over the field
Though he's a big guy and is primarily a first baseman, Muncy has seen time at third, left field and even second base. It was something he always wanted to do after he was drafted.
"[Playing first base] got me drafted. It got me where I am today," he said in 2013. "Maybe down the road I'd like to play something a little different than first, but, until then, I'll play first as long as it gets me where I want to go."
8. The nickname wars
Obviously with 20 homers in such a short period of time, people are looking to give him a nickname. Some have gone with the post-apocalyptic "Mad Max." Meanwhile, others are pushing for "Maximum Muncy." Other than the debate over whether can the slugger keep it up, this is the biggest question during Muncy's breakout season.
Teams in this article:
Players in this article: