It's time to meet the 2016 MLB Fans of the Year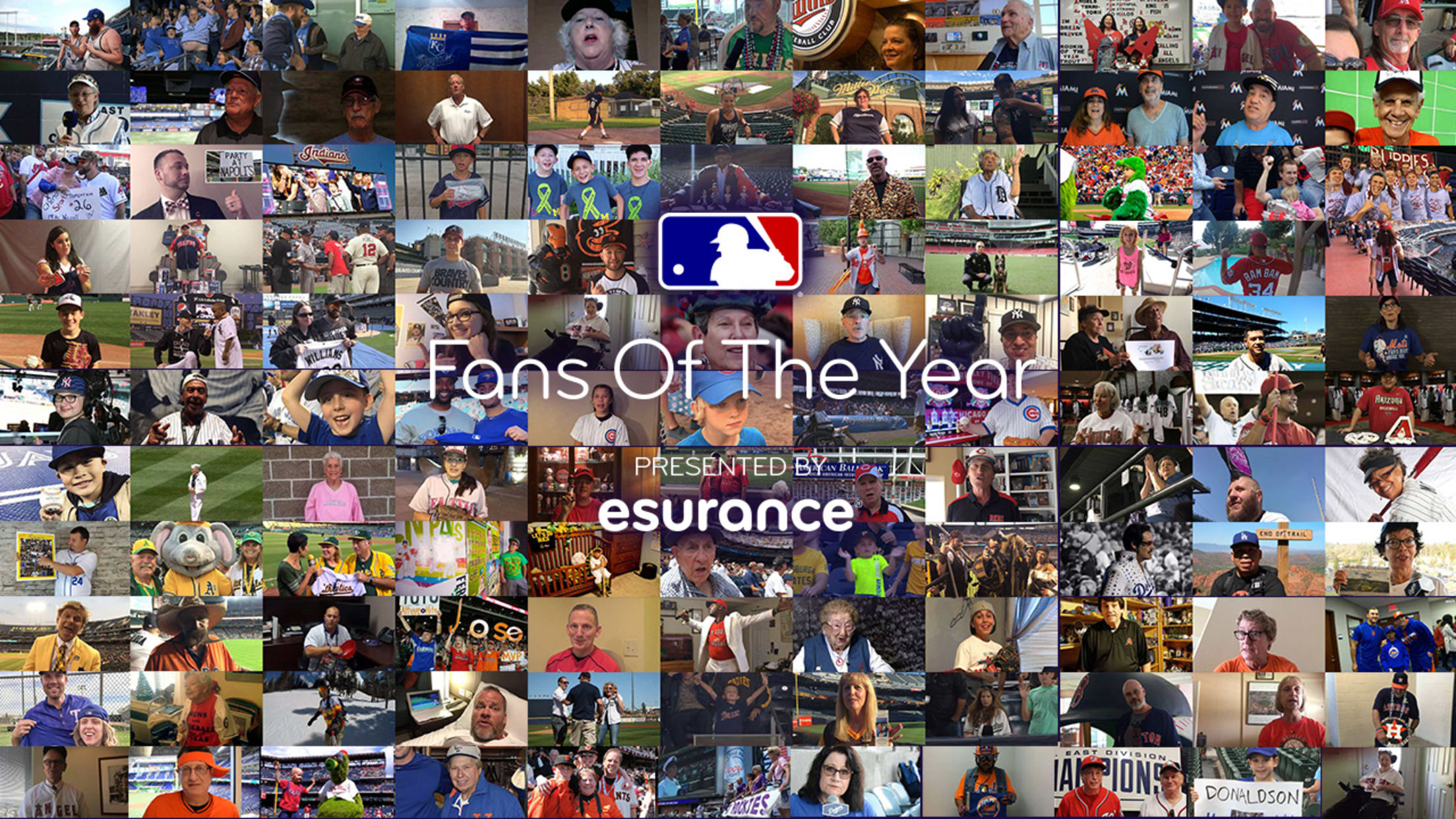 You voted, and the results for the inaugural MLB Fans of the Year Presented by Esurance are in. The all-new award opened the voting for the 2016 Esurance MLB Awards (you can check out the rest of the categories here) and honors the top fan of every MLB club.
And now it's time to meet each team's fan of the year. Just scroll down to find out who won.
@MLB Orioles Fan of the Year: Romeo Santos
Romeo Santos runs a marathon every year while carrying an O's flag, and he even named his son "Camden."
@MLB Red Sox Fan of the Year: Daniel Pelkey
Daniel Pelkey is a K9 police officer with an entire room of his home dedicated to Red Sox memorabilia.
@MLB Yankees Fan of the Year: Mark Gordon
Mark Gordon has been a Yankees fan since the late 1940s, and even though he now lives in Iowa, he still has season tickets.
@MLB Rays Fan of the Year: Irving Dupre
Rays fan Irving Dupre has also passed his love of baseball down to his 11-year-old granddaughter.
@MLB Blue Jays Fan of the Year: Mateo Alvarez
Six-year-old Mateo Alvarez loves the Blue Jays, and gets emotional thinking about Edwin Encarnacion's future with the team.
@MLB White Sox Fan of the Year: Laura Williams
Passionate fan Laura Williams has attended 600 consecutive White Sox games.
@MLB Indians Fan of the Year: Nate Crowe
You may know Nate Crowe as the fan whose sign originated the phrase "Party at Napoli's." Nate narrowly beat out fellow nominee and diehard Tribe fan Makhi Williams for the top spot -- but when you've swapped signed batting gloves with Francisco Lindor, you're a winner in anyone's book.
@MLB Tigers Fan of the Year: Mary Weider
Mary Weider went to her first Tigers game in 1926, and was 24 when they won their first World Series in 1935. At nearly 105, the Tigers are still her favorite team.
@MLB Royals Fan of the Year: Paul Long and John Stoner
It's hard to think about Royals fans without thinking of Paul Long and John Stoner, AKA the "Cat Suit Guys."
@MLB Twins Fan of the Year: Darrin Holland
Darrin Holland has been to more than 2,000 Twins games, and when he lost his foot to diabetes, he made sure his prosthetic was adorned with a Twins logo.
@MLB Astros Fan of the Year: Susan and Mike Welbes; Barbara and Jimmy Moon
The Welbes and the Moons have been Astros fans since the '70s, and even bring signs for other people to wave at Astros games.
@MLB Angels Fan of the Year: Steve and Zac Baker
Zac and his dad Steve follow the Angels all across the country.
@MLB A's Fan of the Year: Connie Amarel
Connie Amarel takes care of her team -- she brings homemade cookies for the broadcasting staff and front office every time she attends a game.
@MLB Mariners Fan of the Year: Amy Franz
Amy Franz has been a Mariners fan for a long time, but you might recognize her as the creator of the "Ichi-meter" sign, which is now displayed at the Hall of Fame in Cooperstown.
@MLB Rangers Fan of the Year: Amber McDonald
Miracle League player Amber McDonald has been a Rangers fan since she was 7 years old.
@MLB Braves Fan of the Year: Jonathan Howard
Jonathan Howard loves the Braves so much he refers to Turner Field as his "summer home."
@MLB Mets Fan of the Year: M.J. Lupton
M.J. Lupton has been a Mets fan since 1979, and even plans family vacations around the Mets' road trips.
@MLB Phillies Fan of the Year: Riley Marciante
Four-year-old Riley Marciante is the Phillie's No.1 fan, and the No. 1 Mini-Phanatic.
@MLB Marlins Fan of the Year: Julio Rodriguez
Julio Rodriguez says he "basically stops working for six months," just so he can watch the Marlins.
@MLB Nationals Fan of the Year: B.J. Treuting
B.J. Treuting, AKA "Bam Bam," has vowed not to shave his beard until the Nationals win a World Series.
@MLB Cubs Fan of the Year: Natalie Adorno
Fourteen-year-old Natalie Adorno is better known as "Superfan Natalie."
@MLB Reds Fan of the Year: Tim Ashburn
Tim Ashburn has been to 33 consecutive Reds Opening Days.
@MLB Brewers Fan of the Year: Ian and Kelly Forbes
Kelly tosses candy into the dugout at every home game she attends, and her husband Ian proudly sports his Brewers tattoos.
@MLB Pirates Fan of the Year: Chris Miller
Chris Miller is more commonly referred to as "Captain Chris," and leads a cheering section at PNC Park known as the Renegades of the Rotunda.
@MLB Cardinals Fan of the Year: Gertrude Slama
Gertrude Slama has loved her teams since she was young, and remembers "yelling [her] fool head off for the Cardinals" when they won the World Series in 1926.
@MLB D-backs Fan of the Year: Julius Ingram
Marine Corps veteran Julius Ingram makes his booming voice heard at as many D-backs games as he can.
@MLB Rockies Fan of the Year: Josh Pugh
This Rockies fan's name is Josh Pugh, but you probably known him as the "Mile High Mohawk."
@MLB Dodgers Fan of the Year: Emma Amaya
Emma Amaya is known as "Crazy Blue," and keeps score at every Dodgers game she attends.
@MLB Padres Fan of the Year: Amelia Haarer
Amelia Haarer loves showing off her dance moves on the Jumbotron almost as much as she loves the Padres.
@MLB Giants Fan of the Year: Michael and Angela Simon
Michael and Angela Simon love the Giants, and even say their two sons learned to write by keeping score at games.