The nine most athletic plays in baseball this year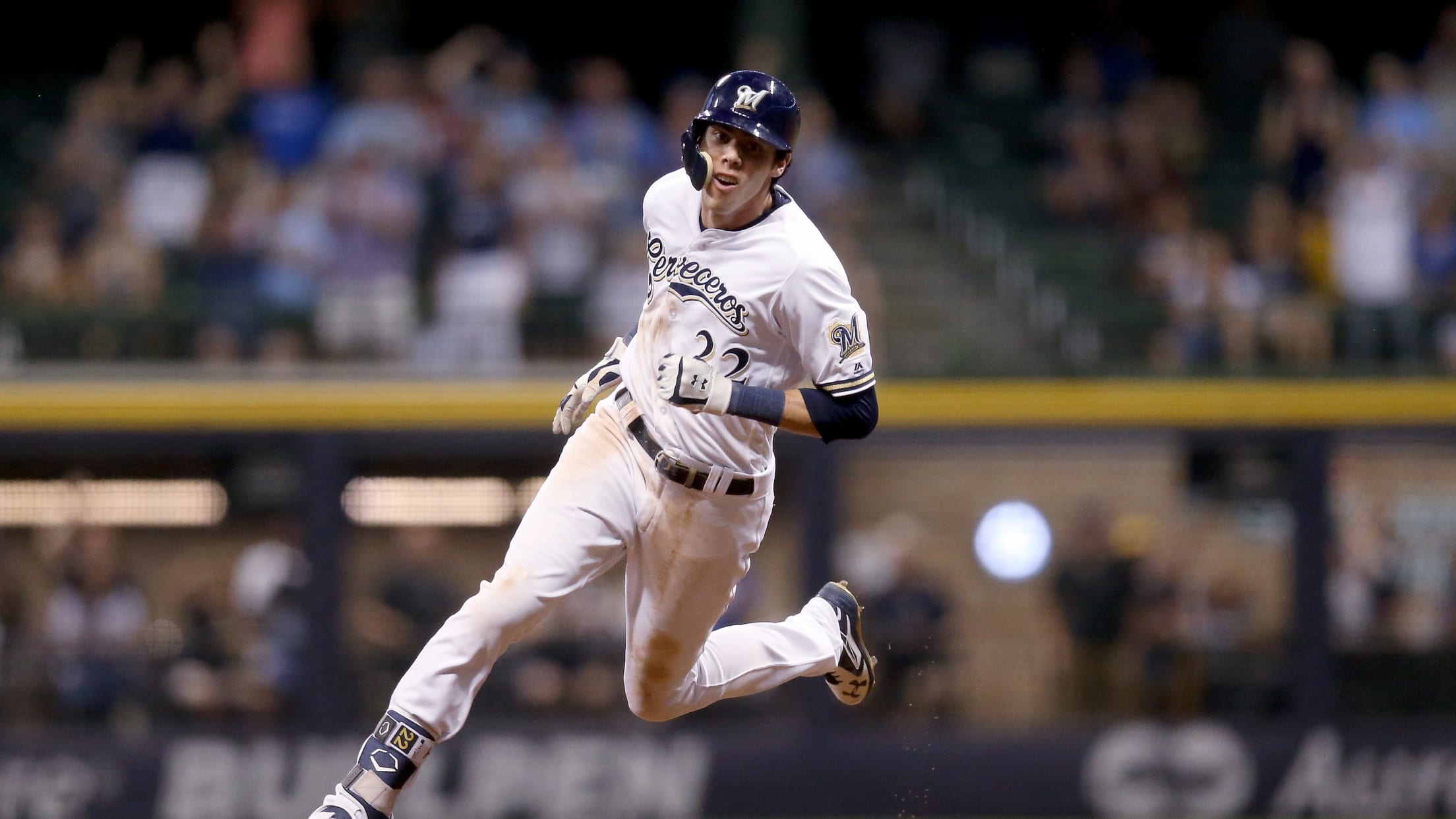 MILWAUKEE, WI - SEPTEMBER 17: at Miller Park on September 17, 2018 in Milwaukee, Wisconsin. (Photo by Dylan Buell/Getty Images) (Dylan Buell/Getty Images)
It's almost unfair how athletic baseball players are. They can fool you for a minute, as they saunter to the plate the same way that you belly up to the buffet. But then, when you're on your couch watching them play, they explode into frenzied, beautiful action that makes you wonder if you're even in the same genus, much less species.
So, let's look at nine of the most athletic plays this season.
Billy Hamilton's leap
Watch the Reds center fielder for a minute and you know he's fast. Even when standing still, his molecules are working overtime, waiting for when they need to explode with Flash-like speed. But when Matt Carpenter smashed a ball to center field, Hamilton proved that his legs defy gravity, too:
No debate: @BillyHamilton with the CATCH. OF. THE. YEAR.#RedsCountry pic.twitter.com/EAsdWFBcCu

— Cincinnati Reds (@Reds) July 14, 2018
Ramón Laureano's arm
In just a month-and-a-half of big league action, Laureano has been credited with six outfield assists. Chances are, that number won't rise much because teams have now seen what the howitzer connected to his body can do. Like when he doubled Eric Young Jr. up on the bases with a chest-high throw to first base ... from left-center field. The human body shouldn't be able to do that.
Throw of the year?! 😳 pic.twitter.com/fgFmTMXOKO

— MLB (@MLB) August 12, 2018
Carlos Correa goes all out
When Carlos Correa made a diving stop to rob Jean Segura, he needed to use every muscle in his body. He raced to the ball, dove, lifted his body up and tossed the ball from his glove to Marwin Gonzalez to turn a double play.
Willians Astudillo proves everyone's got hustle
Astudillo is a rare ballplayer. He's a catcher that has played center field and pitched, and he showed off his intense hustle and wheels when he raced around from first on Max Kepler's double.
The absolute unit that could. pic.twitter.com/r2a5uj9E7o

— MLB (@MLB) September 13, 2018
After the game, Astudillo said, "I just wanted to show that chubby people also run."
Even the ballboy's got moves
It's not just the big leaguers that can show off tremendous skill. In fact, maybe it's the big league uniform that grants athletic prowess. How else can you describe this diving, faceplanting snag by the Mets ballboy.
Christian Yelich gets his second cycle
The cycle is proof of the batter's aptitude in all aspects of hitting. They can hit for average; they can go deep with a home run; they can hit the gap for a double. And you better believe they have great speed to collect that most-exciting-hit-of-all, the triple.
When Yelich collected his second cycle of the season, he left the hardest hit for the end. There may not have been a more excited crowd this year than when Yelich hit a ball to the right-center gap and he pushed himself to his absolute limit to finish at third base.
Bryce Harper's Home Run Derby Comeback
With 50 seconds left, Harper was trailing the Cubs' Kyle Schwarber by nine home runs in the Home Run Derby. Things looked bleak for the Walloper of Washington. Showcasing the rare ability to blast baseballs well over 400 feet with the aerobic stamina to keep taking massive hacks, Harper bested Schwarber and took the title. He didn't even need the extra time he earned by smashing multiple 440-foot homers.
The Greatest Comeback in Sports History.

Don't @ us. pic.twitter.com/5pbtXoCMSf

— Cut4 (@Cut4) July 17, 2018
Jordan Hicks is a triple-digit man
Jordan Hicks entered Wednesday's action having thrown 607 pitches at triple digit speeds -- more than three times the total than Tayron Guerrero, who is second.
To add just a little more, Hicks gets movement like this on his pitches. That's unfair.
Jordan Hicks, Insane 100mph Sinker. 😱 pic.twitter.com/iSPORcsLXV

— Rob Friedman (@PitchingNinja) September 19, 2018
Everything that Shohei Ohtani does
How do you even categorize Ohtani? He's pitched like an ace pitcher in 10 big league starts, with the fastball and slider to back it up:
And at the dish, he's mashed as many home runs as Juan Soto -- who could win the National League Rookie of the Year. Ohtani even hit two home runs in a game after learning he had a UCL tear. If it were revealed that Ohtani came from the future, I wouldn't be surprised.