Relive the most important plays of the Yankees' roller-coaster 16-2 run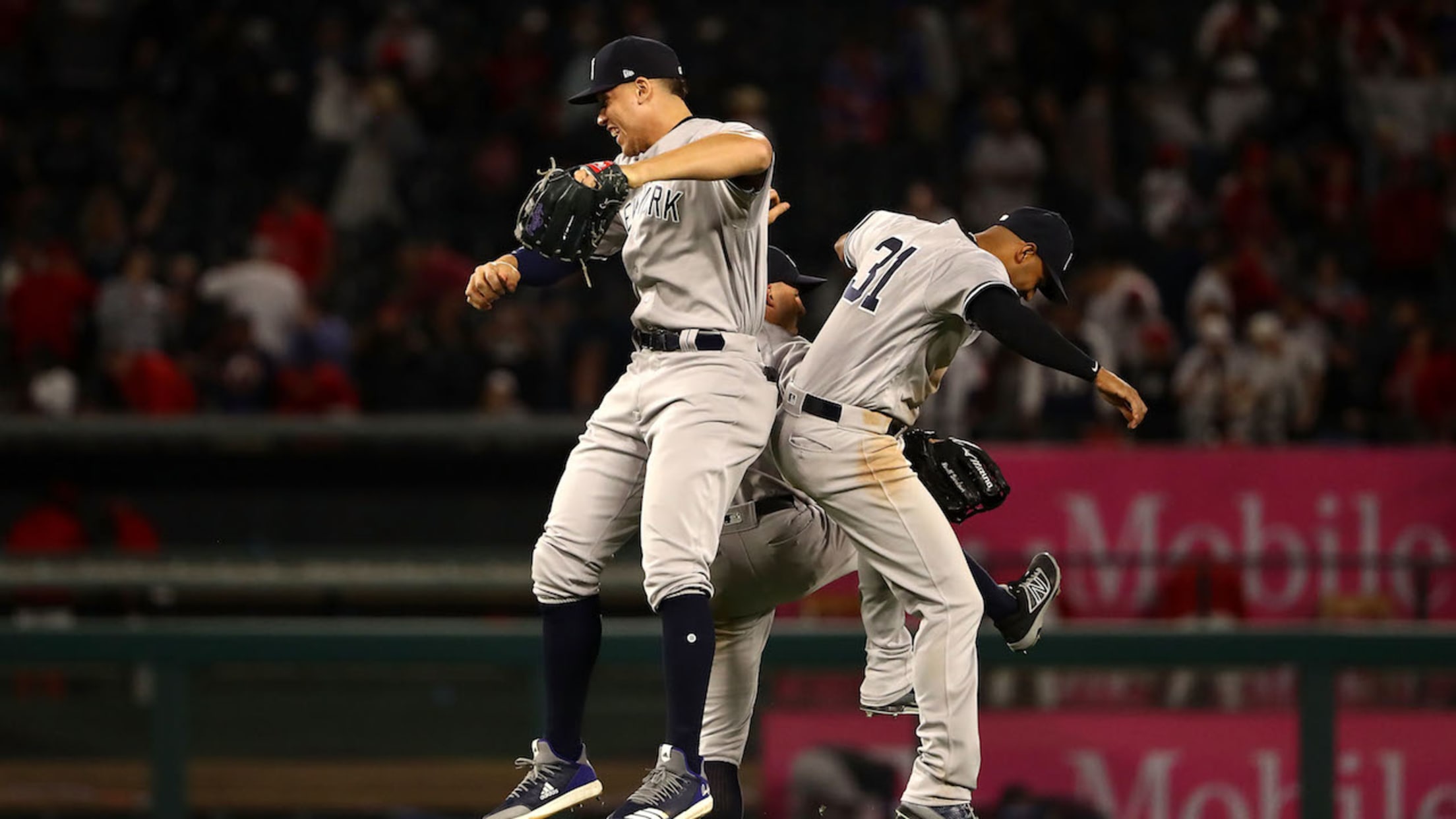 ANAHEIM, CA - APRIL 29: (L-R) Aaron Judge #99, Brett Gardner #11 and Aaron Hicks #31 of the New York Yankees celebrate after the MLB game against the Los Angeles Angels of Anaheim at Angel Stadium on April 29, 2018 in Anaheim, California. The Yankees defeated the Angels 2-1. (Photo by Victor Decolongon/Getty Images) (Victor Decolongon/Getty Images)
The Yankees entered play on April 19 at a disappointing 9-9, with a daunting stretch of schedule in front of them: 18 games in 18 days, 14 of which would come against teams with winning records. Less than three weeks later, Gleyber Torres' historic walk-off homer against the Indians capped a 16-2 stretch that took New York from hearing boos in its own ballpark to just a game back of the Red Sox in the AL East. (Boston and New York begin a three-game set in the Bronx on Tuesday, if you'd like to know what you're doing for the next few nights.)
Even more impressive than that record, though, is how the Yankees pulled it off: The team went 6-1 in one-run games, including several dramatic comebacks. With a margin for error that small, even the smallest plays can make a huge difference -- and now that New York finally has a day off, let's take a look back at the most important moments over its hot streak. These might not be the plays you remember, but they're the ones that set up the ones you remember.
April 19: David Robertson escapes a jam
It seems only fitting to start at the beginning. Thanks to strong pitching from CC Sabathia and Chad Green, the Yankees entered the eighth inning against Toronto with a 4-2 lead -- at which point things went wrong in a hurry.
A leadoff single and two walks loaded the bases, and a base hit by Curtis Granderson brought the tying run 90 feet away with just one out. But then, as is his wont, Robertson pulled a disappearing act:
April 26: Miguel Sanó opens the door
You probably remember this game for Gary Sánchez's walk-off three-run homer, which turned a 3-1 ninth-inning deficit into a 4-3 win. But he may never even have gotten the chance if Minnesota's defense had taken care of business: Didi Gregorius led off the frame with a grounder to Miguel Sano, who struggled to field it cleanly and then threw wildly to first.
Gregorius ended up at second, Giancarlo Stanton followed with an infield single and then Sanchez did his thing. But if Sano handled that first grounder, who knows what might have been different?
April 27: Miguel Andújar comes through again
The Yankees called up Andujar when Brandon Drury went on the DL with migraines, and he's been white-hot ever since. The third baseman racked up 16 extra-base hits in 12 games from April 13-28, and none of them was bigger than this one in Anaheim. With the Yankees trailing by a run with one out in the top of the ninth, Andujar doubled into the left-field corner to move Sanchez to third.
Sanchez came around to score on a Brett Gardner sac fly, and the Yankees won it in the 10th on a homer from Gregorius.
May 2: Gleyber Torres snuffs a rally
Of course, Andujar isn't the only New York rookie who's come up big. Torres entered the season as New York's No. 1 prospect and MLB Pipeline's No. 5 overall, and he's looked every bit the part since making his Major League debut on April 22. He's hitting .327/.357/.500 over his first 15 games, but against the Astros, Torres came up big with his glove.
Luis Severino had cruised through the first six innings in Houston, but back-to-back singles to lead off the seventh put New York's 3-0 lead in jeopardy. Alex Bregman lifted a line drive that seemed ticketed for center field, until:
May 5: A rare error from Francisco Lindor
Of course, you don't go 16-2 without a few lucky breaks, and on Saturday against the Indians, New York took the lead for good thanks to one of the rarest sights in baseball: two Lindor errors on the same play.
When you're hot, you're hot.
May 6: Aaron Judge sets up a walk-off
Torres' heroics got all the attention, and for good reason: He became the youngest player in franchise history to hit a walk-off dinger. But that at-bat was set up an inning earlier, when Judge lined a two-strike fastball from Cody Allen -- a pitcher who'd dominated the Yankees up to that point -- into right field for a double that turned a 4-1 game into a 4-3 game.