Before NFL, new 49ers GM John Lynch threw out the very first pitch for the Marlins' organization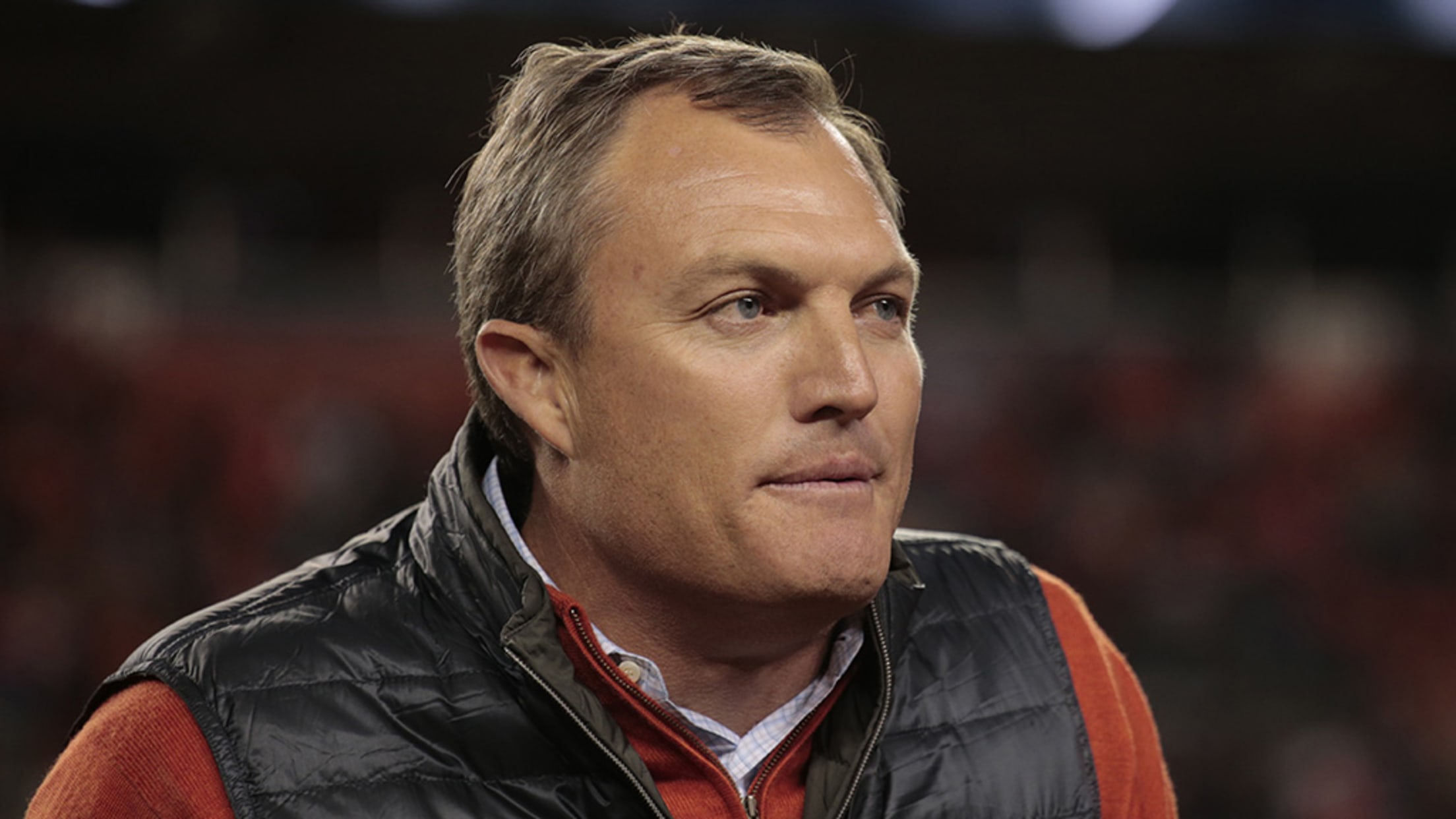 Former Denver Broncos' John Lynch speaks after being inducted into the Broncos ring of honor at half time of an NFL football game against the Houston Texans, Monday, Oct. 24, 2016, in Denver. (AP Photo/Joe Mahoney) (Joe Mahoney/AP)
Presumably, the San Francisco 49ers hired former safety and 2017 Pro Football Hall of Fame candidate John Lynch as the team's new general manager for his impressive NFL resume. He spent 15 seasons playing football and went to the Pro Bowl in nine of them. But it should be noted that Lynch's professional sports career did not begin with football.
Lynch was a two-sport athlete at Stanford University, and the expansion Marlins drafted him in the second round of the 1992 Draft (their first round pick was All-Star catcher Charles Johnson). Frustrated as a quarterback at Stanford, Lynch opted to play in the Minors, and as a pitcher for the Erie Sailors in '92, threw out the very first pitch in the history of the Marlins organization -- a year before the pros would enter MLB.
That pitch -- fastball, high -- actually gave Lynch a place in the National Baseball Hall of Fame. As Lynch explained to MLB.com's Tracy Ringolsby last year:
"Sunshine Network came up there, Wayne Huizenga and all the executives of the Florida Marlins turned this elementary school into what looked like a big league field. I will never forget throwing the first pitch -- and, unfortunately, the first seven were balls. Every time I threw a pitch, the Hall of Fame grabbed something else -- a ball, my hat. I came in after the inning, and they undressed me and took my uniform. It's a fond memory that I'll have forever."
Lynch pitched a total of 38 1/3 innings of professional baseball, and he even has a couple of baseball cards. But he was eventually lured back to football at Stanford and, well, we can't say it didn't work out.
Back in 2014, Lynch talked about his mixed-sport background on Hot Stove: "Football was my passion, but baseball was what I was better at, at that time."
After the 49ers' hiring on Monday, former Marlins scouting director Gary Hughes told SF Gate, "I thought he'd be in the starting rotation for the Florida Marlins." Things turned out just a little different.