Big Rangers fan Madison Kocian preferred meeting Adrian Beltre over Beyonce
Along with Simone Biles, Aly Raisman, Gabby Douglas and Laurie Hernandez, Madison Kocian took home a gold medal at the Rio Olympics. In recent weeks, Raisman and swimming gold medalist Katie Ledecky have made appearances at baseball games as part of their victory lap.
Prior to Saturday's Astros-Rangers game at Globe Life Park, Kocian was given the honor of tossing out a ceremonial first pitch ... and did so as only an Olympic gymnast could:
Here's a close-up mid-flip, because why not: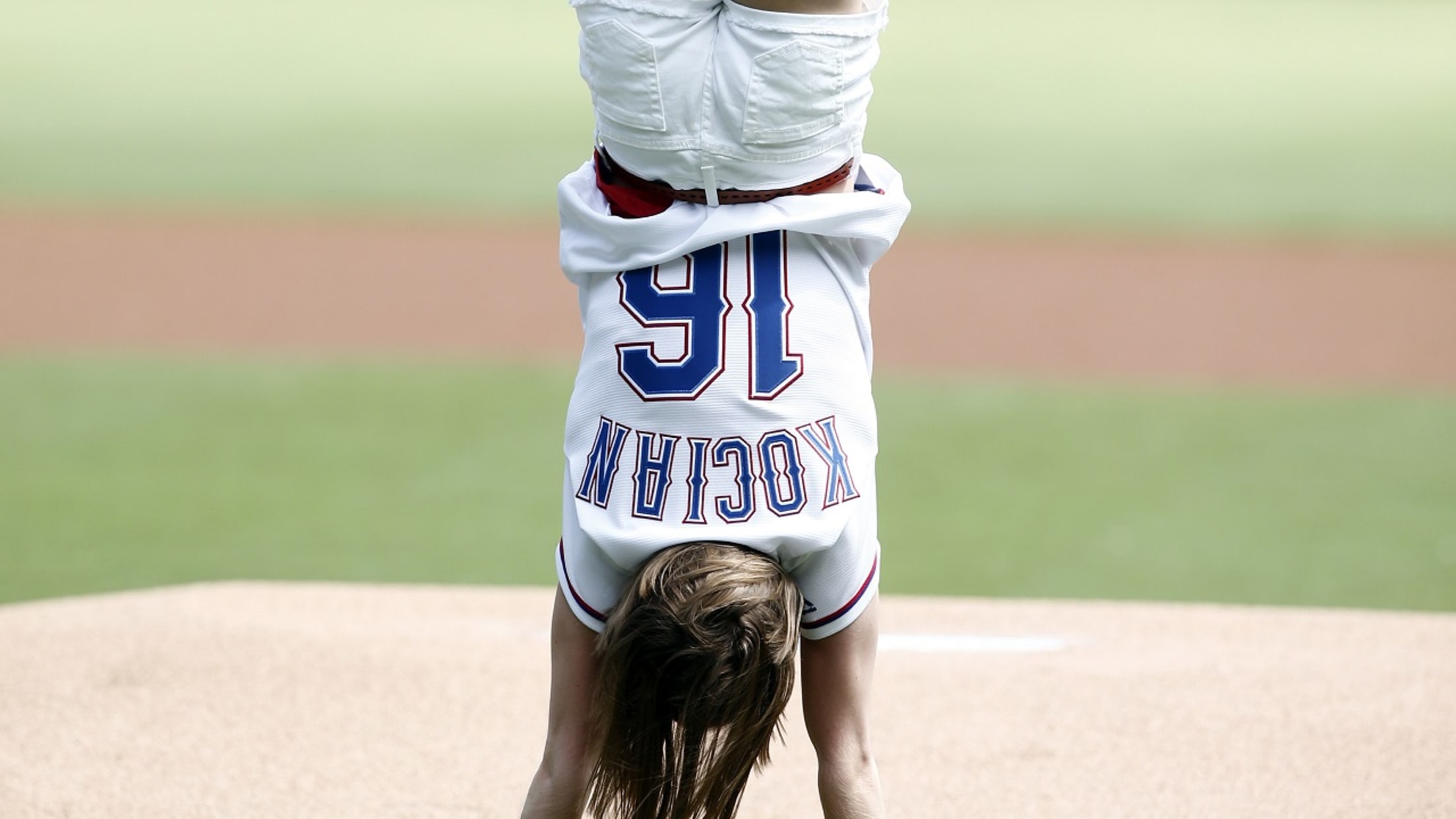 Meanwhile, all the way in Queens, her teammate Hernandez was also throwing out a first pitch. Sure, she didn't literally measure up to her favorite player, Noah Syndergaard, but when it came to her actual pitch, well:
"This is such a great experience," Hernandez said. "Baseball is one of those sports that I think everyone kind of grows up with."
For Kocian, a Dallas native who will head to Southern California and attend UCLA soon, this experience was extra special since she's actually a big, self-admitted Rangers fan (quotes provided by MLB.com's T.R. Sullivan):
"Just growing up my parents were always Rangers fans. When I was born my dad was actually at the Rangers game so he had to come home. I guess I've always been a fan since then. My aunt used to make my cousin and I outfits so we'd match. I've just grown up as a huge Rangers fan."
That's why it makes perfect sense for Kocian to be starstruck upon meeting Rangers third baseman Adrián Beltré on Saturday. She was actually asked whether it was more exciting meeting Beltre or Beyonce, and she chose Beltre in part because he gifted her an autographed bat:
"I got to go with Beltre. It was very fun meeting Beyonce. She was very nice and I'm happy we got to present her a VMA so that was very fun. I'm a big Rangers fan so Beltre giving me the bat was just the cherry on top."
Her day at the ballpark also featured photo-ops, some of them sillier than others:
It's a GOLDen day for a ballgame!🏅 pic.twitter.com/NZTDjQ4Lpz

— Texas Rangers (@Rangers) September 3, 2016
As for her meeting with Beltre, Rangers GM Jon Daniels and other team personnel, Kocian said everybody was "very surprised" at the weight of her gold medal, something Bryce Harperno doubt found out when he helped Ledecky and her five medals throw out a first pitch in Washington, D.C. a few weeks back.
This won't be the only instance of Kocian getting involved with the Rangers this season, mind you. The Rangers have their sights set on October ... and so does she:
"My favorite Rangers memory is probably going to the World Series when they were playing St. Louis. Hopefully in October I'll come back here. I'll fly from UCLA to watch the Rangers."
Teams in this article:
Players in this article: