On this day, 27 years ago, Bo Jackson and Deion Sanders' multi-sport show hit Yankee Stadium
Bo Jackson and Deion Sanders were the pre-eminent multi-sport athletes of their time, but prior to the 1990 season, they had never squared off against each other in a professional game. Jackson's Oakland Raiders didn't face Sanders' Atlanta Falcons in 1989 (the first year in which the two were both in the NFL) and Sanders only had 14 MLB games with the Yankees on his resume, none opposing Jackson's Royals.
That all changed in 1990, when Jackson and Sanders met five times on the diamond -- the most memorable of which came on July 17, in what was essentially "The Bo and Prime Time Show."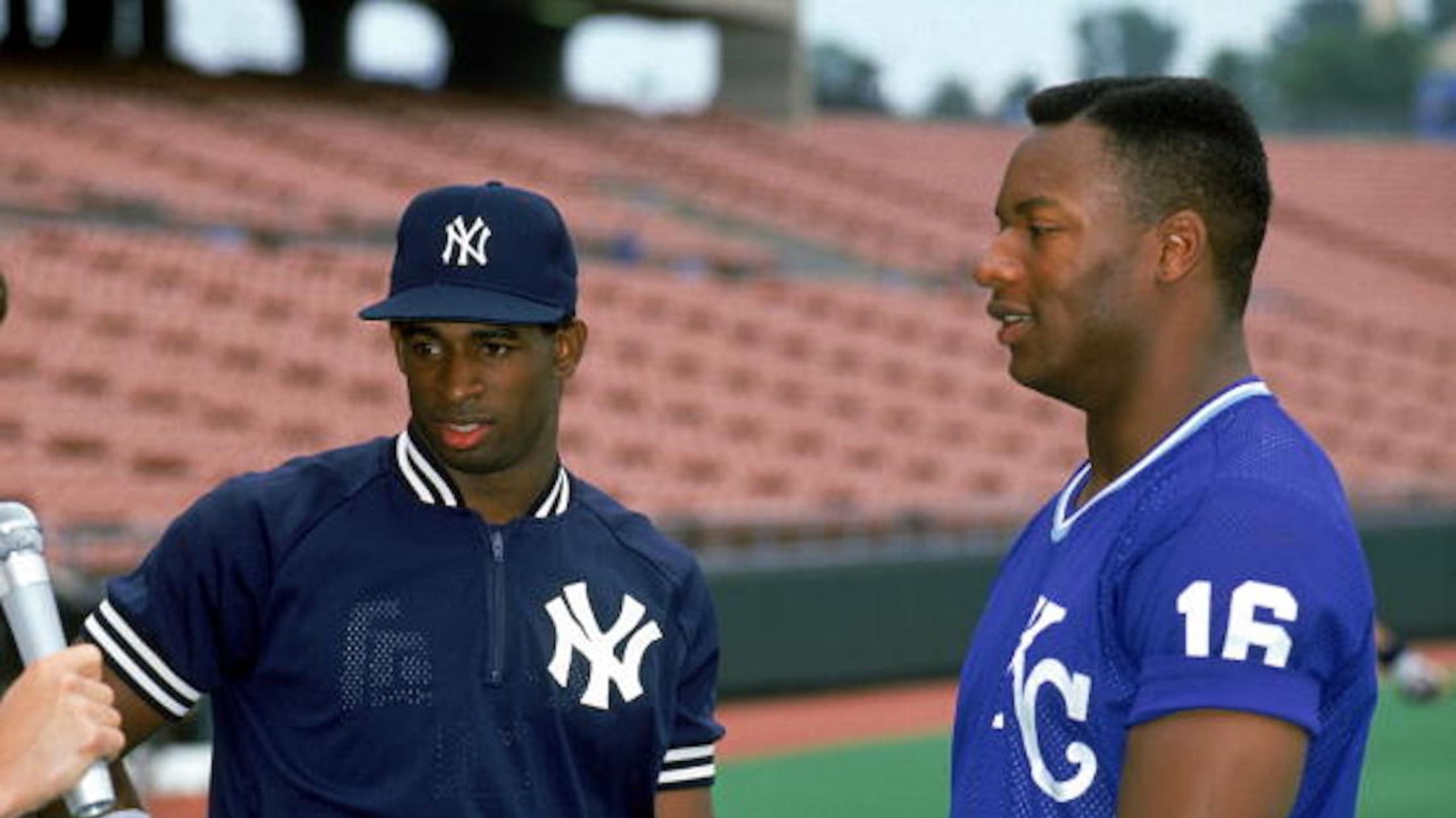 At first, it was all Jackson. Bo wasted no time getting the fireworks started, launching a two-run home run off Andy Hawkins that went straight over Sanders' head in center field:
One 400-foot home run would be great for most players, but Jackson was special. In his next at-bat, he took a Hawkins offering even farther -- this time way up into the bleachers in right-center:
A measurement after the game had the moonshot at 464 feet, a figure that seems entirely believable. It was enough to make even the Hall of Famer on first base turn his head. "The second home run was an eye-popper," said George Brett to Michael Martinez of the New York Times. "I had to stop and watch that one, it got so small so fast."
Sanders realized the greatness, too. "He's like Jose Canseco," he said after the game. "He swings the bat so hard that if the ball touches it, it's bound to go somewhere."
Given Jackson's hot bat, it would have been understandable for Yankees manager Stump Merrill to walk Jackson in the fifth with a base open and the Yankees still within reach at 5-1. He decided to let Hawkins pitch to him again.
That was a mistake.
It wasn't nearly as monstrous as Jackson's previous two long balls, but it counted the same. It was his third homer in as many at-bats, matching a feat by another famous Jackson in Yankee Stadium 13 years prior.
Although Bo was a visitor, the Yankees' crowd could not resist giving him a standing ovation when he took the field in the bottom of the fifth. Unfortunately, he would not get a chance to tie the record of four homers in one game.
An inning later, Sanders stepped up to hit with Alvaro Espinoza on third and a chance to drive in a run. He'd had a rough start to the season, carrying a .144/.217/.216 slash line over 45 games into play that night. This time, however, Deion got a pitch he liked from Mel Stottlemyre Jr. and smoked it into center.
Jackson dove ...
... and missed.
The athletic Sanders rounded third as right fielder Pat Tabler hustled over to get the ball back into the infield. The throw home was off-line, forcing Sanders to try to leap over catcher Mike Macfarlane. The two fell hard to the ground, but the play was still alive.
Stottlemyre fired the ball back to Macfarlane, who couldn't quite field the ball cleanly. Madness ensued:
Sanders was safe with the Yankees' first inside-the-park homer since 1984. He was pumped up:
"I can't wait to get home and watch that play on TV," Sanders said. "It was exciting; it was mean. The adrenaline was flowing."
The disappointing byproduct of the play was that Jackson hurt his shoulder and was forced to leave the game. He would miss a month of play, and never had a showdown with Sanders again.
A hip injury in the 1991 playoffs ended Jackson's football career before they ever played on the NFL gridiron, and Sanders' cross-league move to the Braves that year meant that there wouldn't be any baseball games between them, either. (Jackson spent the entirety of his eight-year career in the American League and retired before the advent of Interleague play in 1997.)
Still, the two made their brief head-to-head rivalry something to remember. After Jackson's three-homer night, Sanders said, "He's one of the best athletes who ever put on a uniform."
He wasn't wrong.