The Orioles' 6-4-3 triple play has an odd historical parallel -- they did the exact same thing in 2000
One of the best characteristics about the game of baseball is its unpredictability, and how it can lead to some truly unique scenes. Triple plays are by their nature interesting, and they can come in various forms. Up until Tuesday's Orioles-Red Sox game, however, we had yet to see a triple play turned in a game this season.
The O's turned one in the eighth inning, but ... well, it was immensely confusing, and it took some conversations and a few minutes of consideration for everybody to realize that yes, it was indeed a triple play of the 6-4-3 variety. Here's what it looked like, with Mitch Moreland on second base, Dustin Pedroia on first and Jackie Bradley Jr. at the plate:
So, to recap: Shortstop J.J. Hardy couldn't catch the popup to short left field, but threw to second baseman Jonathan Schoop, who tagged Moreland before stepping on second (to force Pedroia) and throwing to first baseman Chris Davis (retiring Bradley in the process, as he hadn't run all the way to first).
Odd, right? It was Baltimore's first triple play since Sept. 1, 2000. But this story gets better.
That triple play in 2000? It was a 6-4-3, also took place on the road and was essentially the exact same play. Seriously.
Then-O's shortstop Melvin Mora intentionally dropped a popup off the bat of Sandy Alomar, Jr., but because the infield-fly rule wasn't called he threw to second baseman Jerry Hairston Jr., who stepped on second for the forceout on Wil Cordero and tagged Travis Fryman (for the second out) before throwing to first to retire Alomar -- who hadn't run the play out. Watch for yourself:
And for comparison's sake:
Here's a scene from Tuesday featuring Hardy and Trey Mancini, as the play developed: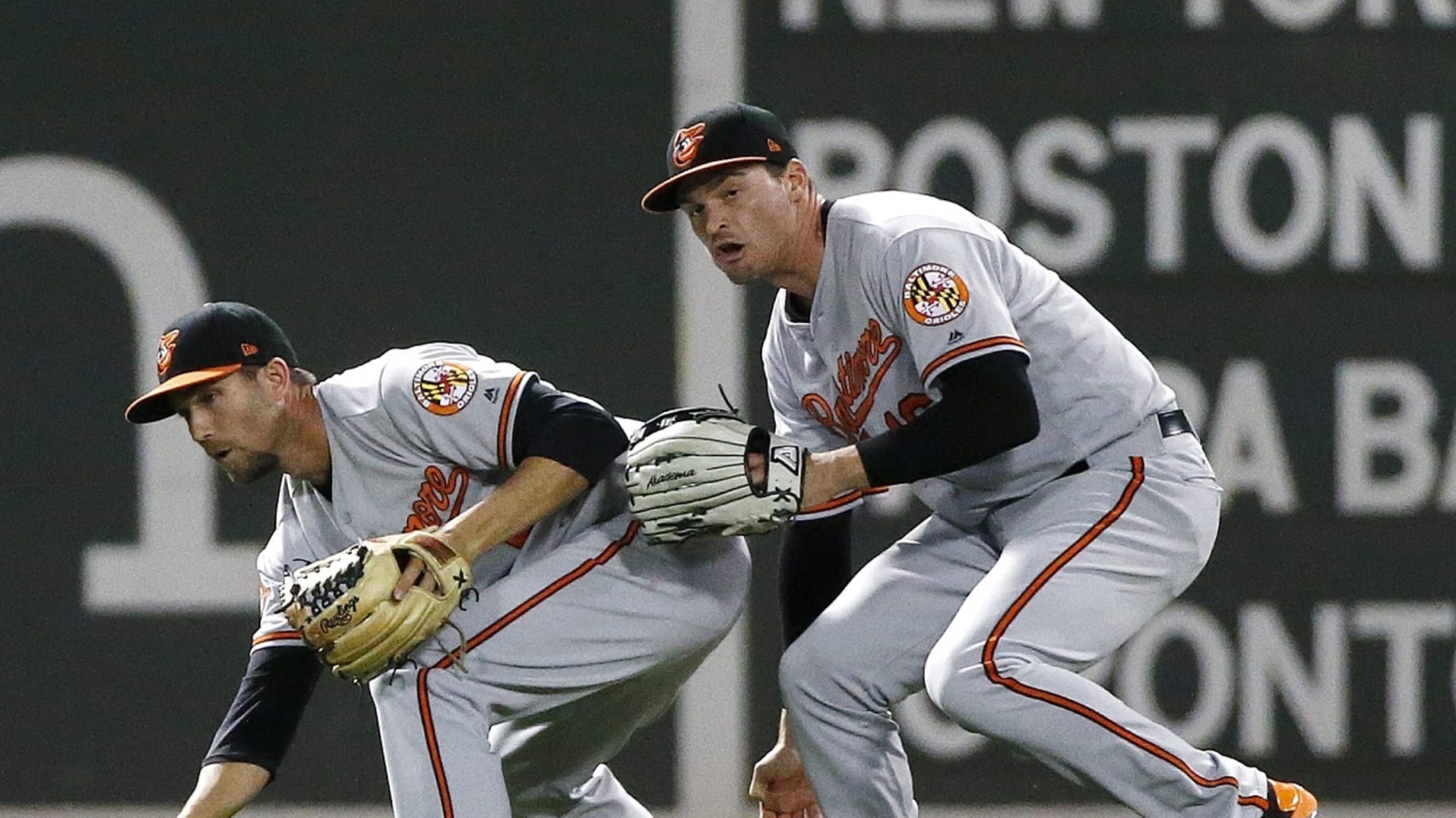 And here's a shot of Hairston talking to umpire Ian Lamplugh about what would eventually be deemed a triple play (much like how Tuesday's took a while to come to fruition):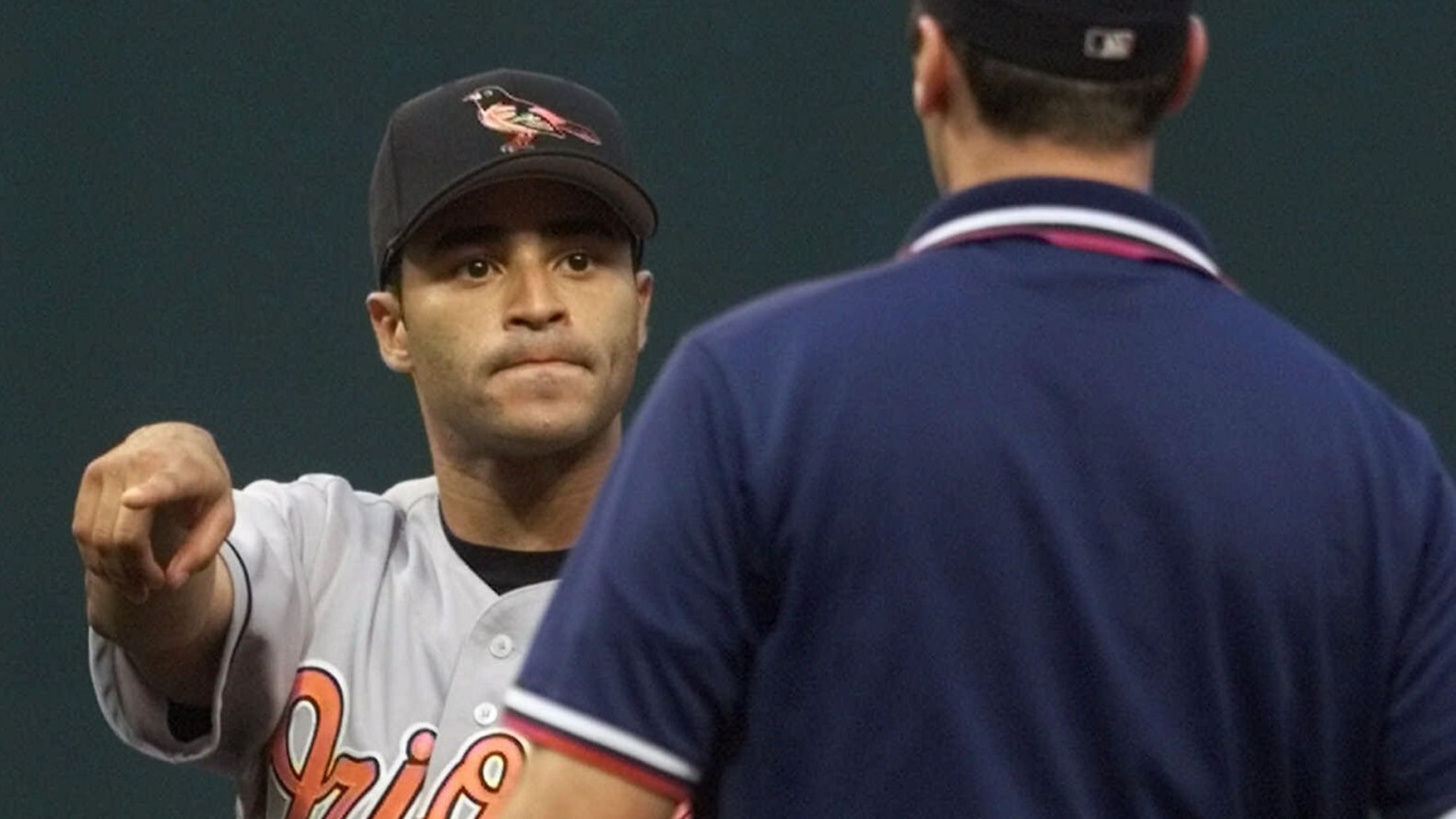 After the game, O's manager Buck Showalter compared Tuesday's triple play to some he's seen in the past while speaking with MLB.com's Craig Forde:
"I've managed in extended spring and I've seen one crazier than that. Had one that never hit leather on a triple play where a guy passed a guy, it hit the other guy on the helmet and the other one was the infield fly. If you've been in extended spring like I have, you've seen it all."
Showalter also lauded the awareness of Schoop at second base:
"Jonathan was really heads up on it. Really heads-up play. No one was aware what was going on. A lot of people would have thrown that ball directly to third, but J.J. was very aware what was going on, so was Jon."
Moreland, tagged out by Schoop in the triple play, was thrown off a bit by how the play developed. He told MLB.com's Quinn Roberts as much:
"I don't really know what to look for now. He seemed to be facing the infield just easing back. It wasn't like he had his back turned running to the ball. He was facing the infield telling the infielder he's got it."
It's wild enough that prior to Tuesday, the O's hadn't turned a triple play since 2000. The fact that they mimicked that very same triple play? That's just ridiculous. Baltimore lost the game, 5-2, but not without making some team history.
Baseball, you've done it again.
Teams in this article:
Players in this article: