Can you match the Indians player to his walk-up song?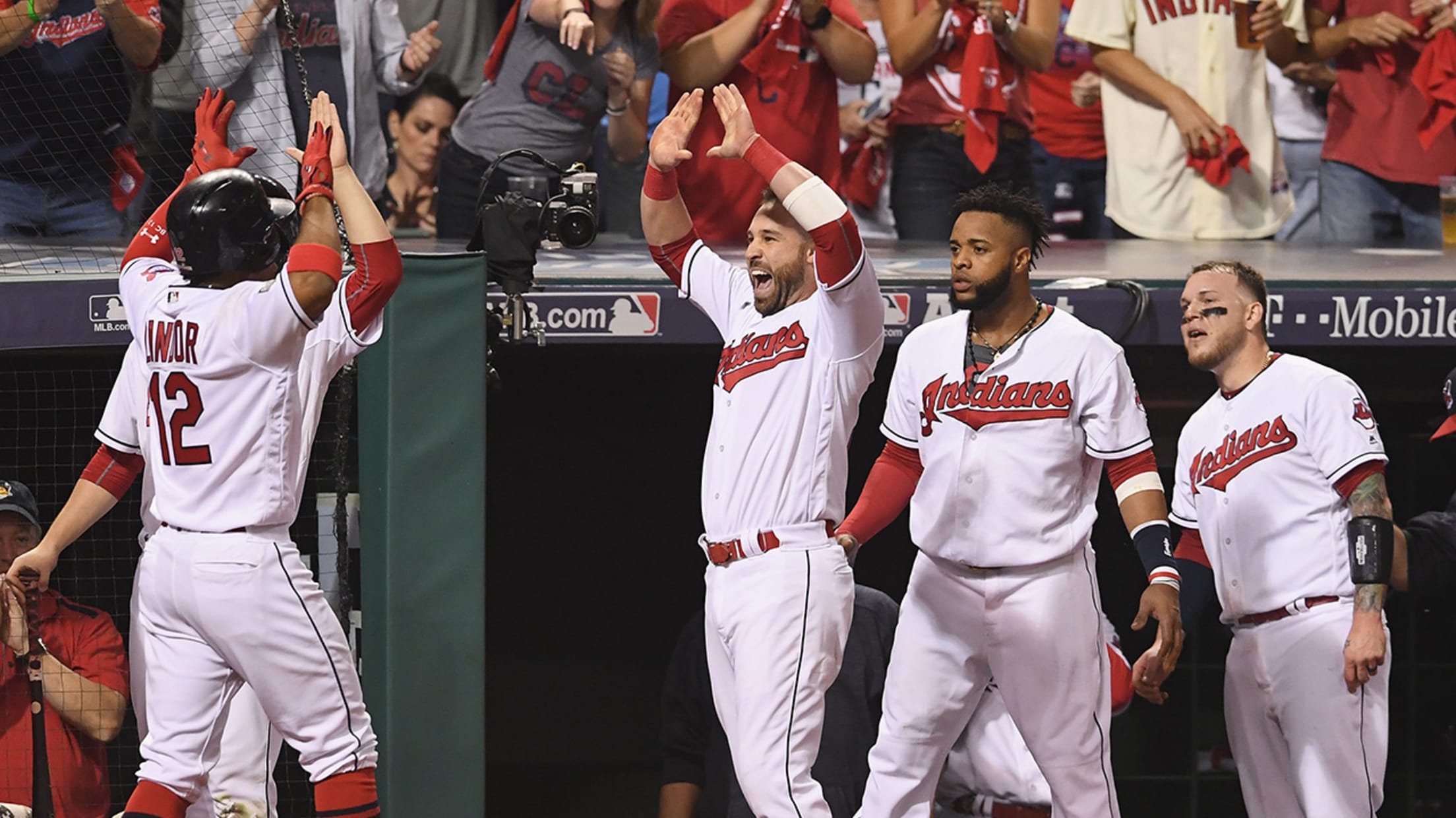 CLEVELAND, OH - OCTOBER 06: Francisco Lindor #12 of the Cleveland Indians celebrates at the dugout after hitting a solo home run in the third inning against the Boston Red Sox during game one of the American League Divison Series at Progressive Field on October 6, 2016 in Cleveland, Ohio. (Photo by Jason Miller/Getty Images) (Jason Miller/Getty Images)
If you're of a certain mindset, you can think of your favorite team's walk-up songs as a mix tape they made just for you. Luckily, we are of that mindset, which means you can now rock out to the Indians' postseason walk-up music on Spotify. Go ahead -- tune in below:
But Cleveland's not the only team searching for a championship title. To listen to other postseason teams' walk-up music, follow MLB on Spotify here:
While you're listening, see if you can match the player to his walk-up music (don't peek at the list below unless you're done with the quiz):
Here's a full guide to the Tribe's walk-up music:
Cody Allen: Eric Church - "The Outsiders"
Cody Anderson: Kid Rock - "Born Free"
Trevor Bauer: Amon Amarth - "The Pursuit of Vikings"
Lonnie Chisenhall: LeCrae ft. Andy Mineo - "Say I Won't"
Mike Clevinger: Major Lazer - "Light It Up", Shawty Lo - "They Know"
Coco Crisp: Eric B. & Rakim - "I Know You Got Soul"
Rajai Davis: Kirk Franklin - "Jesus", Marvin Sapp - "Yes You Can"
Chris Gimenez: Thrice "Black Honey", 10 Years - "Fix Me"
Yan Gomes: Lecrae - "Dream", Jay-Z - "Brooklyn We Go Hard"
Brandon Guyer: Lil Wayne - "Right Above It"
Jason Kipnis: Mystical "Bouncin' Back (Bumpin Me Against The Wall)", Ookay - "Thief"
Corey Kluber: X Ambassadors - "Jungle"
Francisco Lindor : Celia Cruz - "La Negra Tiene Tumbao", Quad City DJs - "Welcome to the Space Jam"
Jeff Manship: Foo Fighters - "Bridge Burning"
Michael Martinez: Chris Capell - "Manga Tu Camino"
Zach McAllister : Fat Joe - "All The Way Up"
Andrew Miller: Michael Jackson - "Beat It"
Mike Napoli: Huey "Pop Lock It Drop It", Tag Team - "Whoomp There It Is", Wake Flocka Flame "Grove St. Party"
Tyler Naquin: Billy Squier - "The Stroke", Brantley Gilbert - "Kick It In The Sticks
Roberto Pérez: Ozuna ft. Juanka El Problematic - "Si Te Dejas Llevar"
Jose Ramirez: Farruko - "No Ha Nacido Aun", Mozart La Para - "Levantate", Kapuchino - "Me Buque"
Danny Salazar: Carlos Vives ft. Michel Telo - "Como Le Gusta A Tu Cuerpo"
Bryan Shaw: Fall Out Boy - "Light Em Up"
Josh Tomlin: Uncle Lucius - "Keep The Wolves Away"