Ranking all 30 of Giancarlo Stanton's home runs since the start of July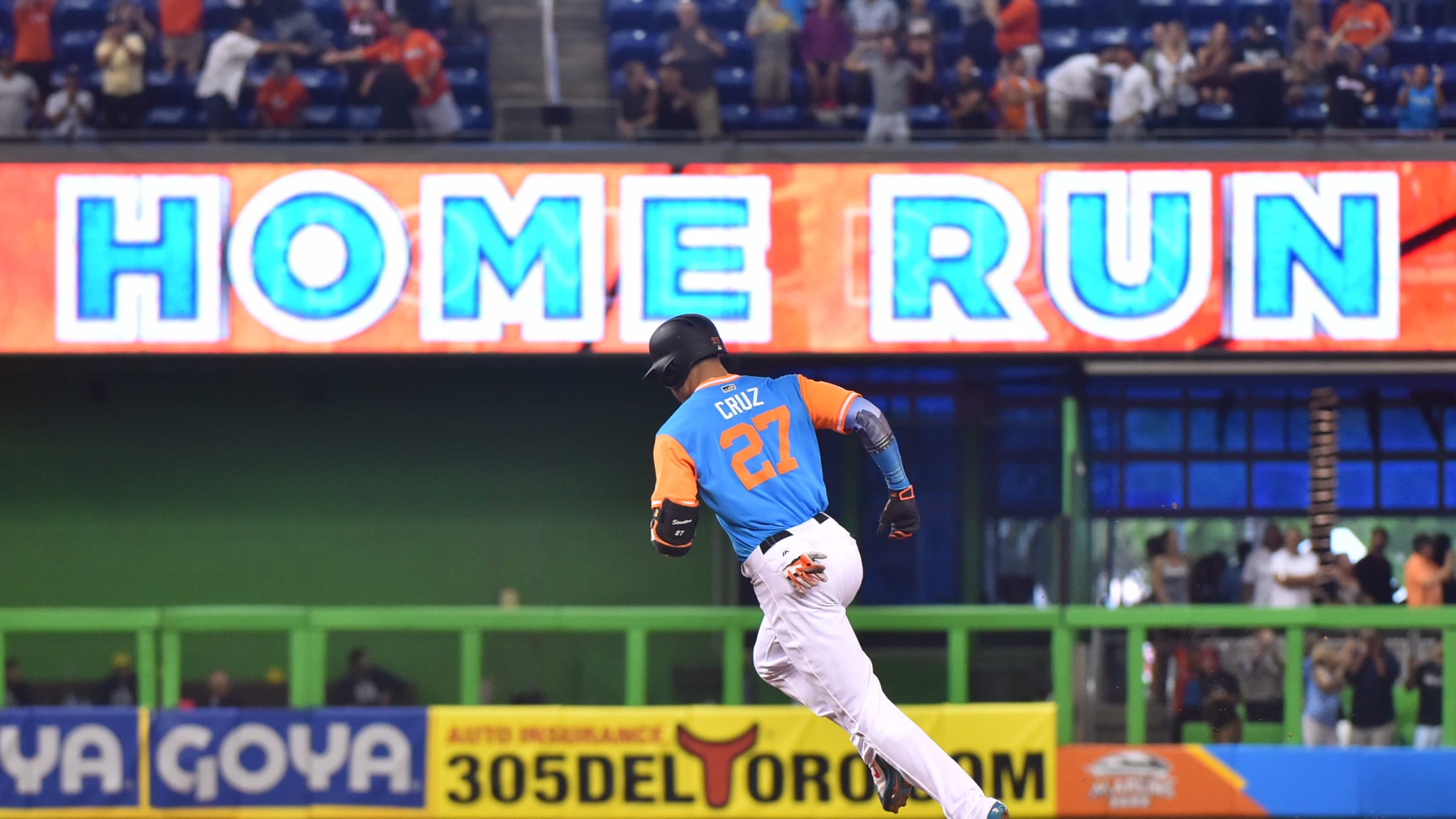 (Eric Espada)
Giancarlo Stanton has launched an absurd 30 home runs in his previous 53 games. Not even the best back-to-back two-month periods by Barry Bonds in 2001, Mark McGwire in 1998 and Roger Maris in 1961 match that feat.
Given such a place among baseball's greatest dinger creators, let's rank each of his home runs since July 1.
30. The first - vs. Reds, July 5
The first was not at all like the majestic shots that we expect from Stanton, but this is where we began.
29. The August record - vs. Phillies, Aug. 22
His 13th of the month set a Marlins record for most dingers in a month. And still, more were to come.
28. The 11th inning special - vs. Giants, July 9
Given his giant size and strength, you don't see Stanton smash many pitches low in the zone. But he went down and still busted this one over the left-field fence.
27. Long hair, don't care - vs. Mets, Aug. 20
Sorry, deGrom, but your gorgeous locks curry no favor with Stanton.
26. The smile - vs. Rangers, July 24
The home run? Ho hum, just another homer. But the smile as he approached third? That could melt the coldest of hearts.
25. Don't bother jumping - vs. Padres, Aug. 25
Sorry, Jabari Blash, but Stanton's home runs just carry ... and carry ... and carry.
24. The slippery foot - vs. Rangers, July 24
Home runs are supposed to require absolutely perfect hitting mechanics. But Stanton's foot slid backward here and he still crushed a pitch on the outside of the plate over the fence.
23. The Cy Young breaker - vs. Nationals, Aug. 7
Stanton doesn't care for your awards, Max Scherzer. He just wants dingers.
22. Nothing but net - vs. Giants, July 9
Most fans of the opposition aren't happy to see home run balls. But when it's Stanton, you can't help but smile.
21. The shoulder-high - vs. Braves, Aug. 5
Five of Stanton's 29 home runs were out of the strike zone. This was one of them.
20. The post office - vs. Nationals, Aug. 29
Neither wind nor rain will stop Giancarlo from delivering dingers.
19. "Nothing innocent about that" - vs. Reds, July 5
You know it's a good one when the broadcaster asserts the baseball's guilt.
18. The batter's eye - vs. Phillies, Aug. 24
How does that make you feel, Dee?


17. Take a knee - vs. Braves, Aug. 4
No reason to get up, RA. There's nothing good behind you.
16. Opposite field power- vs. Giants, July 7
No right-handers -- not even Stanton -- are supposed to be able to hit home runs to the opposite field in AT&T Park. And yet, here we are.
15. "Wow, is he hot!" - vs. Phillies, July 18

Was the broadcaster's exclamation a reference to Stanton's performance at the plate, his internal body temperature or his dashing good looks? Why not all three?
14. Will it ever land? - vs. Phillies, July 19

Just watch how long Odúbel Herrera had to stare at the ball before it hit the ground. That's a lot of hang time.
13. The new career-high - vs. Nationals, Aug. 8

This was Stanton's 38th home run, which set a new career high in a season. He had 13 more in the month of August alone.
12. The boomerang - vs. Braves, Aug. 4

This yo-yo of a blast bounced on the tunnel beyond center field before returning to the grass. Presumably so Stanton could hit it again and have it count as two homers.
11. The lonely chair - vs. Rockies, Aug. 13

Unfortunately for the fans, this opposite field shot avoided their grasp and instead hung out with a lonely chair.
10. "Blink and you'd miss it" - vs. Rockies, Aug. 12

That ball was hit very hard.
9. The jogger - vs. Nationals, Aug. 10

Dee Gordon was running with the pitch. But with Stanton is at the plate, you only ever have to trot.
8. No. 40 - vs. Rockies, Aug. 11

A new milestone.
7. No. 50 - vs. Rockies, Aug. 27
An even better milestone.
6. Don't pitch him there - vs. Giants, Aug. 14

The timing was perfect: Just as Marlins broadcaster Rich Waltz was wondering how the Giants would pitch to Stanton, he unloaded. The secret is: You can't pitch to him.
5. The scoreboard special - vs. Phillies, July 17

Before Jerad Eickhoff ever recorded an out, he had to see Stanton blast a ball off the scoreboard at 115 mph. That's the baseball equivalent of spilling coffee on your computer on your first day at work.
4. The HR sculpture ricochet - vs. Giants, Aug. 15
Like the hardest game of pinball ever created.
3. The Anti-Gravity - vs. Phillies, July 17

Ask any fans that were in attendance that day, and they'd tell you the same thing: "We thought gravity was turned off."
2. The hardest hit - vs. Padres, Aug. 25
At 118 mph, this was one of those home runs whose flight is almost impossible to follow
1. The pump - vs. Rangers, July 26

Stanton doesn't often show much of a reaction when he hits home runs. This one was different.
Teams in this article:
Players in this article: