Come relive the best moments from the Rockies' 2018 season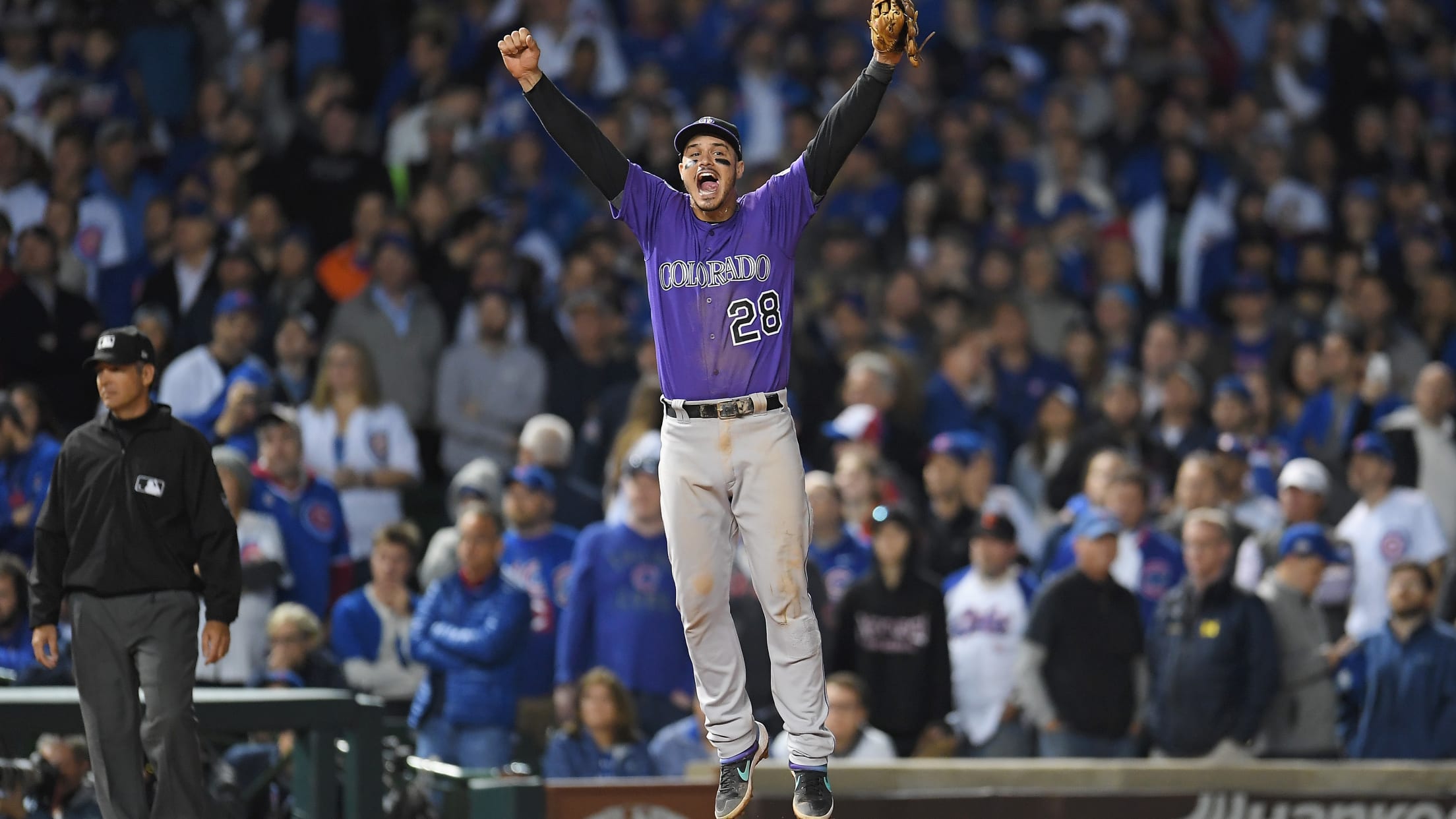 during the National League Wild Card Game at Wrigley Field on October 2, 2018 in Chicago, Illinois. (Stacy Revere)
In 2018, Colorado's squadron of young arms found a way to conquer the thin, dinger-inducing Rocky Mountain air, posting a 3.83 ERA in the second-half of the season, 10th best in baseball. When you consider pitching in Coors Field is like pitching with an industrial-sized fan directly behind the batter, that's even more impressive. Alongside a reinvigorated lineup, the Rockies surged from a 34-38 record in mid-June all the way back into postseason contention, eventually securing a spot in the NL Wild Card Game.
With the Rockies' postseason run ending Sunday afternoon, let's take a look back and relive some of the moments and people that made this season a memorable one for the most purple team in baseball.
Adam Ottavino becomes a sorcerer
After spending all offseason reinventing himself in a makeshift pitching facility he built inside an NYC storefront, the Rockies reliever turned into a ruthless destroyer of worlds. Look at the movement on these pitches!
Adam "Blitz Ball" Ottavino winner by TKO over Dansby "Lieutenant Dans" Swanson. 🥊

Swanson's corner stops the fight. pic.twitter.com/WvSKDC9XAP

— Rob Friedman (@PitchingNinja) August 19, 2018
Kyle Freeland becomes an ace
Since their inaugural season in 1993, the Rockies have struggled to develop elite starting pitching. But with Freeland's breakout campaign likely to secure him a top-5 finish in the National League Cy Young vote, it looks like the Rockies might have found a legit arm at the front of their rotation. The defining moment of Freeland's breakout season came in the Wild Card Game when the Denver native shut out the Cubs and set the stage for Colorado's dramatic extra-inning victory.
Jenny Cavnar breaks barriers
The Rockies' otherwise forgettable 13-5 loss against the Padres on April 23rd, made history when Cavnar became the first woman since 1993 to do play-by-play on an MLB broadcast. Thankfully she got to show off her home run call when Arenado went deep in the first inning.
"Fire up the fountains. She gone!"
Trevor Story hits 1,380 feet of dingers in one day
Story has been a solid big league shortstop for a few years now, but this season he turned things up to 11. The highlight of his "Wassup everyone, I'm the real deal now" year came on Sept. 5, when he clobbered three home runs for a combined distance of 1,380 feet, including a 505-foot blast that was the longest homer in all of baseball this season.
The return of Matt Holliday
No baseball player resembles John McClane from "Die Hard" more than Holliday. And just like Bruce Willis' legendary action hero, Holliday is only finished when he says he's finished.
via GIPHY
After an incredibly impressive big league career, Holliday appeared done midway through this season. Unsigned and basically just chilling at home with his kids, the Rockies called him in the middle of the season to see if he wanted to come back to Coors Field and smash a few taters. The slugger agreed, spent a sliver of time in Triple-A getting his timing back and returned to Denver with a bang, blasting a game-winning shot in his very first week back with the club.
Charlie Blackmon's beard stays hairy
Another season, another stellar year for the Rockies center fielder and his iconic bird's nest of a beard. Earlier this year, Blackmon pondered what his beard might look like photoshopped onto some of his teammates.
Tony Wolters, October hero
Wolters, the Rockies' backup catcher, struggled at the dish this season. Going into the NL Wild Card game against the Cubs at Wrigley Field, he wasn't really the dude you'd want coming up to the plate in a big situation. But then, with one swing, that all went out the window.
From the depths of baseball obscurity, Wolters etched his name into postseason lore with an insanely clutch and out-of-nowhere 13th-inning RBI single to thrust the Rockies past the Cubs. While it's a bummer for Rockies fans that their season ended in the Division Series against the Brewers, no purple-and-black-clad Denverite will ever forget the name "Tony Wolters."
Teams in this article:
Players in this article: