Let us always remember that San Diego once tried to build a floating stadium in San Diego Bay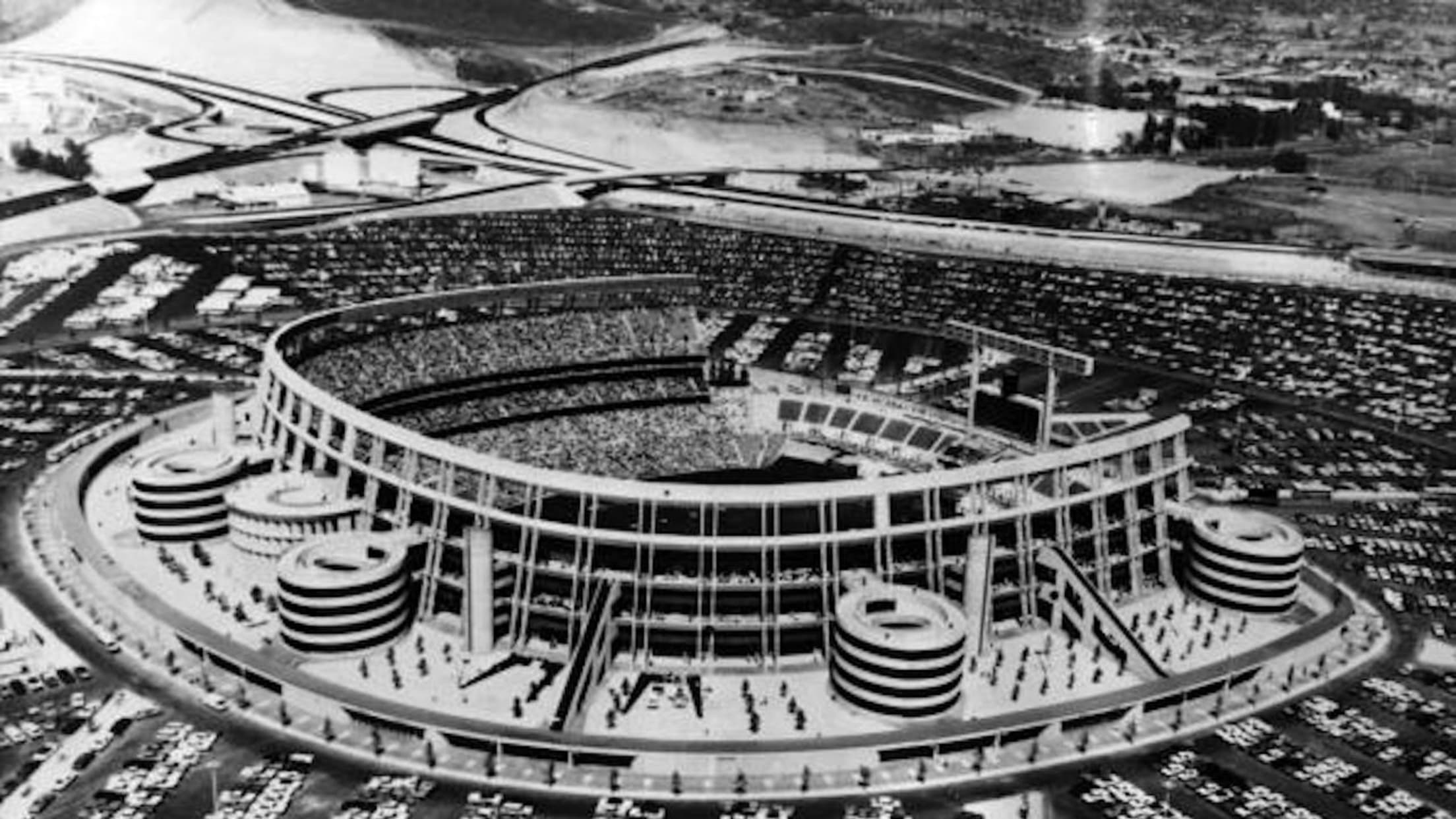 The recently completed San Diego Stadium, which can seat 50,000 and is convertible from a football to a baseball configuration, with a 15,000 car parking area, April 4, 1967, San Diego, California. (Photo by Alan Band/Fox Photos/Getty Images) (Photoshot/Getty Images)
In the early 1960s, the city of San Diego was in desperate need of a new stadium. The AFL's Chargers had threatened to move to Anaheim if an agreement couldn't be reached on a new home field -- Balboa Stadium had been open since 1915 and required extensive renovations just to reach a capacity of 34,000.
The Padres, meanwhile, were still the Triple-A affiliate of the Reds, but rumors of a promotion to the Major Leagues had begun to swirl ... provided, of course, that the team could secure a suitable ballpark.
Luckily, a local engineering firm had come up with a plan. The proposed project would seat over 50,000 fans and host football, baseball and even concerts, all for a shockingly reasonable price. It was, in the words of then-Chargers owner and hotel magnate Barron Hilton, "perfect for San Diego." Best of all: It would float in the middle of San Diego Bay.
First, some context. In January 1962, the Astros had made history by breaking ground on the Astrodome. The Eighth Wonder of the World was revolutionary: It was both the first domed stadium in the country and the first that could hold multiple sports, ushering in the era of multipurpose stadiums. Almost immediately, cities tried to follow Houston's lead, from the Coliseum in Oakland to Shea Stadium in Queens. San Diego, though, wanted to do one better: And what could be better than a ballpark in the bay?
The idea was simple (well, as simple as a floating stadium can be, at least). The structure would be composed of three sections: a central, landlocked grandstand flanked by two 20,000-seat wings that would float on pontoons and could be reconfigured depending on the event.
San Diego floating stadium proposed in 1964. Home plate section was stationary while 1st & 3rd sections on water. pic.twitter.com/5Hn16GmocF

— Baseball Photos (@Baseball_Photos) February 26, 2014
"It's the first novel idea in stadium-building since the dome," Hilton boasted of his plan, and initially all signs were positive. A feasibility study commissioned in 1964 investigated several options and concluded that the bay was the best of the bunch, thanks to both its flexibility and its cost-effectiveness -- unlike other sites, the San Diego Bay was already owned by the city, so high property costs wouldn't be a factor. The teams, the press and the city were all on board.
Except, well, there was just one problem: As it turns out, building a stadium on water actually does cost a fair amount of money. An architectural firm was brought in to move forward with the idea, and it calculated the total price tag to be around $41 million -- more than double the initial estimate, mainly due to the cost of installing the necessary pontoons and foundation. No matter how badly San Diego wanted to make its wildest sci-fi dreams come true, the numbers were unavoidable: "It will be a conventional stadium," said legendary local sportswriter and floating stadium proponent Jack Murphy, "conventional in the sense [that] it won't float."
On April 28, 1965, the city council officially recommended a multipurpose stadium in Mission Valley, and voters approved a bond measure later that fall. Construction completed on Jack Murphy Stadium -- later Qualcomm Stadium -- in time for the Chargers' 1967 season. We may not have gotten our island stadium, but hey, who knows: There's always an aircraft carrier.