Which 2018 rookie is most likely to reach the Hall of Fame?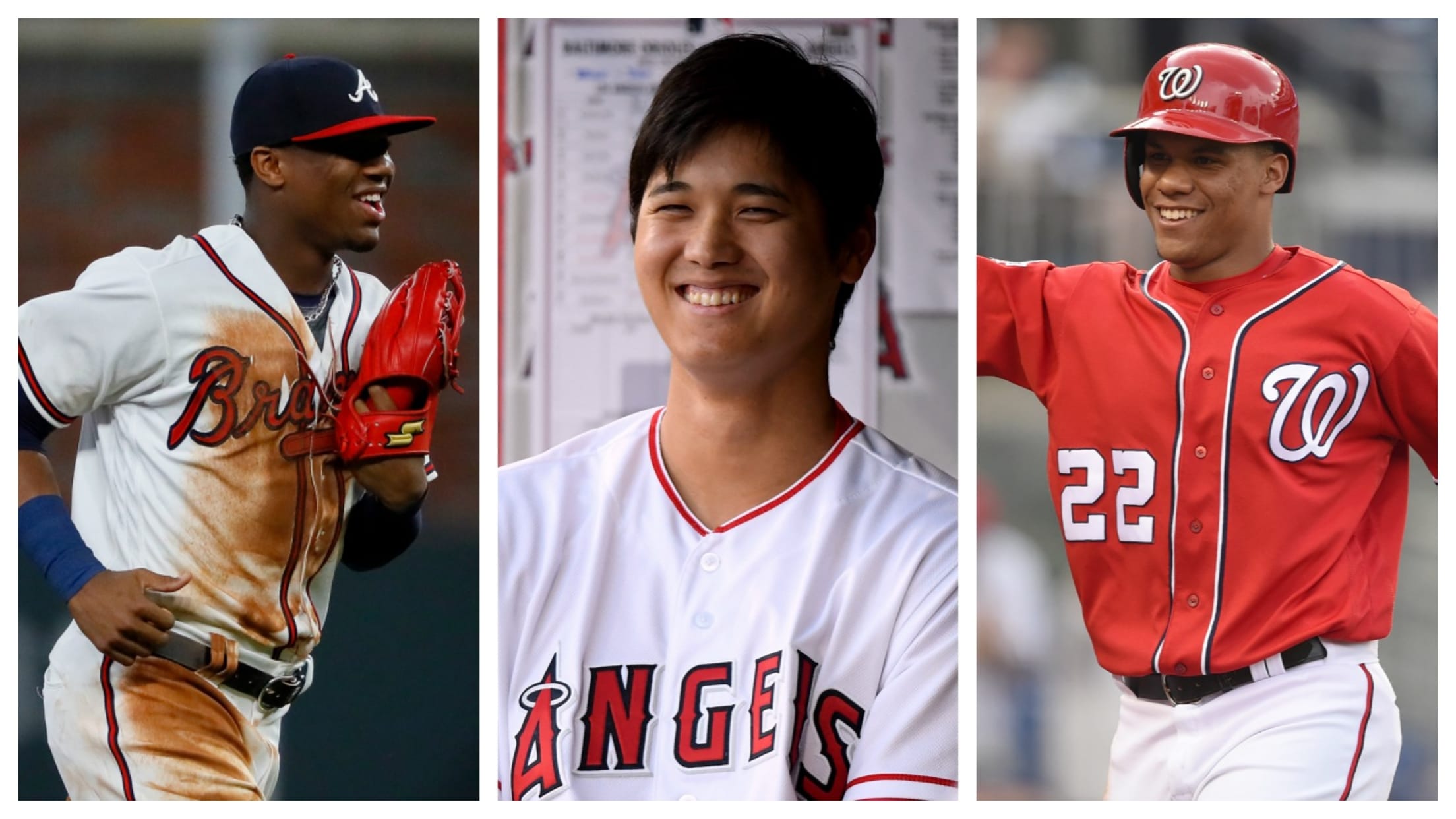 Only 323 people -- including players and executives -- are in the Hall of Fame. By rough estimate, there have been over 19,000 players to play in the Major Leagues. That means that less than 2 percent of players that have ever played the game are in the Hall -- which makes it almost impossible to try and predict who will one day have their faces bronzed and placed upon the walls.
But if we stopped at the impossible, human beings never would have landed on the moon, or found all that moon cheese that's up there. So, knowing that almost anything can happen and the future is murkier than a magic eight ball buried under swampland, these are the seven rookies that have the best chance of putting together a Hall of Fame career.
I'll try to guess the chances that each of these players gets in and, because they are rookies, you may think the odds seem low. But every year they succeed in the Majors, the closer they'll come.
1. Juan Soto
He's 19 years old and has already hit 10 home runs in just 55 big league games -- which means he'll most likely finish the year with more home runs than years on this Earth. Unlike some young hitters, though, Soto is also remarkably patient with a nearly even walk-to-strikeout ratio. So when pitchers start to figure out his weakness, he'll be less likely to chase like some more aggressive hitters. I mean, he's already staring pitchers down as Soto was the unstoppable, fearsome hitter in a baseball movie.
Hall of Fame chances: 50 percent. There are few players that look so confident so quickly.
2. Shohei Ohtani
Quite simply, there is no player in the last century that you can compare to Ohtani. So if Ohtani turns out to be an ace starter and cleanup hitter for the next decade -- which he's certainly looked like this year -- then he's in. But -- already not pitching the rest of this year because of an arm injury -- what happens if he's just a decent starter and a decent hitter? Will the Hall of Fame voters add those skills together and count that contribution as one amazing, once-in-a-lifetime player? Or will he suffer because he's not Hall of Fame-level at each position?
Hall of Fame chances: 33 percent -- there's just no way to even guess at what Ohtani's career could look like.
3. Ronald Acuna Jr.
The ideal prospect: He runs fast. He hits the ball hard and often. And he can play any spot in the outfield. Only 20 years old, every possible future is open to Acuña. He could remain a true five-tool threat. Or, as he ages, he may grow into a home run masher. Or he could turn into a perennial batting champion.
The ceiling is sky-high and we're betting on it being pretty fun regardless of the outcome.
Hall of Fame chances: 25 percent. If you could create a Hall of Famer's tools in a lab, Acuña would have them.
4. Gleyber Torres
Ask Yankees fans, and they'd say he's already a Hall of Fame lock. Torres' OPS is 100 points higher than Derek Jeter's American League Rookie of the Year Award-winning season in 1995, and he's hit more home runs, too.
There's not a team in baseball (other than maybe the Astros) that wouldn't gladly accept Torres and install him somewhere in the middle infield, which is an amazing statement about a 21-year-old.
Hall of Fame chances: 12 percent. Succeed as a shortstop in New York and the sky is the limit.
5. Walker Buehler
How many rookie starters manage to complete a full season with more than a strikeout per inning pitched, while walking fewer than two batters per nine? Among starters with at least 130 innings, there are three: Roy Oswalt, who will likely garner some Hall of Fame consideration when he is on the ballot this winter, along with Masahiro Tanaka and Noah Syndergaard -- two of the most talented, if injury prone, pitchers in the game. Buehler is about halfway to that mark this season, which would make him the fourth.
Hall of Fame chances: 8 percent. Pitchers are exceedingly hard to project, but Buehler has the physical tools to do it.
6. Harrison Bader
The bat has been good, but the defense? That's been sublime. He's run across the outfield grass like he has skis under his feet, and he never seems to put a wrong foot in. He's fifth in the Majors in Outs Above Average, and it shows.
While getting into the Hall of Fame can be difficult as a glove-first player, the ability to quantify Bader's skills using statistics will only get better over time.
HOF: 3 percent. Andruw Jones is probably the test case for a mostly-glove Hall of Fame case, and he received 7.3 percent of the vote last year.
7. Jack Flaherty
Flaherty flew through the Minor League system -- never staying in one place long enough to dominate in such a way for him to tear up prospect lists. Now dominating in the Majors with the second-best ERA among rookie starters with 50-plus innings, Flaherty is largely succeeding on excellent command of his fastballs and his dynamite slider. Because of his age and inexperience, though, he could get even better if he's able to add another above-average offspeed offering to the mix.
If he does that, anything is possible.
HOF: 1 percent. Hey, anything is possible.