The Sharks have called upon baseball royalty to introduce them in the Western Conference Finals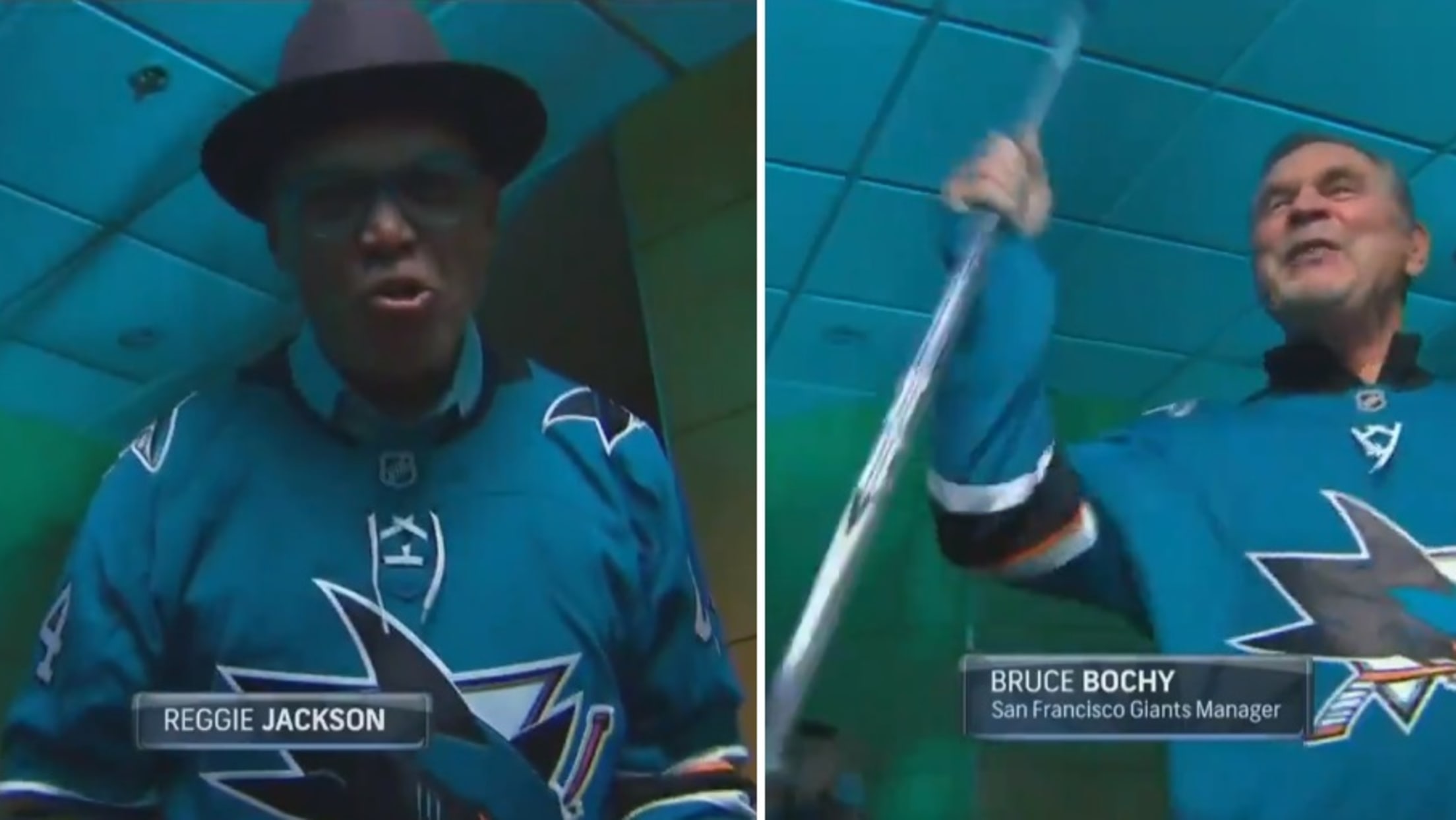 The Sharks have a fairly common habit of calling upon their Bay Area neighbors to help pump up the crowd at the SAP Center before their Stanley Cup playoff games. Mark Canha and Liam Hendriks already stopped by earlier in the postseason, but with the Sharks now in the Western Conference Finals, it was time to bring out the heavy hitters.
In Game 1 on Saturday, it was none other than Hall of Famer and A's legend Reggie Jackson who opened the doors prior to the Sharks' 6-3 win over the Blues:
It might be May, but we have @mroctober himself Reggie Jackson to open the doors tonight! @Athletics | #BayAreaUnite pic.twitter.com/plKKTGVx4d

— x - San Jose Sharks (@SanJoseSharks) May 12, 2019
That worked out pretty well, so the Sharks asked another baseball icon of the Bay Area to open the doors in Game 2 on Monday. With the Giants off, manager Bruce Bochy was available and more than ready to lend a hand:
This guys knows a thing or two about winning in the postseason.

Welcome @SFGiants skipper @BruceBochy, who opened the doors tonight! #PlayoffMode | #BayAreaUnite pic.twitter.com/1IMi6aBKPo

— x - San Jose Sharks (@SanJoseSharks) May 14, 2019
Look at that vigorous enthusiasm!
Boch is FIRED UP 🔥🔥🔥🔥🔥 pic.twitter.com/xwQngBDkvM

— Sharks on NBCS (@NBCSSharks) May 14, 2019
This is a man who loves his job.
There's little doubt that the Sharks are hoping that both Jackson and Bochy will find some way to make their championship-winning ways rub off on a team that is still searching for its first Stanley Cup. It sure seems as though the Sharks have the right idea.
If they're taking requests, how about welcoming Rickey Henderson back to the Shark Tank?
We love this idea already.
Andrew Mearns is a writer for Cut4 whose baseball obsession was born from the shattered dreams of Mike Mussina's perfect game attempt in 2001. He has a startling memory of World Series highlights that barely functions as a party trick.
Teams in this article:
Topics in this article: