Six September series that are going to feel like it's already October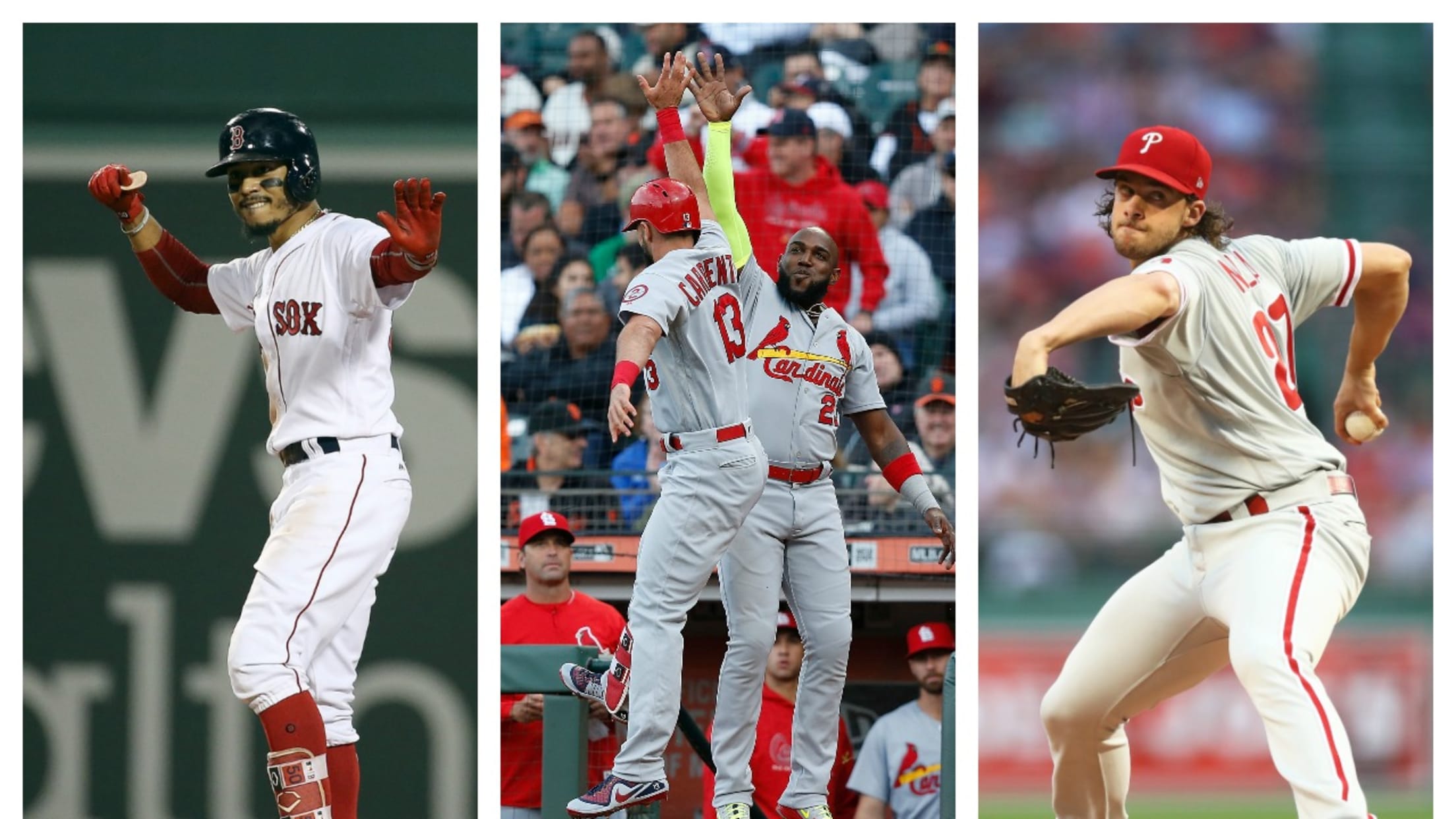 The calendar has officially flipped to September -- just one more month until the wall-to-wall madness of the postseason. But really, why wait until October? There's still so much to be decided in the final few weeks of the season, and with stakes this high, a lot of games will make it feel like the postseason has come early. Here are six to keep an eye out for.
Dodgers at Cardinals, 9/13-9/16
Two of the most iconic franchises (and uniforms) in baseball, with plenty of bad postseason blood between them, in front of a crowd that knows a thing or two about October atmosphere? Sign us up. And if by some chance you need more convincing, L.A. and St. Louis will enter this three-game set in the midst of a pair of heated races: The Cards currently a half-game behind the Brewers for the top Wild Card spot, with the Dodgers a half-game up in the NL West -- and the Rockies (a half-game back) and D-backs (one game back) hot on their heels and in the thick of the Wild Card chase, too.
Let's just hope it can top the last time these teams got together:
Red Sox at Yankees, 9/18-9/20
Yes, Boston currently leads New York by 7.5 games in the AL East, and yes, barring a minor miracle, this three-game set won't have much of a say in how the postseason picture shakes out. But still: The Red Sox's four-game sweep at Fenway last month cranked the heat up, and what says "October" more than Boston and New York, at the top of the standings, dueling it out on a crisp autumn night? Plus, if you hadn't heard, Postseason Yankee Stadium is back:
Rockies at D-backs, 9/21-9/23
Last year's NL Wild Card Game was absolute bedlam from start to finish, featuring 19 runs and 30 hits and Archie Bradleynearly tearing a hole in the space-time continuum.
Now we get to watch Colorado and Arizona lock horns again, this time for a three-game set at Chase Field that may well decide the NL West: Entering play on Monday, the Rockies held a half-game lead over the D-backs, with the Dodgers ahead of both of them atop the West.
Let's just hope Randy Johnson stocks up on antacids.
A's at Mariners, 9/24-9/26
The AL West has been a roller coaster all year: The Astros looked every bit the reigning World Series champs early, then the Mariners seemingly couldn't lose, then the A's suddenly morphed into Moneyball 2.0. Houston holds a 2.5-game lead in the division, but Seattle and Oakland will spend this month battling it out for one of the AL Wild Card spots -- and this three-game series toward the end of the year may end up deciding things. Do you think Safeco Field might be a little excited at the prospect of making the postseason for the first time since 2001?
Braves at Phillies, 9/28-9/30
At the start of the year, both of these teams were thought to be young and talented and just a year or two away from contention. As it turned out, though, next year was this year: Atlanta and Philly have gone back and forth atop the NL East all season, already providing dramatic finishes and postseason-caliber moments.
Now, with just a month left, the Braves hold a four-game lead, and whoever comes in second may fall short of a Wild Card spot. Will Ronald Acuña Jr. complete his ascension? Will Aaron Nola keep pitching like the best young pitcher in baseball? We can't wait to find out.
Cardinals at Cubs, 9/28-9/30
One of the game's biggest rivalries, on the final weekend of the regular season, against the backdrop of Wrigley Field? If this doesn't get you hyped for October, nothing will. St. Louis still has a bit of ground to make up on Chicago -- as of Monday, the Cardinals are 5.5 games back in the NL Central -- but they're one of the hottest teams in baseball right now, and it's easy to see a scenario in which everything's on the line in Game 162. We hope you're ready.