Plan your epic World Series road trip with this handy guide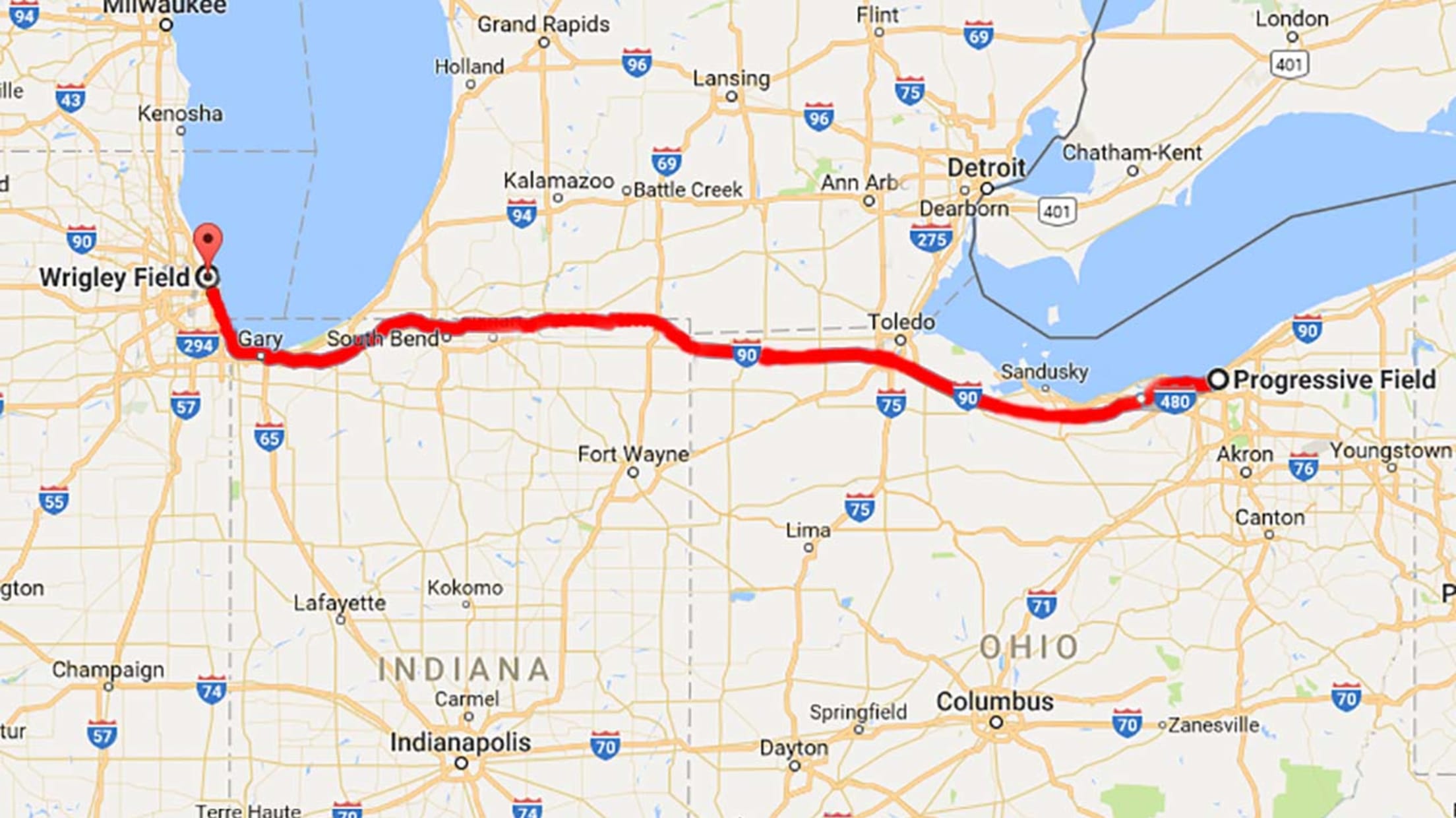 On Oct. 19, the Indians defeated the Blue Jays to advance to their first World Series since 1997. On Oct. 22, the Cubs defeated the Dodgers to advance to their first World Series since 1945. Now, Chicago and Cleveland have never faced each other in the Fall Classic and that's important to our purposes here, because the two cities are only 351 miles apart.
That's not the shortest distance between competing World Series teams -- in 1906, the Cubs just had to go across town to play the White Sox. From 1921-23, the Yankees just had to make the trip to Polo Grounds to face the then-New York Giants. The 2000 Subway Series required a train trip between Queens and the Bronx. And when the relocated Giants played the A's in 1989, there was just a 17-mile distance between the teams' cities, as they lie on either side of San Francisco Bay.
It's definitely convenient when all you have to do is hail a cab or hop on public transit to get from ballpark to ballpark … but it lacks a little romance. Look at it this way: If baseball is one of America's pastimes, what's the other? That's right -- road trips. The drive from Cleveland to Chicago is only about five hours long, which means there's enough time to sightsee, but it's not so long that you'll want to smack your road trip buddy from playing "Come On Eileen" too many times.
So what should you see on your trip? Here are a few suggestions:
The World's Largest Rubber Stamp
As you head out of Cleveland after Game 2, stop by Willard Park on East 9th Street and Lakeside Avenue. That's where you can see the "world's largest rubber stamp."
It's a sculpture by Claes Oldenburg and his wife Coosje van Bruggen, commissioned by Standard Oil of Ohio in 1985. The "Free" refers to its original location across from a Civil War memorial, and not the presumable price of admission to a #PartyAtNapolis (because you know he wouldn't charge).
Smoky the Dog Memorial
As you head for the highway, stop by the Smoky the Dog memorial. Smoky was discovered in a foxhole in New Guinea during World War II and quickly became a service animal. She served in 12 combat missions and even had a tiny parachute made just for her. Here she is in a helmet: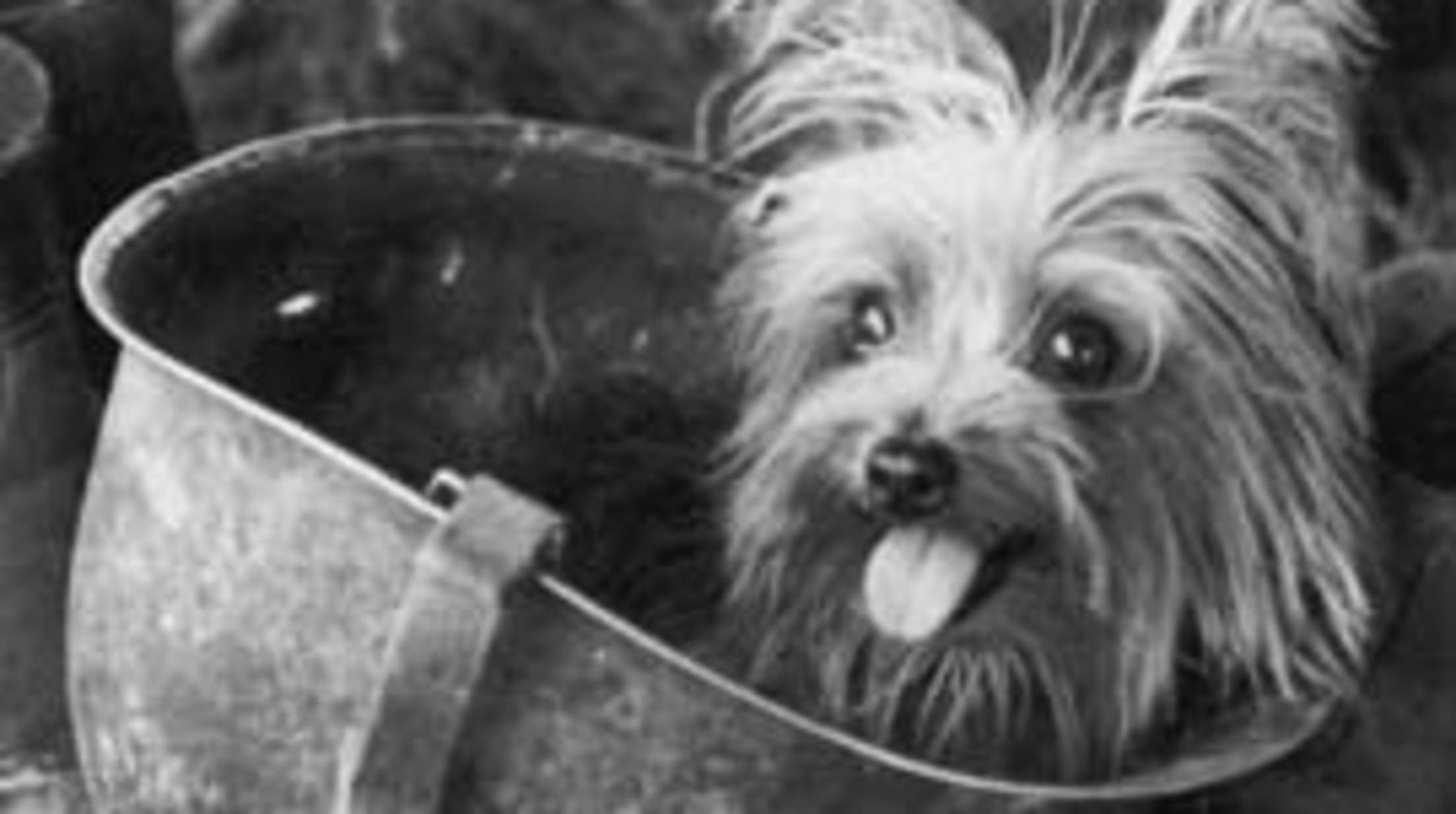 Smoky passed away in 1957, but her memorial stands in the Cleveland Metroparks, Rocky River Reservation. It's a replica of the photo above, so you should make it an (adorable) priority.
Elmore Tombstone Derby
Look, we know that Game 4 is on Saturday, Oct. 29, but it doesn't start until 8 p.m. (ET, on FOX). That means you have a few hours to check out the Elmore Tombstone Derby, in, you might be surprised to find out, Elmore, Ohio. Now, what is a "Tombstone Derby," you might ask. Well, this is a Tombstone Derby:
Elmore holds its contest every year on the Saturday before Halloween. Decorate a gothic car of your own and stop by on your way to the Windy City.
Hall of Heroes
There's no doubt there will be plenty of big World Series moments. Who knows -- you might even want to describe a player on your favorite team as a "hero." So why not stop by the Hall of Heroes in Elkhart, Ind., to see what kind of company they keep? The façade of this comic superhero museum is made to look like the Hall of Justice from the "Superfriends" cartoons, and you too can pretend you're defeating cosmic evil within … as long as you schedule a tour in advance.
Michael Jackson's Birthplace
Did you know that Michael Jackson was born in Gary, Ind.? Well, you do now, and now you also know you can visit his birthplace on your way to or from Wrigley Field:
Don't worry, we won't judge you if you rock out to "Beat It" -- it is, after all, Andrew Miller's walk-up song.
The Fountain of Time
It's been … kind of a while for the Cubs and Indians since the last time they won a World Series. If you'd like to contemplate the nature of time, there's a place you can do that in Chicago's Washington Park. Please enjoy Father Time watching over all of us, and wonder if you're about to witness a once-in-the-lifetime victory:
And while you're exploring the city, you might want to check out the statue of Bob Newhart at the Navy Pier … though you might see the genuine article at Wrigley, since he is a notable Cubs fan.