Let's remember 39 years of celebrations and shenanigans with the Phillie Phanatic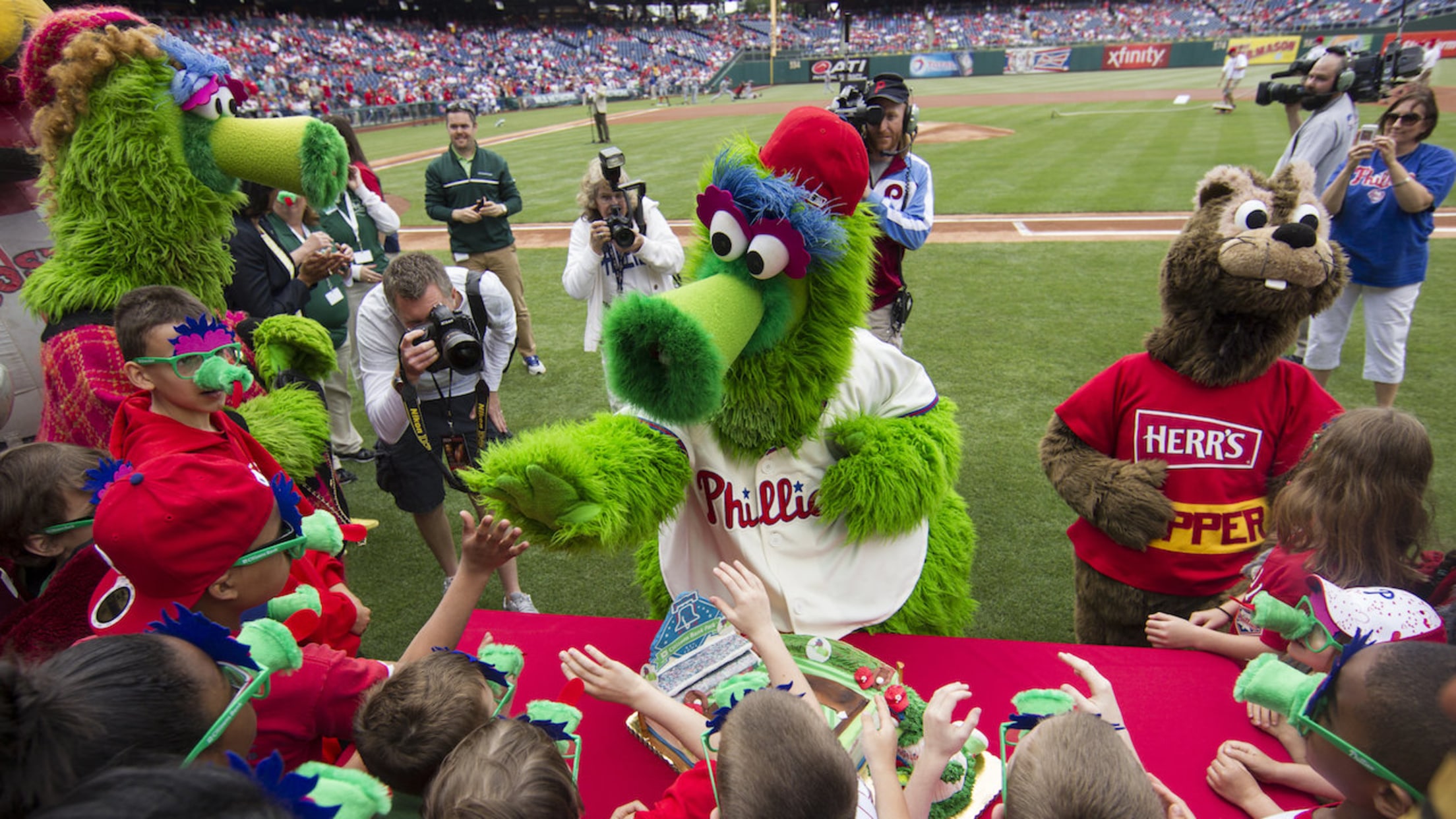 The Phillie Phanatic, center, celebrates his birthday with fans and mascots prior to the first inning of a baseball game against the Cincinnati Reds, Sunday, May 18, 2014, in Philadelphia. (AP Photo/Chris Szagola) (Chris Szagola/AP)
April 25 isn't a particularly significant day on the Major League calendar -- a few weeks removed from Opening Day, a few months away from the non-waiver Trade Deadline, the All-Star Game and the postseason. And yet, it is one of the most important dates in baseball history: For on this day in 1978, one Phillie Phanatic -- icon, inspiration, furry green creature of questionable origin -- made his debut as mascot of the Phillies.
The Phanatic was actually introduced to the public on April 23, alongside then-Phillie Tim McCarver during an episode of Captain Noah and his Magical Ark -- a children's television show broadcast in the Philadelphia area whose name we swear is absolutely real. But it wasn't until a couple days later, during a 7-0 win over the Cubs, that the Phanatic made his first appearance at Veterans Stadium. As you can see, he looked a bit ... different back then: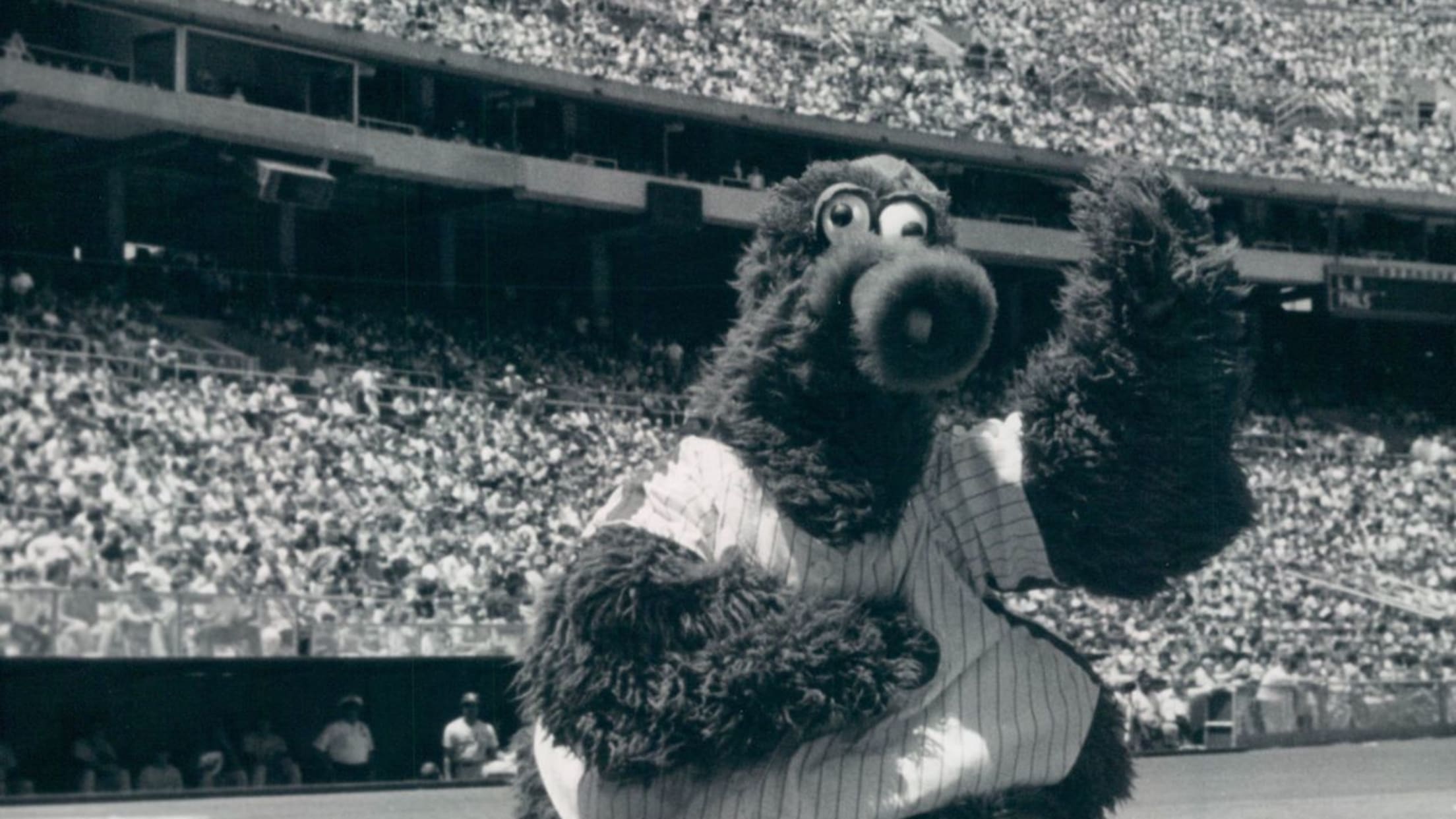 For years, the Phillies were represented by Philadelphia Phil and Philadelphia Phillis (try saying that sentence five times fast), siblings dressed in their finest 18th-century garb as an homage to the city's revolutionary past. From 1976-1978, the two were even prominently featured on the Phillies' logo:
(image courtesy of Wikipedia)
Times were changing in the world of mascots, though. The San Diego Padres had just introduced the San Diego Chicken, one of baseball's most bizarre sensations, and Phillies marketing director Dennis Lehman wanted a version of his own. So, he partnered with Harrison/Erickson -- a design company founded by Bonnie Erickson, one of the original designers for "The Muppet Show" -- to create the Phanatic, a large, furry bi-pedal creature who hails from the Galapagos Islands.
The Phanatic soon became arguably the most beloved mascot in America. And, nearly four decades later, he's still going strong: dancing atop the dugout, firing hot dogs from his ATV and pouring popcorn on anyone within arm's reach. The Phillies got the birthday party started over the weekend with a big card and a visit from some of the Phanatic's mascot friends (phriends?). But we wanted to get him a present of our own -- so now, allow us to present some of the Phanatic's very finest moments:
Like, for example, that time he had his very own hot dog cannon turned against him:
Or when he transformed himself into Lady Pha Pha:
Or one of his many, many interactions with the umpires:
Or that time he appeared in the end credits of "Rocky Balboa":
And, last but not least, the time he mercilessly trolled Tommy Lasorda ... and paid the price:
Happy birthday, Phanatic. Here's to 39 more years.