These are the 100 people who will influence the 2018 season the most (Part 1)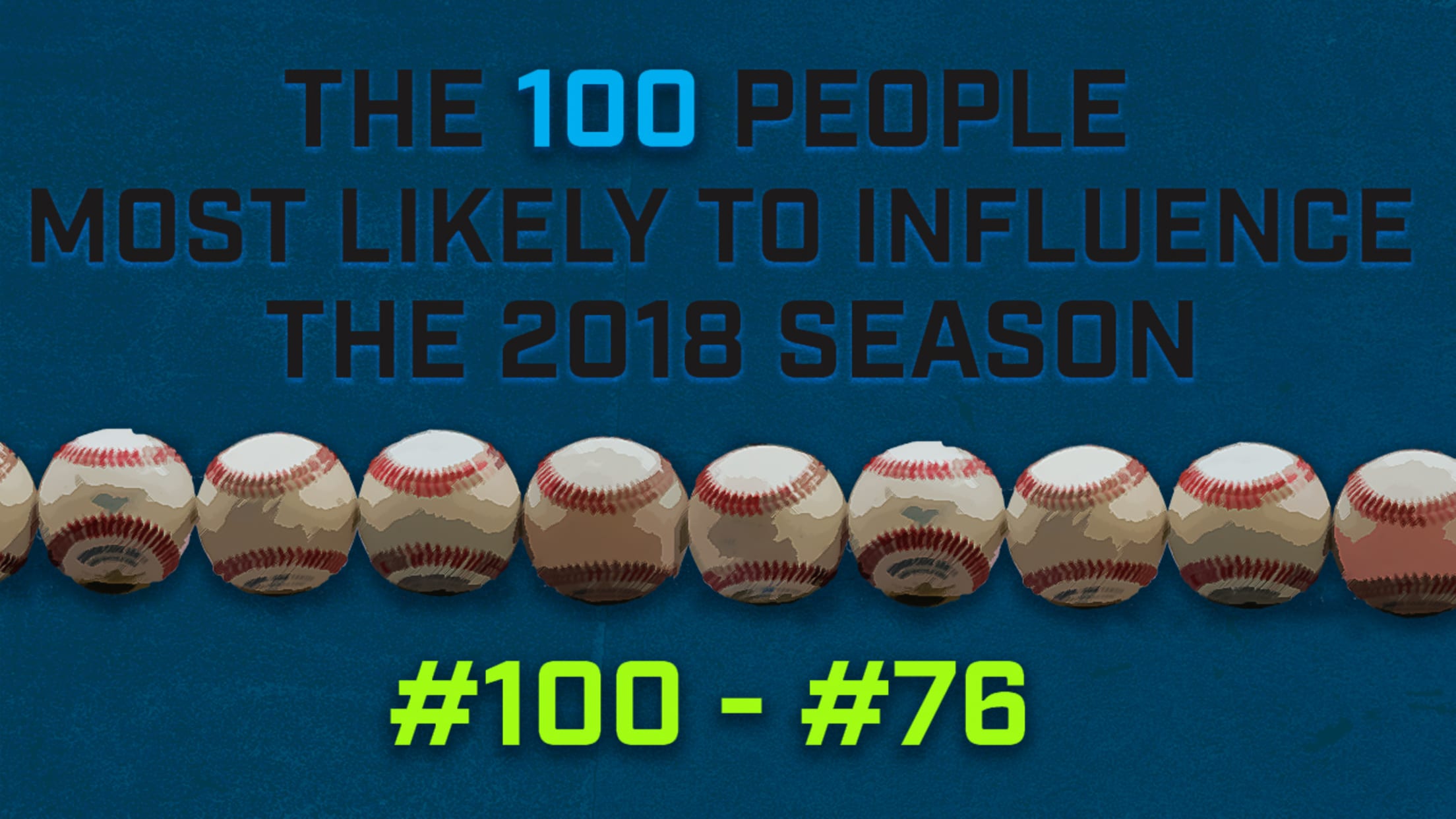 We've got a doozy for you folks: the 100 people most likely to define the 2018 baseball season.
What follows is not a ranking of the 100 best players, but rather the individuals that we believe will have the greatest impact on the general storyline of the season to come. Now there may be moments where you'll see a name and a ranking and disagree, and that's fine. But sorry, these rankings are ours and no one else's.
This post is only Part 1, featuring Nos. 100-76, but don't fret -- Parts 2, 3 and 4 will be released over each of the next few days before Opening Day.
So without further ado, buckle up, put on your baseball mind and please enjoy The Cespedes Family BBQ's Top 100 People Most Likely To Impact the 2018 Season ... Part 1.
#100 / #99: Ronald Acuña Jr. / Yoán Moncada
Moncada spent much of last season with the White Sox hitting pretty well, but has yet to fully break out. Acuna still hasn't graced the Majors but is expected up midway through this year. Both guys have incrediblepotential, both guys are on teams ready to break out of prolonged periods of losing and both guys were in the only good tweet we've ever done.
#98: Mark Sofia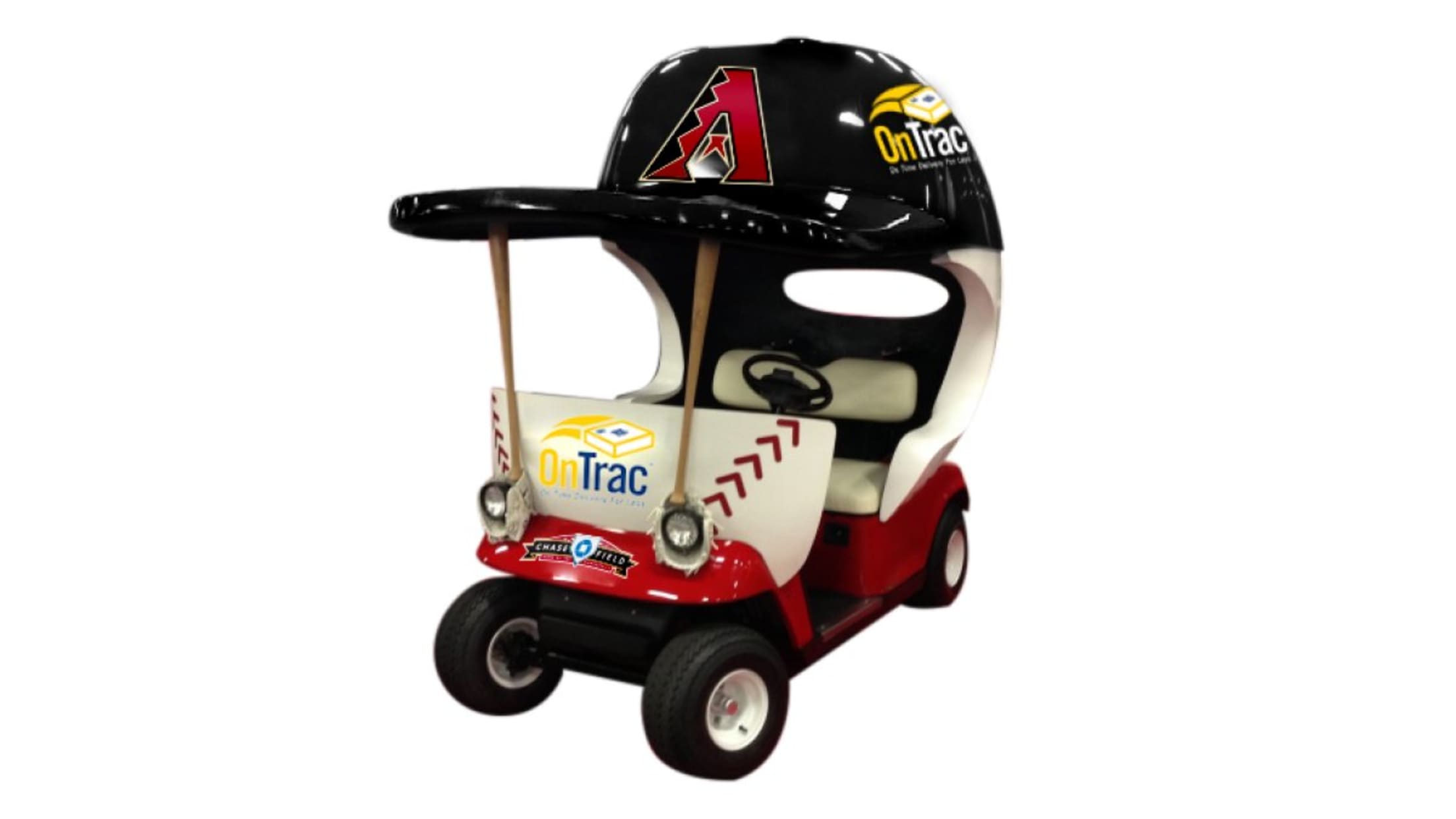 A few weeks ago, we were blessed with the news that bullpen carts, which last appeared in Major League Baseball in 1995, are returning to our world thanks to the D-backs. Sofia, founder of SportsKartz.com, has been tasked with building the new D-backs bullpen carts for the 2018 season. Sofia seems confident, but if bullpen carts really are back in vogue, is Sofia going to be responsible for the creation and development of reliever-mobiles for the 29 other clubs? That sounds like a lot of work. Maybe Archie Bradley can help or something.
#97: J.T. Realmuto
Four of the top five Marlins by WAR last year are Fish no longer. Giancarlo Stanton, Marcell Ozuna, Christian Yelich and Dee Gordon were all dealt over the offseason as part of the team's rebuilding process. But Realmuto is still there. By keeping Realmuto it's clear that the Marlins value him highly, and why wouldn't they? He's emerged as one of the best catchers in baseball and will hopefully be one of the faces of the next good Marlins team.
#96: Tim Lincecum
This picture was chicken soup to the baseball fan's soul. Seemingly out of thin air, Lincecum, one of the most entertaining and beloved pitchers of the millennium, was back in our lives. That no one posted a picture, tweeted a tweet or reported a news blurb about Lincecum for a year or so before that photo was taken is pretty nuts. And now he's just back in baseball, on the Rangers, reportedly throwing low to mid 90s. Unfortunately he's unlikely to be on the Opening Day roster because he's still ramping back up to speed, but hopefully he's up sooner rather than later. Whether Lincecum will be able to recapture his old magic is TBD, but after all he's been through, Big Time Timmy Jim is definitely one of the easiest guys in baseball to root for this upcoming season.
#95: Willians Astudillo
This spring, a catcher for the Twins went viral when he pulled off an incredible no-look backpick to catch Shane Robinson sleepin' at first base. Unfortunately, many did not recognize that picking off guys without looking might be the least interesting thing about the catcher who did it, Astudillo. The lowest walk rate among qualified MLB hitters in 2017 was Tim Anderson at 2.1%. The lowest strikeout rate belonged to Joe Panik, at 9.1%. In 560 career Minor League games, Astudillo owns a 3.5% walk rate and a 3.1% strikeout rate. And he's actually pretty good -- he's a career .311 hitter! The Twins likely offer the 26-year-old his best chance at reaching the big leagues so far in his career, and we can't wait to finally see the man allergic to three-ball (or two-strike) counts on the Major League stage. Maybe he'll throw in some more no-look backpicks as well.
#94: Stephen Strasburg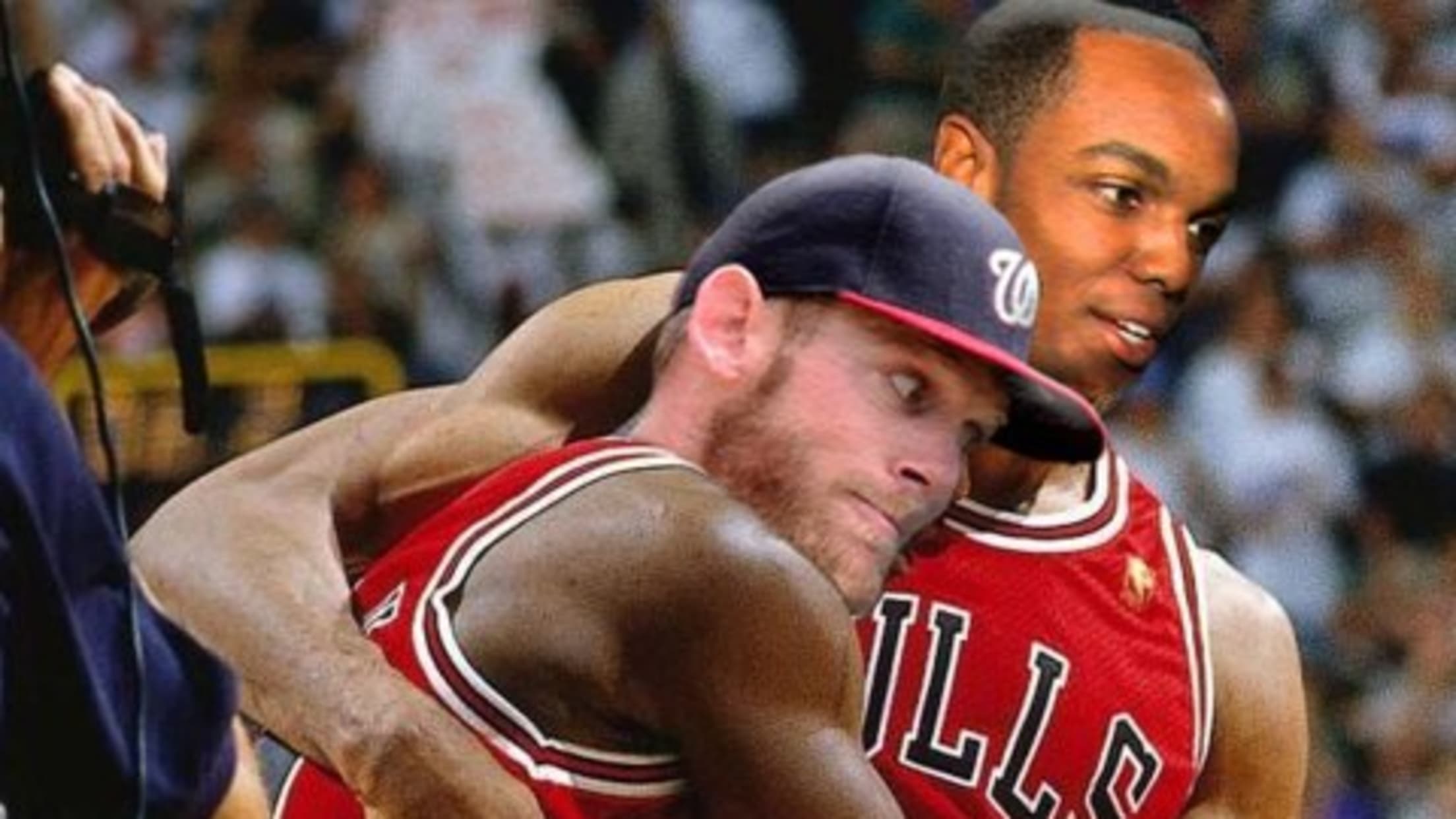 When Strasburg made his Major League debut and struck out 14 Pirates on a warm June night in Washington, D.C., back in 2010, it felt like the baseball world was about to change. Seven magical innings. It was electric. Strasburg was the phenom of all phenoms, and he appeared primed to compete for Cy Young Awards every season for the rest of time.
Eight years and one Tommy John surgery later, Strasburg hasn't disappointed, but he hasn't been what you'd call a sport-altering force either. However, his last eight starts of 2017 (0.84 ERA in 53 1/3 IP; 63 K's) seemed to indicate that Strasburg may be ready to take another leap. Then, he showed up in the postseason and gave us the best Flu Game since Michael Jordan, striking out 12 over seven scoreless innings against the Cubs in Game 4 of the NLDS. It's possible that Strasburg will never recapture the electricity he elicited on the night of his big league debut -- but he's getting closer.
#93 / #92: Orbit / The Philly Phanatic
If the 2017 season belonged to one man, it's José Altuve. But if the 2017 season belonged to one mascot, it's Orbit. With the Astros finally capturing their first World Series title, Orbit gained quite a following last year. But don't you dare forget about the Philly Phanatic, arguably the most iconic mascot in all of sports.
Remember: This is a mascot that provoked former Dodgers manager Tommy Lasorda into an actual physical altercation on the field. So with the Phillies looking to contend for the first time in a while, Orbit might not have the mascot stage all to himself this year. The king of all boisterous, green, furry creatures could be ready to recapture its rightful crown.
#91: Dee Gordon
On its face, moving a Gold Glove second baseman to center field seems dubious at best. But when that Gold Glove second baseman is one of the fastest baseball players on earth, and your current second baseman is a future Hall of Famer signed for another six years, that move makes more sense. It wasn't long ago that we saw the Reds move a speedy middle infielder named Billy Hamilton to center field and see instant positive results, but Hamilton made the switch in the upper Minors. Gordon, on the other hand, is a 29-year-old two-time All-Star with next-to-zero professional outfield experience. What he does have, however, is the speed and the attitude to make it work. But more importantly, if he succeeds, are we ever going to see a fast middle infielder ever again?
#90 / #89: Gleyber Torres / Miguel Andújar
Whether you like it or not, the Baby Bombers are back. Last year showed us what most of the new Yankees core is going to look like: Judge, Gregorius, Severino, Sanchez and the insanely good bullpen. But Torres and Andujar are two other guys who could play a huge part this season and beyond.
Gleyber has been a top prospect for a few years now, displaying a mature approach at the plate with what should be above-average defense at second. Andujar broke out in 2017 and has had an extremely impressive showing thus far in Spring Training, launching four taters before getting sent down.
Even though the Yanks just went out and acquired Neil Walker and Brandon Drury, there's a good chance these two guys get the call at some point during the season. If Torres and Andujar get called up and play to their potential, the Yankees could go from excruciatingly good to maddeningly phenomenal in a flash.
#88: Todd Frazier
Last year's Little League Classic, in which the Pirates and Cardinals played a game at Historic Bowman Field in Williamsport, Pa., during the Little League World Series, was a highlight of the 2017 season. As unique and unusual as the game itself was, the best parts of the weekend were the interactions between the big leaguers and the Little Leaguers. St. Louis and Pittsburgh both had some Little League alumni in Randal Grichuk, Lance Lynn and Max Moroff, but none of them are known as the guy who played in the Little League World Series the way that new Mets third baseman Todd Frazier is. So when the Mets and Phillies descend upon Williamsport for this year's Little League Classic, you can be sure that Frazier -- who will be returning to the site in which he won the Little League World Championship with Toms River 20 years ago -- will be the center of attention.
#87: Luiz Gohara
There's no doubt that baseball is a truly international sport, and it's only getting more global. Last year we saw everyday players from Germany (Max Kepler and Aaron Altherr), a utility guy from South Africa (Gift Ngoepe) and even a hard-throwing reliever from Lithuania (Dovydas Neverauskas).
Gohara may represent the next big step in baseball's development as a world sport. The hard-throwing Braves lefty ranks as one of the best pitching prospects in baseball, but just as significantly, Gohara is from Brazil.
We've had a few Brazilians in the big leagues before (Andre Rienzo, Yan Gomes) and a few in the Minors (Thyago Vieira throws 100), but Gohara has the potential to be the first Brazilian baseball star. Armed with a high-90s heater and devastating slider, Gohara could be at the top of Atlanta's rotation for years to come while also helping to grow the sport back in Brazil.
#86: Jerry Dipoto


The well-documented transactional hyperactivity of the Mariners' general manager continued recently with the signing of Ichiro, and everyone knows it's only a matter of time before the next Mariners move breaks on your Twitter feed. We know Dipoto has already traded a bulk of Minor League talent away, but if the M's are in it come the Trade Deadline, you know Jerry D is gonna get creative to restock the roster. And then he'll tell you all about it on his podcast.
#85: Miguel Cabrera
Few players look like they enjoy playing professional baseball more than Cabrera -- and hey, who wouldn't if they were a .317 career hitter with 462 home runs? It is also safe to say it is more fun to play for a winning team than a losing team, which Miggy has been fortunate enough to do for a good portion of his Tigers tenure. Unfortunately, 2017 saw Cabrera deal with nagging back injuries while Detroit posted the worst record in all of baseball. Yet, Miggy remained one of the most jovial, upbeat and hilarious players in the game all year long. We can always count on Miggy having a blast on the field -- now let's hope he can return to the elite-level performance we're used to seeing.
#84: Tim Tebow
Tebow is a conundrum. His foray into baseball felt kinda like a publicity stunt, even after he went out and spent a full season in the Minor Leagues. Then, during Spring Training, Mets GM Sandy Alderson went out and said the following:
"I think he will play in the Major Leagues. That's my guess. That's my hope, and to some extent now after a year and a half, a modest expectation."
It remains to be seen whether or not Tebow will actually get a callup, but if he does, it will be an absolute spectacle that half of America will most likely tune in for. Our only concern is that if Tebow's in the big leagues playing left field for the Mets, what does that mean for Yoenis ...
#83 / #82: Danny Duffy / Chris Archer
For a guy who has already been traded twice in his career, it seems crazy that Archer has to deal with another round of trade rumors. Royals southpaw Duffy, meanwhile, is dealing with his first round of Hot Stove rumors and responded with four words that will be remembered fondly by social media historians centuries from now:
Not everyone takes rumors the same way, evidently.
Like Archer did back in 2014, Duffy recently signed an extension to be in Kansas City for the long haul. Both pitchers are entering their age-29 seasons, and both are under team control for four more years. These are not veteran arms that could be acquired in July as a rental -- these guys could be longer-term investments for teams looking to trade for a frontline arm with fire tweets.
#81: Spike Lee
The Yankees are probably going to be both extraordinarily fun and extraordinarily good this season. This means that the Yankees are about to spring back into the forefront of pop culture -- and very few people live at the intersection of sports, pop culture and the city of New York like Lee. As one of the most iconic figures in New York sports, you know the camera will more than likely cut to Spike more than a few times during the postseason if the Yanks make it. And, you'll get to see a half-dozen more celebrities who mysteriously became Yankees fans in the last 365 days.
#80: MacKenzie Gore
Calling any baseball player "The Next Clayton Kershaw" is patently insane, insultingly reductive and borderline irresponsible, which is why we would never do such a thing.
That being said, if there's any one single baseball-throwing humanoid on this planet who could eventually earn that title, it's Gore.
After going third overall to the Padres in last year's Draft, Gore absolutely blew away his competition in the AZL, striking out 34 batters in 21 innings and drawing rave reviews from talent evaluators all across baseball. Gore features a mid-90s fastball with impressive command and a slew of usable offspeed options that he can all spot reliably. He's got a funky delivery that he's athletic enough to repeat consistently. Oh, and he's lefty. Remind you of anyone?
Gore will almost definitely not become Kershaw, but ... what if ...
#79: The Freeze
The Braves revolutionized the between-inning mascot race in 2017 with the introduction of a spandex-clad superhero unlike anything we've ever seen. No matter how big a head start the khaki-shorts-wearing Braves fan was afforded, the bright blue blur known as The Freeze would chase them down and snatch victory at the last second. The Freeze became a sensation all summer long, with his fame expanding far beyond the confines of SunTrust Park. We can only hope that our favorite ski-goggled sprinter is back for this season, eager to take on any challenger. Maybe even Dee Gordon!
#78: Michael Kopech
Going into this season, MLB Pipeline ranked Kopech as the third-best pitching prospect in baseball so you know he's good. But, we're here to tell you that he's more than just good, he's also super entertaining.
Sure, Kopech throws 100 pretty consistently, but more importantly, he resembles Superman more than any other baseball person on the planet. The Syndergaard comparisons are obvious, but Kopech's insanely ripped upper half puts him more on the Krypton side of the superhero discussion.
Kopech should be up around the middle of the season, and between his electric fastball, his heroic disposition and his swell social media game, he'll be a fun storyline for sure.
#77 / #76: Chris Taylor / The Next Chris Taylor
Taylor began last season as the starting shortstop for the Dodgers ... the Triple-A Oklahoma City Dodgers. Seven months later, Taylor was crowned NLCS MVP for the actual Dodgers. To get a sense for how out-of-the-blue Taylor's 2017 season was, here's a look at Taylor's numbers before last year.
Trying to predict who the next Chris Taylor will be is a fruitless and pointless exercise, but an unknown journeyman will almost certainly solidify himself as a well-above-average starter for a contender. And, because fruitless and pointless exercises are our favorite, here are some predictions for who could be "The Next Chris Taylor":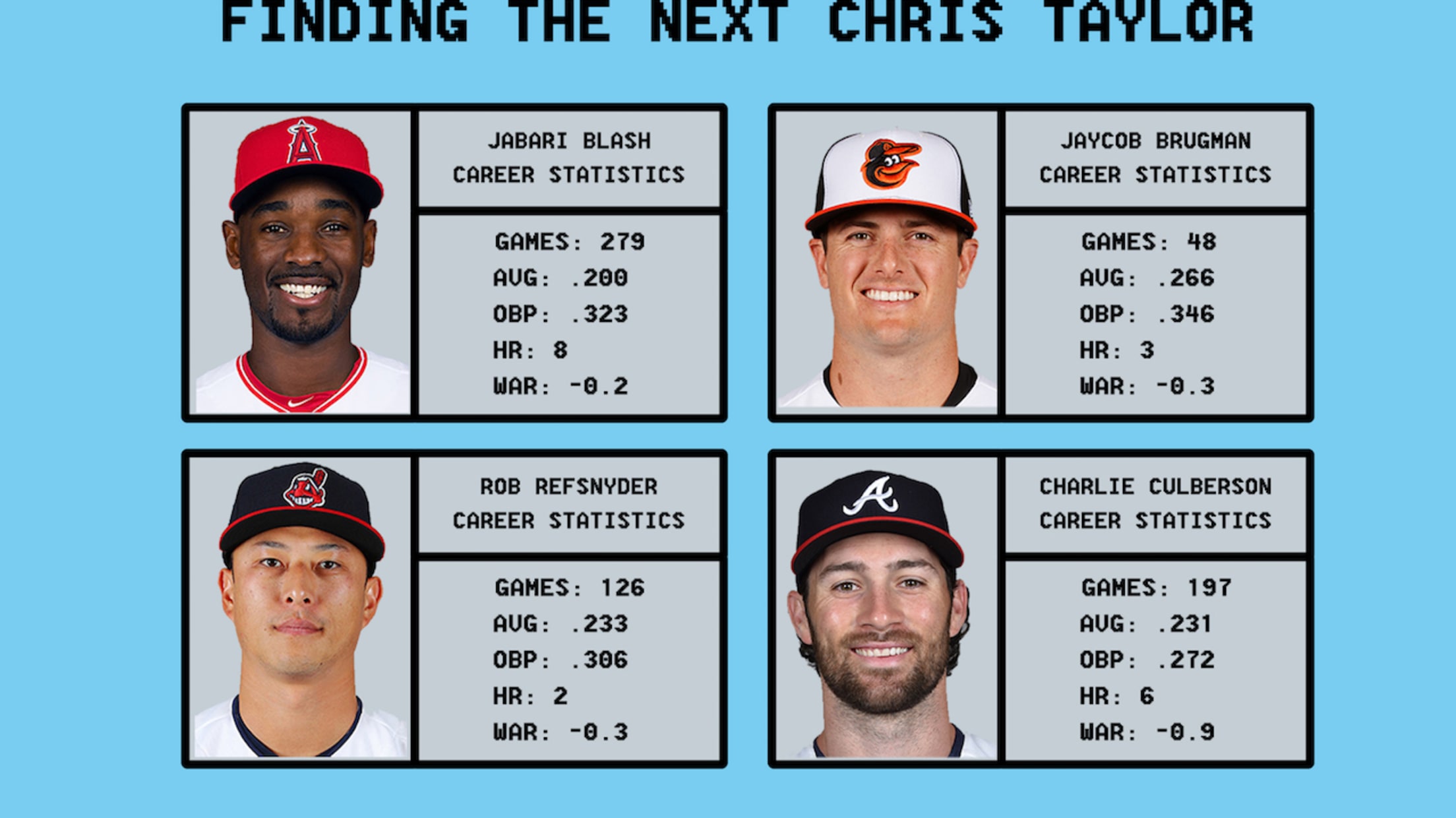 Want to know who else made the list? We'll continue Tuesday with Nos. 75-51, then on Wednesday with Nos. 50-26 and finally on Opening Day with Nos. 25-1.