What are the closest historical analogues to the current Braves core?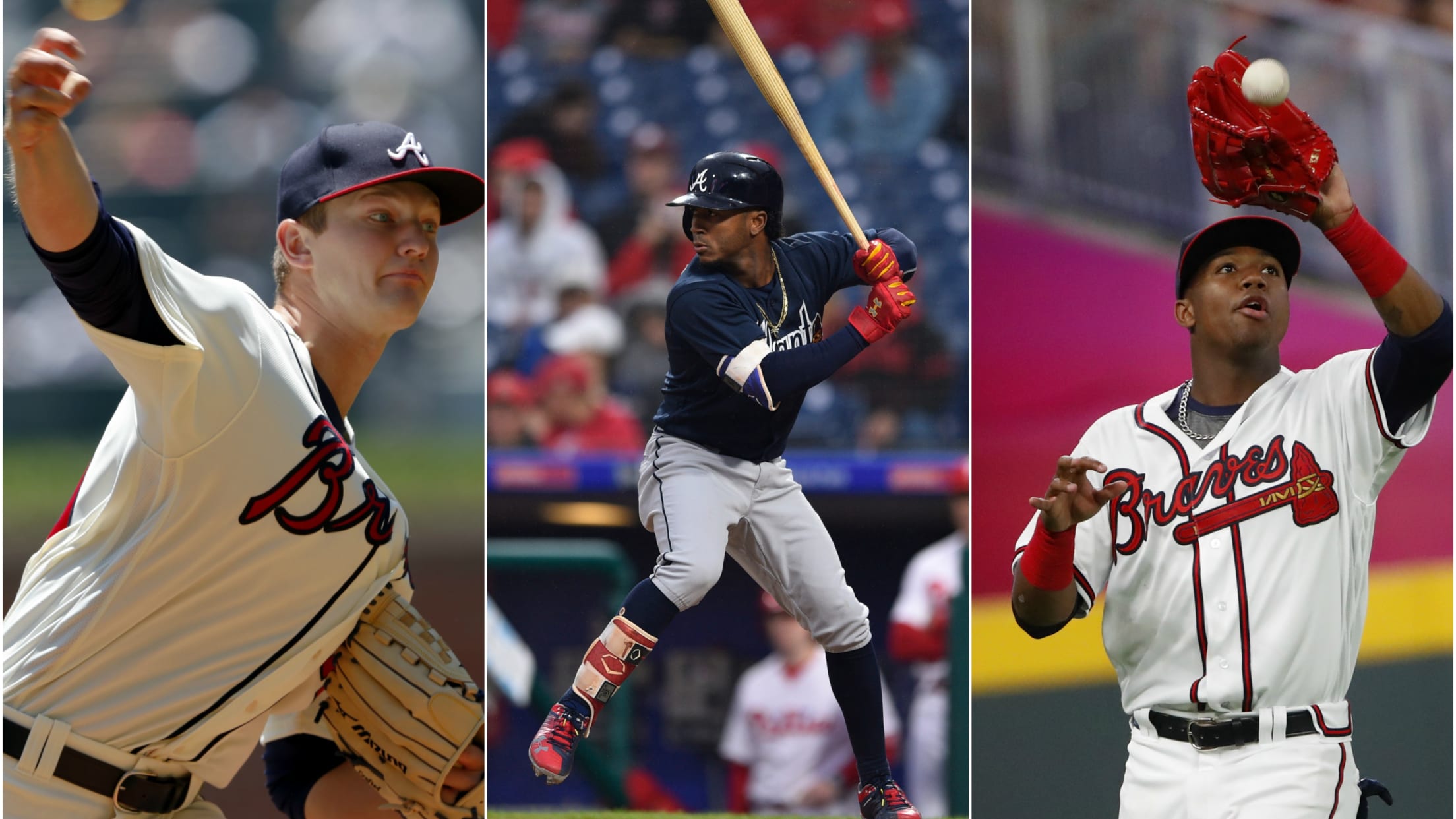 When pitcher Mike Soroka made his Major League debut for the Braves last Tuesday, he did so as the second-youngest player in the MLB behind his teammate Ronald Acuña Jr. and ahead of another teammate, Ozzie Albies. That core of a five-tool outfielder, a budding infielder and a promising young starting pitcher has helped the Braves to their current first-place position in the National League East and figures to set them up well for the future.
While the sky currently seems to be the limit for this group, a look through history could help us find out what, precisely, that ceiling might look like. Below are some three-player cores that resemble that of Albies, Acuña and Soroka. Which path might they follow?
1954 Braves
Who they were: Hank Aaron (LF), Eddie Mathews (3B) and Gene Conley (P).
Conley and Mathews made their debuts with the Braves in 1952, with Mathews hitting 25 home runs on his way to a third-place finish in Rookie of the Year voting. Conley left in the middle of the season to play basketball for the Boston Celtics. In 1954, he and Aaron played their rookie seasons for the Braves and finished third and fourth, respectively, in Rookie of the Year Voting. In 1954, all three were 23 years old or younger.
What they accomplished: The Braves appeared in back-to-back World Series in 1957 and 1958, winning in '57 on the strength of Aaron and Mathews combining for 16 hits (four homers) and 11 RBIs. Conley didn't make a start as he never quite surpassed Warren Spahn, Lew Burdette and Bob Buhl at the top of the Braves' rotation.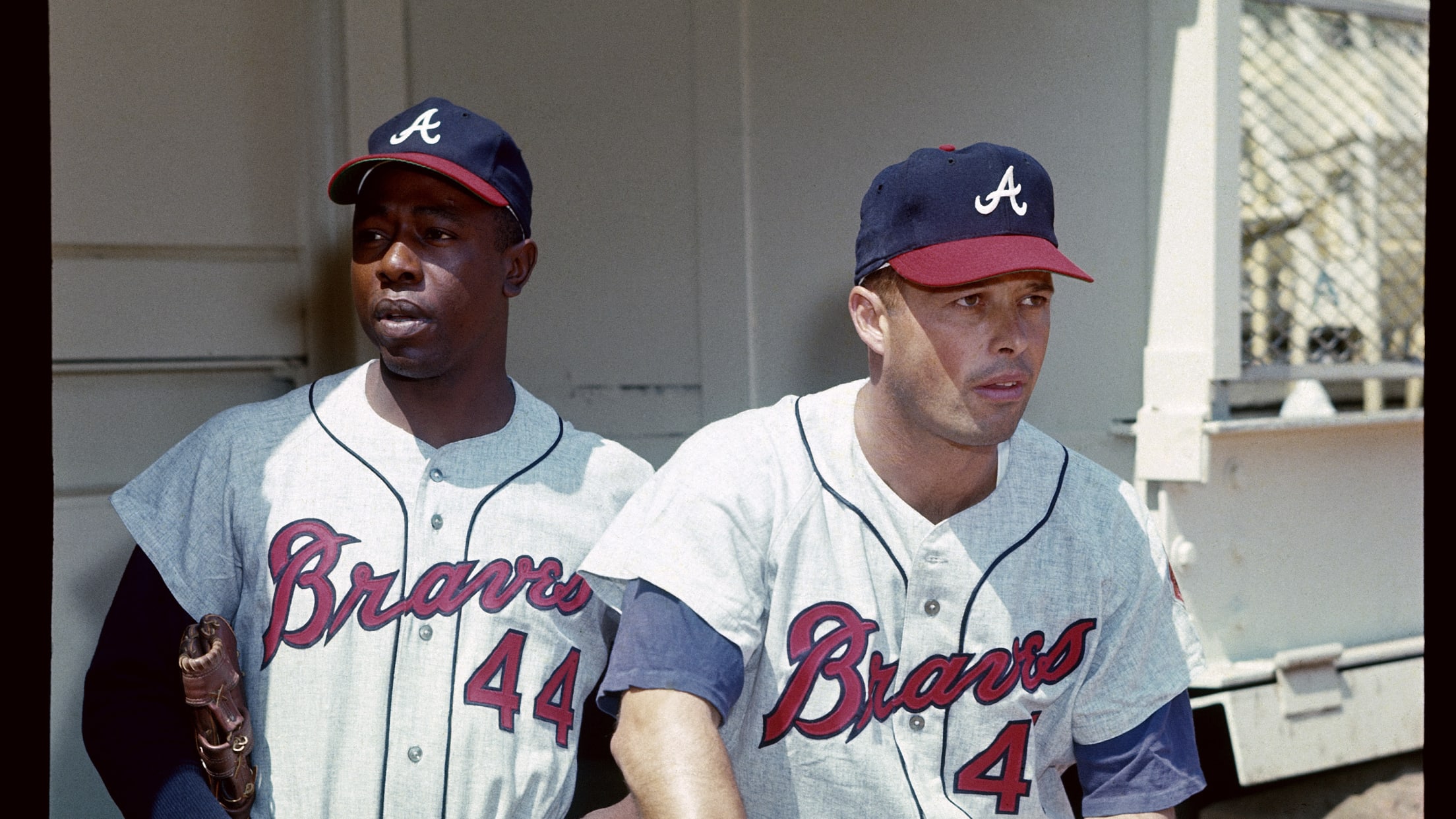 Even so, the three combined to make 41 All-Star teams, and Aaron and Mathews were inducted into the Hall of Fame after hitting 863 home runs as teammates.
1971 Reds
Who they were: George Foster (CF), Dave Concepcion (SS) and Gary Nolan (P).
It's hard to boil the Big Red Machine down to a core of three players, but if we're trying to make an analogue with the current Braves, this would probably be the young core. Nolan made his first start for the Reds in 1967 as an 18-year-old and tossed more than 200 innings with more than 200 strikeouts only to finish third in Rookie of the Year voting. Concepcion made his debut in 1970 as a part-time player. The next season, the Reds traded for Foster after starting center fielder Bobby Tolan suffered a season-ending injury. All three were 23 or younger for their first season together.
What they accomplished: With the addition of Joe Morgan following the '71 season to complement the existing core of Concepcion, Foster, Nolan, Pete Rose and Johnny Bench, the Big Red Machine was fully up and running in 1972. From 1971 through 1976 -- Nolan's last full season in Cincinnati -- the Reds won four NL West titles, appeared in three World Series and won two of them. They also won 95 or more games in five of those six seasons. Though arm troubles shortened Nolan's career, Concepcion and Foster were in the lineup for the entire length of the Reds' run.
1973 Rangers
Who they were: Toby Harrah (SS), Jeff Burroughs (RF) and David Clyde (P).
Both Burroughs and Clyde were selected by the Rangers with the first-overall pick in the Draft in 1969 and 1973, respectively. Harrah was originally signed by the Phillies before the Washington Senators -- who later became the Rangers when they moved to Texas -- took him in the 1967 Minor League Draft. Harrah was an All-Star in 1972 as a 23-year-old. He was joined in 1973 by Burroughs' and Clyde's first full seasons.
What they accomplished: After four years together, three losing seasons and no postseason trips, the Rangers traded Burroughs to the Braves after the '76 season. Clyde topped 100 innings only once as a Ranger and was traded prior to the 1978 season to the Indians. Harrah made three All-Star teams from 1972 to 1977 with the Rangers and was durable, but couldn't carry the team to success on his own.
Sometimes, the best-laid plans go awry.
1987 Pirates
Who they were: Bobby Bonilla (3B), Barry Bonds (LF), Doug Drabek (P)
After originally signing Bonilla in 1981, the Pirates lost him to the White Sox in the 1985 Rule 5 Draft, only to reacquire him via trade in the middle of the 1986 season and make him their starting third baseman for 1987. Bonds was the team's first-round pick in 1985 and made his debut the following year. Perhaps sensing that they had the start of an exciting young nucleus, the Pirates traded for Drabek -- who had just completed his rookie season with the Yankees -- going into 1987. All three were 24 or younger in their first season together.
What they accomplished: The impressive core the Pirates assembled didn't immediately bear fruit. They averaged fewer than 80 wins a season from 1987 through 1989. In 1990, they won 95 games on the strength of Bonds' first MVP season and Drabek's Cy Young Award-winning performance. Bonilla -- who moved to right field after struggling defensively at third -- also made his third straight All-Star team and finished second to Bonds in the MVP race. Unfortunately, they lost in the NLCS to the eventual-champion Reds.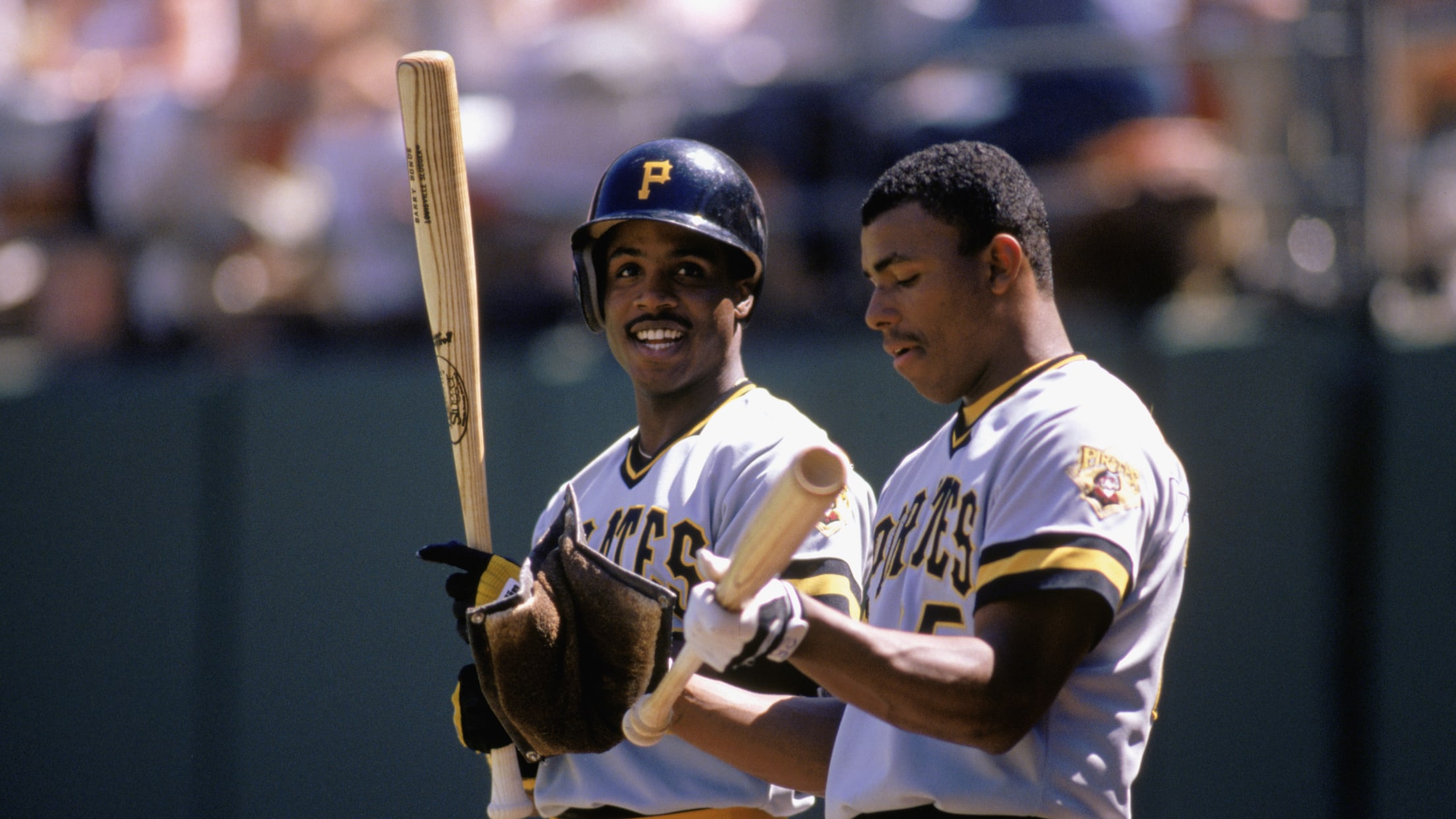 The Pirates won 98 games in 1991 with Bonds and Bonilla finishing second and third in MVP voting while Drabek was solid, if not as spectacular as he was a year before. Once again, however, they lost in the NLCS, this time to the Braves. Bonilla became a free agent after the season and signed with the Mets.
In 1992, Bonds won another MVP while Drabek finished fifth in the NL Cy Young race to power the team to 96 wins and ... another NLCS loss to the Braves. Both Bonds and Drabek left via free agency following the season.
2013 Nationals
Who they were: Bryce Harper (LF), Anthony Rendon (2B), Stephen Strasburg (P)
With consecutive first-overall picks in the 2009 and 2010 Drafts, the Nationals selected Strasburg and Harper, two of the most highly-regarded Draft prospects in recent memory. They drafted sixth in 2011 and used it on Rendon, who may well have gone No. 1 if not for injuries during his college career at Rice. By the time Rendon made his debut in 2013, the Nationals had already arrived as a force in the NL East, winning 98 games in 2012.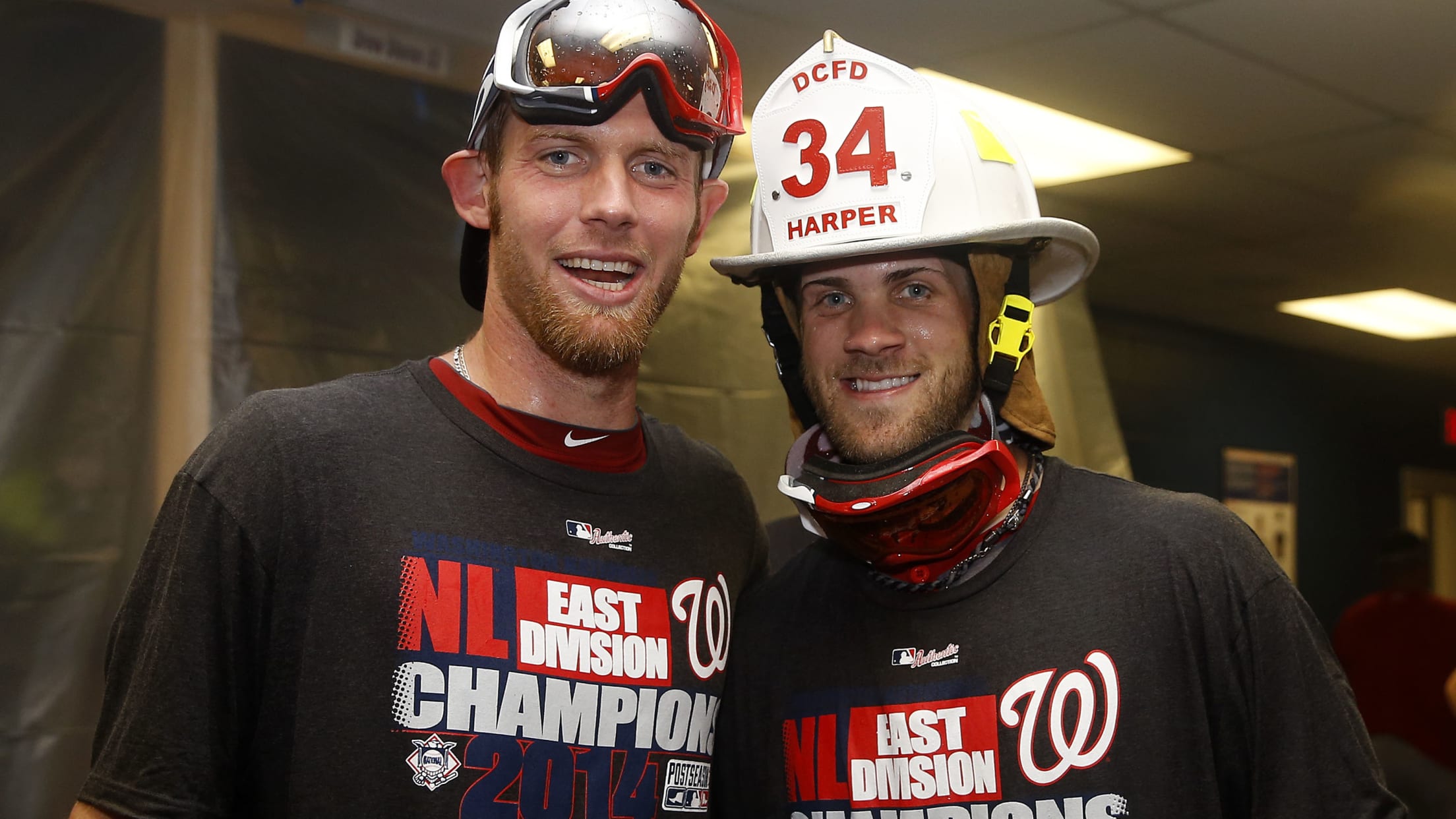 What they accomplished: While the story of this Nationals core is not yet completely written, they have already enjoyed an impressive run of regular season success. They've won 95 or more games and NL East pennants in 2014, 2016 and 2017 leading, unfortunately, to three NLDS losses. With Harper scheduled to become a free agent after the season, 2018 could be the last year to see what heights this formidable core can reach.
Which historical three-player core most closely resembles the talent the Braves sport in 2018? Help us decide.