The Hall of Fame Case: Kevin Millwood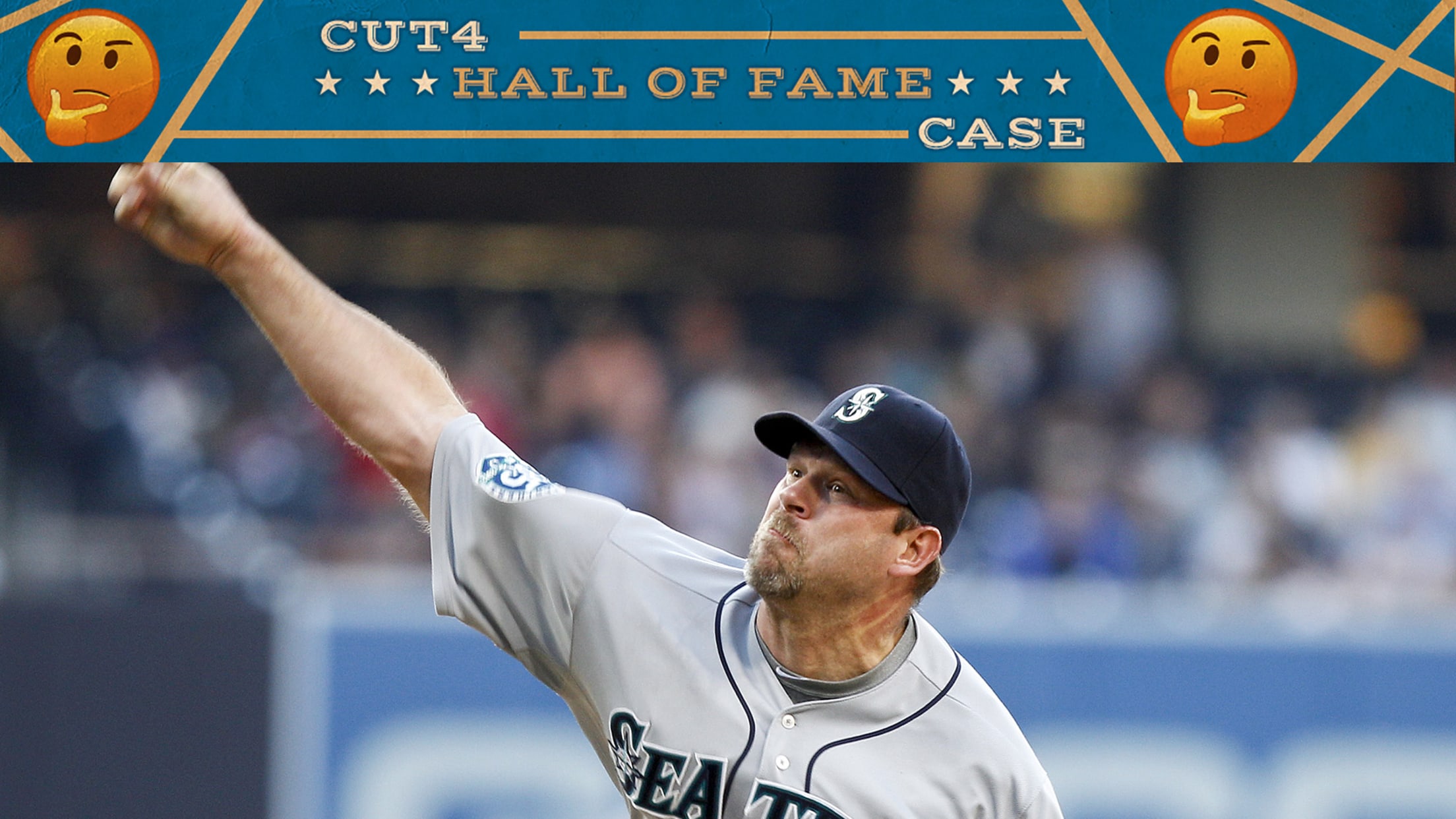 Seattle Mariners starting pitcher Kevin Millwood works against the San Diego Padres during the first inning of a baseball game Friday, June 22, 2012, in San Diego. (AP Photo/Lenny Ignelzi) (Lenny Ignelzi/AP)
The likes of Trevor Hoffman and Vladimir Guerrero -- and even first-timers like Jim Thome and Chipper Jones -- shouldn't have too much trouble racking up National Baseball Hall of Fame votes. But there are plenty of other players on the 2018 ballot who require a little more voter-cajoling. Players who may not have the on-field resume, but deserve an impassioned Hall of Fame case nonetheless. Players like ... Kevin Millwood.
Kevin Millwood is in his first year of eligibility for the National Baseball Hall of Fame, and the journeyman should absolutely be considered. He didn't have as spectacular career as some of the HOF shoo-ins, but his consistency, an All-Star nod, an ERA title and a very dedicated fanbase should help convince those of you who are on the fence.
Braves company
Millwood was drafted by the Braves in the 11th round of the 1993 MLB Draft. He didn't make his Major League debut until 1997, but he had some amazing company when he put that uniform on. He won 17 games for Atlanta in 1998 and was a part of a star-studded pitching rotation that included Greg Maddux, John Smoltz and Tom Glavine (perhaps you've heard of them). It was one of the best rotations in baseball history.
He also revealed a secret we'd always been wondering: Smoltzy's golf handicap.
The no-hitter
Raise your hand if you've ever thrown a no-hitter …
That's what we thought.
Prior to the 2003 season, Millwood was traded to the Phillies. He finished the season with a 14-12 record, while boasting a 4.01 ERA and a 3.59 FIP … and he threw a no-hitter on April 27 against the Giants at Veterans Stadium. The stadium no longer stands, but it was one of just two no-hitters ever tossed at the stadium. And what a magical day it was:
He was also part of a combined no-hitter with the Mariners:
He had his own (very) dedicated fanbase …
And not just any fanbase. Ladies and gentlemen, let us introduce you to "Millwood's Militia." A group of young fans who got really hype after a Millwood strikeout and even had themselves permanently (or perhaps not permanently) branded with a tattoo to commemorate a very entertaining cluster of fans:
Between the chest-bumping in camouflage, T-shirt ripping and body paint, what else do you need to support your favorite pitcher? They "do it all for No. 34."
BABIP
MLB.com's Joe Posnanski recently wrote a column about Millwood. Regardless of how un-flashy the righty was, his success as a pitcher depended on his BABIP.
"For instance, in 1999, his .238 BABIP was by far the lowest in baseball," Posnanski writes." And that was Millwood's best year; he went 18-7 with a 2.68 ERA, he led the league in WHIP and hits per nine innings, he made the All-Star team and finished third in the NL Cy Young Award voting."
In 2008, Millwood's BABIP was the HIGHEST in the game despite going 9-10 with a 5.07 ERA. He may not have had the bells and whistles, but Millwood was consistent. Perhaps that's why he's listed 70th on the all-time strikeouts (2,083) list behind Roy Halladay.
Super laid back
These aren't superlatives, but after watching and listening to Millwood's countless interviews, you won't meet many others who are as relaxed and calm about ... well, anything. He was part of a combined no-hitter, and just chilled:
He can also cook chicken enchiladas:
That counts, right?