The Hall of Fame Case: Chris Carpenter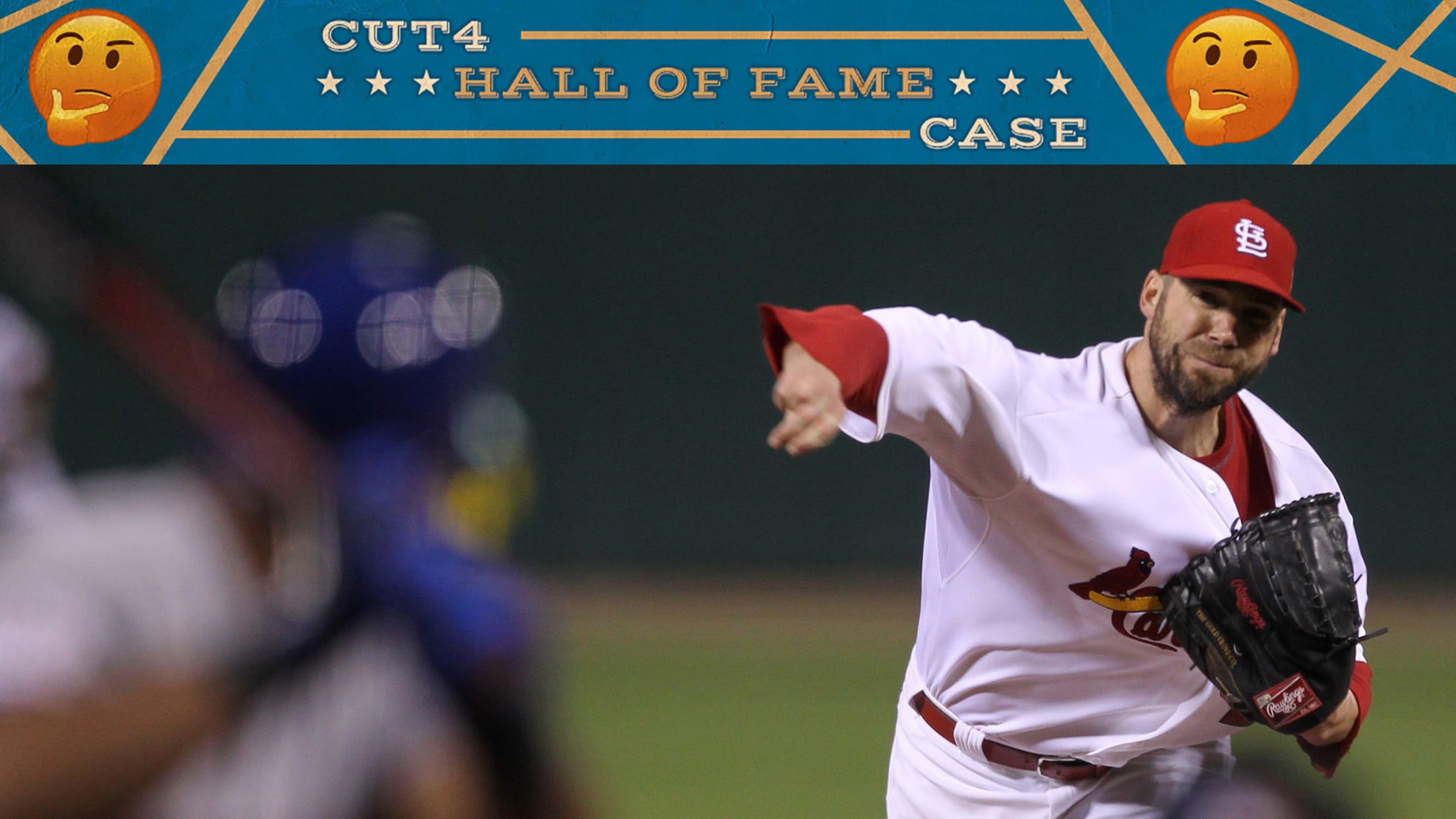 St. Louis Cardinals starting pitcher Chris Carpenter throws during the first inning of Game 7 of baseball's World Series against the Texas Rangers Friday, Oct. 28, 2011, in St. Louis. (AP Photo/Ezra Shaw, Pool) (Ezra Shaw/AP)
The likes of Trevor Hoffman and Vladimir Guerrero - and even first-timers like Jim Thome and Chipper Jones -- shouldn't have too much trouble racking up National Baseball Hall of Fame votes. But there are plenty of other players on the 2018 ballot who require a little more voter-cajoling. Players who may not have the on-field resume, but deserve an impassioned Hall of Fame case nonetheless. Players like ... Chris Carpenter.
Talk about an impressive resume, one that was filled to the brim with success despite countless injuries and setbacks. Even after hitting the age of 30, Carpenter proved the water from the fountain of youth was in the water bottle he was drinking every single day.
30 is the new …
Blowing out 30 candles on a birthday cake could be stressful for many, but not for this guy who has redundantly battled through injuries.
Carpenter was drafted by the Blue Jays in 1993 and made his debut with the team four years later. But his successes really flourished when he put on a Cardinals uniform in 2002 -- winning the Cy Young in 2005 while turning the big 3-0. He was also an All-Star and finished eighth in the MVP vote. That's what happens when you establish a 2.83 ERA in a career-high 241 and 2/3 innings pitched. Why there are people who are scared to turn 30, we are still unsure.
Beyond winning the Cy Young Award that year, beating out Dontrelle Willis and Roger Clemens, Carpenter was the only pitcher to finish in the top five of all the Triple Crown categories. Oh, and the next season he helped his team win a World Series.
TWO Comeback Player of the Year awards
Not once, but twice. After missing all of the 2003 season with elbow problems, he secured then-career bests in '04 in wins (15), boasted a 3.45 ERA and helped the Cards earn a National League pennant for the first time since 1987. This earned him the National League Comeback Player of the Year honor from the MLBPA Players Choice Awards. And this was just the beginning of the Carpenter Era. He won the award again in '09 after missing most of the '07 and '08 campaigns - leading the league in ERA (2.24) and win percentage (.810).
Oh, and that sinkerball that Carpenter was able to deliver to both sides of the plate (with major thanks to Dave Duncan). Woah, man:
#PostseasonGoals
Carpenter's postseason numbers are outstanding. In five postseason appearances, he finished with a 10-4 overall record and a 3-0 mark across two World Series titles. Which means he gets really excited …
Now for the fun stuff …
This is all fun stuff, let's just establish that now. But as we continue to try and make the case for Chris Carpenter, we need to remember that electing him into the National Baseball Hall of Fame would be as simple as cutting and pasting … kind of.
Carpenter was inducted into the Cardinals Hall of Fame recently … he already has a plaque, he already gave a humbling interview, so, it's rather simple, right?
In the interview above, he even says so himself it's difficult to watch the game sometimes. Not in a bad way, but he really misses it. And the game of baseball misses him as well.
And look how handsome he looks on a plaque and in a fancy blazer:
He and Roy Halladay saved a man from an ANACONDA
During a fishing trip in the Amazon River, Carpenter and his good friend, the late Roy Halladay, decided to jump into the water after a hot day of fishing. That's when things got weird.
According to Sporting News, a man was fishing for tropical fish to sell for aquariums when "he was attacked by an anaconda."
"The snake apparently bit him on the (butt), but he was able to free himself before the snake wrapped him up," Carpenter recounted. "Instead, the snake wrapped around his motor on the back of his little 14-foot dugout canoe and tore it off the back of his boat. Doc and I helped him gather his gear and flip the boat back over and then towed him home. You could definitely see the bite mark on his (butt), but he was able to fight it off; amazing."