Which Winter Meetings had the biggest impact on the next year's World Series?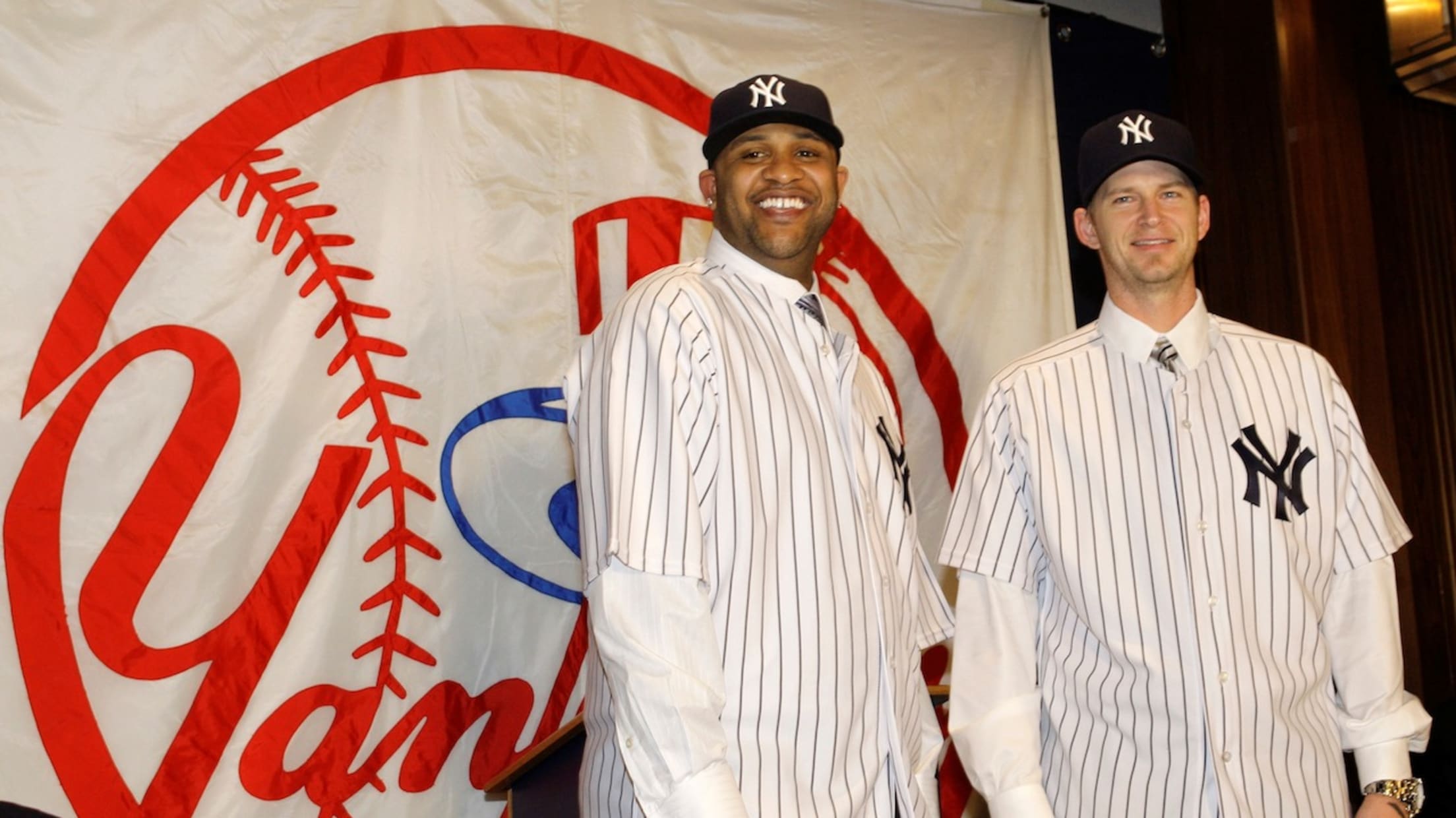 New York Yankees pitchers, CC Sabathia, left, and A.J. Burnett, right, poses for photographs during a news conference at Yankee Stadium in New York, Thursday, Dec. 18, 2008. (AP Photo/Kathy Willens) (Kathy Willens/AP)
The 2017 Winter Meetings are officially underway, and with Shohei Ohtani choosing the Angels and Giancarlo Stanton reportedly approving a deal to join the Yankees, more deals are bound to happen this week and play a big role in shaping baseball's foreseeable future.
It would hardly be the first time. The Meetings have frequently shaken up MLB's balance of power over the years: The Mets landing Gary Carter in 1984 and vaulting to the top of the National League, the Blue Jays acquiring Joe Carter and Roberto Alomar in 1990 to put the finishing touches on a budding dynasty.
And as the stories below show, those few days in December can even help decide the next World Series winner.
1965: Orioles acquire Frank Robinson
After seven years at the helm of the Orioles, team president Lee MacPhail stepped down following the 1965 season to take a job in the commissioner's office ... but not before leaving one heck of a going-away present.
While Baltimore searched for a replacement, MacPhail headed to Fort Lauderdale hoping to add one final piece that would push the third-place O's over the top. And it just so happened that Frank Robinson, former NL MVP and perennial All-Star, was on the block -- Cincinnati Reds owner Bill DeWitt felt that his star was "not a young 30," and wanted to sell high.
After other potential trades fell through, DeWitt contacted MacPhail and the two sides hashed out a deal that would send Robinson to Baltimore for Jack Baldschun, Milt Pappas and Dick Simpson. There was just one snag: Less than an hour later, the O's would announce that Harry Dalton was the team's new GM and no trade could go through without his approval.
Fortunately for O's fans, Dalton -- after initially balking at trading away three players to acquire one -- signed off. A few months later, Robinson had won the AL Triple Crown and his second MVP Award -- while Baltimore captured its first World Series title.
1971: Reds acquire Joe Morgan, A's acquire Ken Holtzman
Cincinnati had gone 102-60 in 1970, only to fall in the World Series to the Orioles. Oakland went 101-60 in 1971, only to fall in the ALCS ... to the Orioles. They were two teams on the verge of becoming dynasties -- and the 1971 Winter Meetings put the final pieces of the puzzle in place.
The A's were in need of a starting pitcher, and after butting heads with Cubs manager Leo Durocher, lefty Ken Holtzman was looking for a change of scenery. (And we do mean looking. As he said at the time: "I wouldn't have cared if the Cubs had traded me for two dozen eggs.") Chicago was all set in the egg department, but they did accept promising outfielder Rick Monday in return.
Holtzman formed a super-rotation with Catfish Hunter, Vida Blue and Blue Moon Odom, and Oakland won its first of three straight World Series titles that fall ...
... against the Reds, who'd swung a blockbuster deal of their own. Theirs was a bit more controversial: Cincinnati GM Bob Howsam sent Jimmy Stewart, Tommy Helms and Lee May -- who'd just hit 44 home runs in 1971 -- to Houston. Even the hometown paper was skeptical: "For Lee May, you'd expect Willie Mays, not just another guy named Joe," Bob Hertzel wrote.
That other guy named Joe, of course, was Joe Morgan.
2008: Yankees sign CC Sabathia
In 2008, New York missed the postseason for the first time in 14 years. GM Brian Cashman was willing to do just about anything to get his team back on track -- up to and including leaving the Winter Meetings entirely.
After putting the Brewers on his back down the stretch of the '08 season, Sabathia was the clear top prize on the free agent market. He just so happened to be spending the offseason in his hometown of Oakland -- not too far away from Las Vegas, where the Meetings were being held.
"I told them I would be more than willing to fly from Vegas to continue our efforts by meeting in California," Cashman recalled. "They welcomed that idea, so I took advantage of it and bolted."
The face-to-face sitdown resulted in a seven-year, $161 million deal, at the time the largest ever afforded to a pitcher. They won the 2009 World Series, and nearly a decade later, it's tough to say the Yankees regret it:
2012: Red Sox sign Mike Napoli and Shane Victorino
The 2012 Winter Meetings seemed a bit underwhelming at the time: The two biggest names on the market, Zack Greinke and Josh Hamilton, left Nashville without a team, while a rumored Justin Upton blockbuster never materialized. Meanwhile the Red Sox, having just traded Carl Crawford, played it cool, signing Napoli and Victorino to identical three-year, $39 million deals early in the week. Little did anyone know that they'd have the last laugh in October.
First, in Game 3 of the ALCS against the Tigers, Napoli took Justin Verlander deep to give the Red Sox a 1-0 win:
Then Victorino sent Boston to the World Series with a dramatic grand slam in Game 6:
Of course, he wasn't done -- in the deciding World Series Game 6 against St. Louis, he came through again with a bases-clearing double:
Not bad for a quiet offseason.
2015: Cubs sign Ben Zobrist and John Lackey
Theo Epstein had already turned the Cubs into contenders. After an NLCS loss to the Mets, he entered the Winter Meetings looking to get over the hump -- and didn't waste any time doing it.
Chicago inked both Zobrist and Lackey over the course of about an hour, and it's safe to say the pair have worked out on the North Side. Lackey posted a 3.35 ERA in 29 starts for the Cubs in 2016. As for Zobrist ... well, you probably remember how that turned out: