Who's the most likely Hall of Famer on each team's current roster?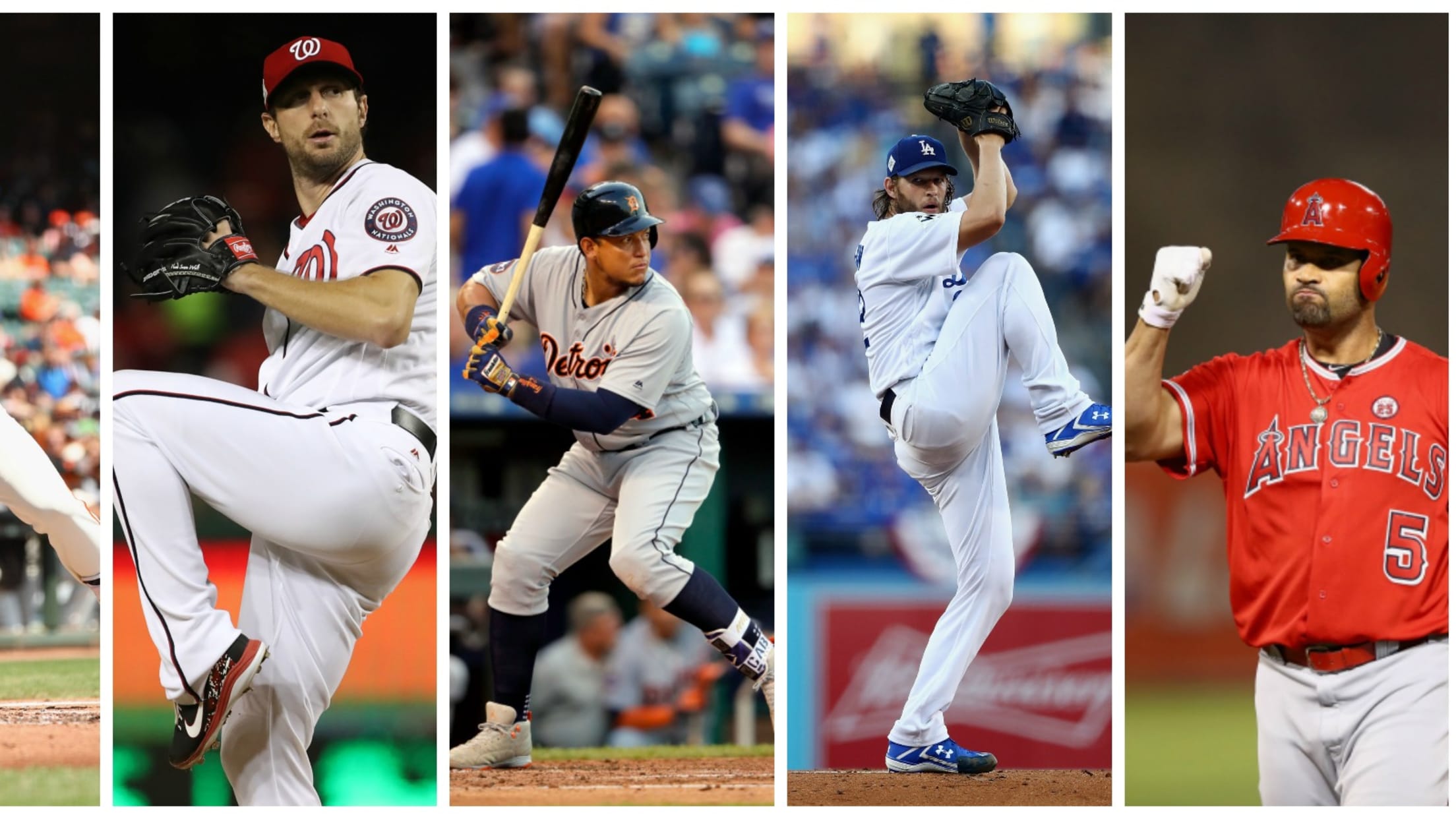 The Hall of Fame results are coming and we'll soon see which players have been graced by voters with entry into the most exclusive club this side of Disneyland's Club 33. But who could be on that list that's still playing?
As MLB.com's Mike Petriello pointed out, there is an average of 31 active players at a time that are future Hall of Famers. For the math-troubled, that means slightly more than one for every team. While the distribution of players is probably not that even, there's a good chance that your favorite team has a player right now that could one day be bronzed inside the Hall.
But which player is it? Is it the veteran with most of his career in the rearview? The young player waiting for the breakout? The unheralded nobody waiting for his chance? For our purposes, we'll judge the players largely based on the skills they have displayed with a realistic expectation for the rest of their careers. Sure, your team's top prospect could be the special one percent case that maxes out their abilities, but that's the exception -- not the rule. When given the choice between two seemingly equal options, we'll lean toward the established Major Leaguer.
Unfortunately, because Chase Utley and Ichiro Suzuki -- two likely Hall of Famers -- are current free agents, they don't make the list below.
Arizona Diamondbacks: Paul Goldschmidt
With apologies to Zack Greinke, how do you argue against a 30-year-old whose average season since his first full year in 2012 looks like this: .301/.402/.534 with 28 HRs and 100 RBIs. That's Edgar Martinez if Gar won three Gold Gloves and was one of the best basestealers in the game.
Atlanta Braves: Freddie Freeman
According to Baseball-Reference, Freeman's most similar batter is, you guessed it, Paul Goldschmidt. Freeman was arguably on pace for an MVP campaign in 2017, as he had a 1.209 OPS when he was injured in May. Unfortunately, that may be Freeman's biggest issue, as he's missed more than 40 games in two of the last three seasons. Just ask Fred McGriff -- another Braves slugging first baseman -- how small the margins are. McGriff is on the outside looking in after finishing his career with 492 home runs.
Baltimore Orioles: Manny Machado
Though 2017 was a down year, Machado combines back-breaking defensive highlights with 30-plus home run power. His chances would improve with a potential move to short, though, as the hot corner is perhaps the most overly scrutinized position. There are fewer third baseman in the Hall than at any other spot on the diamond.
Boston Red Sox: Dustin Pedroia
Though the way he hurls his body around the infield doesn't bode well for his health as he enters his mid-30s, he's already in rarefied company at second base. According to Baseball-Reference WAR, Pedroia is already the 19th-best second baseman of all-time.
With five consecutive top-five Cy Young Award finishes, Boston's Chris Sale also has plenty of time to build the numbers that will plead his case.
Chicago Cubs: Kris Bryant
In three seasons, Bryant has won a Rookie of the Year, an MVP and recorded the last out of the Cubs' first World Series in 108 years. With consistent 40-plus home run power, you couldn't script a better Hall of Fame case this early.
Chicago White Sox: Yoán Moncada
While José Abreu's a consistent power threat -- even leading the league in total bases last year -- he's already 30 years old, so he probably won't have the ability to rack up the necessary counting numbers. Enter Moncada and his 251 plate appearances at the Major League level. While he struggled as a Major Leaguer in his rookie season, if he lives up to his Minor League pedigree as a powerful, speedy and defensively-gifted middle infielder, the future is bright.
Cincinnati Reds: Joey Votto
He's got power. He has sass. He has a .969 career OPS. He's led the league in not making outs six times through his age-33 season. By comparison, Barry Bonds had led the league in the metric four times by this point in his career.
Cleveland Indians: Corey Kluber
Kluber's won two Cy Young Awards, nearly delivered a World Series to a team that hasn't won in 70 years and throws a curve, that is maybe a slider, that has arguably been the best pitch in baseball for the last five years.
Colorado Rockies: Nolan Arenado
Despite the humidor, Coors Field is still a launching pad for home runs. So, there will always be Hall of Fame voters who won't give full credit to Arenado's average of 40 home runs and 131 RBIs over the past three seasons. However, there is one thing that Coors does not affect: Arenado's Brooks Robinson-esque glovework at third base.
Detroit Tigers: Miguel Cabrera
One of the very greatest hitters of this -- or any -- generation. The first hitter since Carl Yastrzemski to win the Triple Crown, you'll be telling your children about watching Cabrera. Fortunately, not only is Cabrera one of the all-time great players, but he's one of the all-time great hams, too:
Houston Astros: Justin Verlander
If this was discussed before August, the answer would probably be José Altuve, whose bat-to-ball skills places him among the best second basemen of all time, or Carlos Correa, whose power and defense at the tender age of 22 has us dreaming of records falling.
Instead, it's Verlander, the quintessential ace. He has regularly topped 200 innings every year, led the league in innings pitched three times and has collected the always-rare pitcher's MVP Award. He has the big games, too, including no-hitters and an ALCS MVP Award, as he helped the Astros win their first World Series title.
Kansas City Royals: Salvador Perez
The on-base percentage fans won't look kindly on this one (Perez has hit more homers than walks in each of the last three seasons), but he has a combination of power and glove that few catchers have. He'll need to remain healthy to rack up those counting stats and collect more Gold Glove Awards, though.
If Eric Hosmer ends up re-signing with the Royals, his penchant for big moments -- anyone remember the race home in the World Series? -- could earn him the nod.
Los Angeles Angels: Albert Pujols
While Mike Trout has put himself into the conversation as one of the greatest players to ever grace the sport, it's Pujols and his three MVP Awards and 614 home runs that are already a lock for the Hall. With a bounce back 2018 and '19, 700 home runs would even be conceivable.
Los Angeles Dodgers: Clayton Kershaw
Kershaw has somehow lowered his career ERA every season of his career. He's also collected three Cy Young Awards, an MVP honor and features a curveball described as "Enemy No. 1." The only question is if Kershaw will be remembered as an all-time great or the all-time greatest.
Miami Marlins: Christian Yelich
He may only be 26 years old and with a single 20-plus home run season to his name, but he's already the seventh-best Marlins player of all-time by bWAR. That could be Yelich's downfall. He doesn't have one standout category: He's a good hitter with a good eye, has some power and plays a strong outfield. Unfortunately, the Hall of Fame tends to reward those with one incredible standout skill rather than a well-rounded player that sometimes blends into the background.
Milwaukee Brewers: Lewis Brinson
Because of Ryan Braun's complicated PED history, the nod goes to a player that has five big league hits to his name. But MLB Pipeline says that "Few players in the Minors can match Brinson's power and speed ceiling, the combination of which could make him a 30-homer/30-steal threat at maturity." If he can pull that off, he's got a direct route to the Hall.
Minnesota Twins: Joe Mauer
According to Jay Jaffe's JAWS system for ranking Hall of Famers, Mauer already belongs, as his career is an exact match for the average Hall of Fame catcher. It's not surprising: The milk-fed king of sideburns won three batting titles and collected an MVP Award. Though concussion issues necessitated a move to first base in recent years, Mauer's defense and ball-to-bat skills should get him in.
Mauer's not the only possible Hall of Famer, though. After twice being MLB Pipeline's top prospect, Byron Buxton had a breakout season last year. His combo of power and defense could see Minnesota well-represented at the podium in the future.
New York Mets: Noah Syndergaard
With the ability to throw fastballs at triple digits and sliders in the seemingly impossible-made-possible low-90s, Syndergaard has all the stuff to dominate batters like few else in Major League history. Unfortunately, Syndergaard -- like all pitchers -- must battle the injury gods and hope that last year was the rare mirage on his journey.
New York Yankees: CC Sabathia
After Randy Johnson won his 300th game in 2009, there was some handwringing over the thought that there would never be a 300-game winner again. But Sabathia, currently at 237 victories, may have a few things to say about that. The 37-year-old bounced back to win 23 games and post an ERA below 4 over the last two years. The left-hander needs to average 13 wins over the next five years to pull it off. Hard? Yes. Impossible? No.
Should Aaron Judge repeat his 52-home run rookie season, he'll be topping this list in the near future. Not to mention Judge's new dinger-friendly teammate Giancarlo Stanton, who nearly topped 60 dingers last season.
Oakland Athletics: Matt Olson
Olson may not have been a household name before last year -- not even among the prospect literate -- but that changed after smashing 24 home runs in 216 big league plate appearances in 2017. It's hard to imagine anyone keeping up that pace, but if he does, some records will fall.
Philadelphia Phillies: Rhys Hoskins
See everything written above for Olson? Yeah, just copy and paste that. Only difference: Hoskins hit 18 dingers in 170 at-bats.
Pittsburgh Pirates: Josh Bell
Update: We originally had Andrew McCutchen listed here, but after his trade to the Giants, we needed to make another selection.
Noted as a prospect with an advanced approach at the plate, Bell lived up to the reports in 2017. He crushed 26 homers, drove in 90 runs and has Pirates fans dreaming of their first All-Star first baseman since Jason Thompson in 1982. If it wasn't for a loaded rookie class led by Cody Bellinger, Bell even would have had a chance at winning the Rookie of the Year Award.
San Diego Padres: Fernando Tatis Jr.
He may have just reached Double-A last season, but the son of former Major Leaguer Fernando Tatis doesn't just have a cool relative: He's also loaded with talent. The 19-year-old smashed 22 home runs and stole 32 bases at the Minor League level in 2017. Those are solid numbers ... especially for a shortstop.
San Francisco Giants: Buster Posey
Posey has won a Rookie of the Year Award, MVP Award, captured a batting title and helped the Giants win three World Series titles. That's enough to put almost anyone in the Hall of Fame. Only 30, Posey will likely continue to rack up numbers -- especially as the Giants protect his bat by giving him more time at first base in the coming years.
Of course, Madison Bumgarner has a very similar case, so you could really flip a coin here.
Seattle Mariners: Félix Hernández
From 2009-14, you'd be hard-pressed to find a better pitcher in the game as Hernandez posted a 2.73 ERA while averaging 232 innings per season. His performance was so good he even managed to win the AL Cy Young Award with a 13-12 record in 2010 -- something that would make any wins-obsessed baseball writer lose their mind. But that's how good Hernandez is.
St. Louis Cardinals: Yadier Molina
Though Molina's offensive peak was short -- posting an .842 OPS with 48 home runs between 2011-13 -- he is to catching what Ozzie Smith was to shortstop. Molina is an elite framer, pitch blocker and baserunning stopper. He's also a Hall of Famer.
Tampa Bay Rays: Kevin Kiermaier
Just how much do we value defense? That's at the heart of Kiermaier's case. While he has solid a 108 career OPS+, he belongs in the discussion as the best defensive center fielder. Is that enough? Unfortunately, given Andruw Jones' struggle on the ballot this year, it doesn't seem like it is.
Texas Rangers: Adrián Beltré
Beltre's not just the greatest jokester in the game. He's got a smooth glove, a powerful bat (even when going down to a knee), and has collected more than 3,000 hits. He may even be immortal as he seems to simply get better with age.
Toronto Blue Jays: Troy Tulowitzki
If not for multiple trips to the DL, there may not even be a question about Tulowitzki's candidacy. He's combined a powerful bat with a smooth glove at baseball's hardest position. With a few more 20-something home run seasons, he might just find his way to the podium.
Washington Nationals: Max Scherzer
Three Cy Youngs, a 20-strikeout game, two no-hitters and multiple shutdown outings in the postseason. And to think, there was a time when some believed he was destined to be nothing but a hard-throwing reliever ...