You'll be on the edge of your seat when these players take the field this year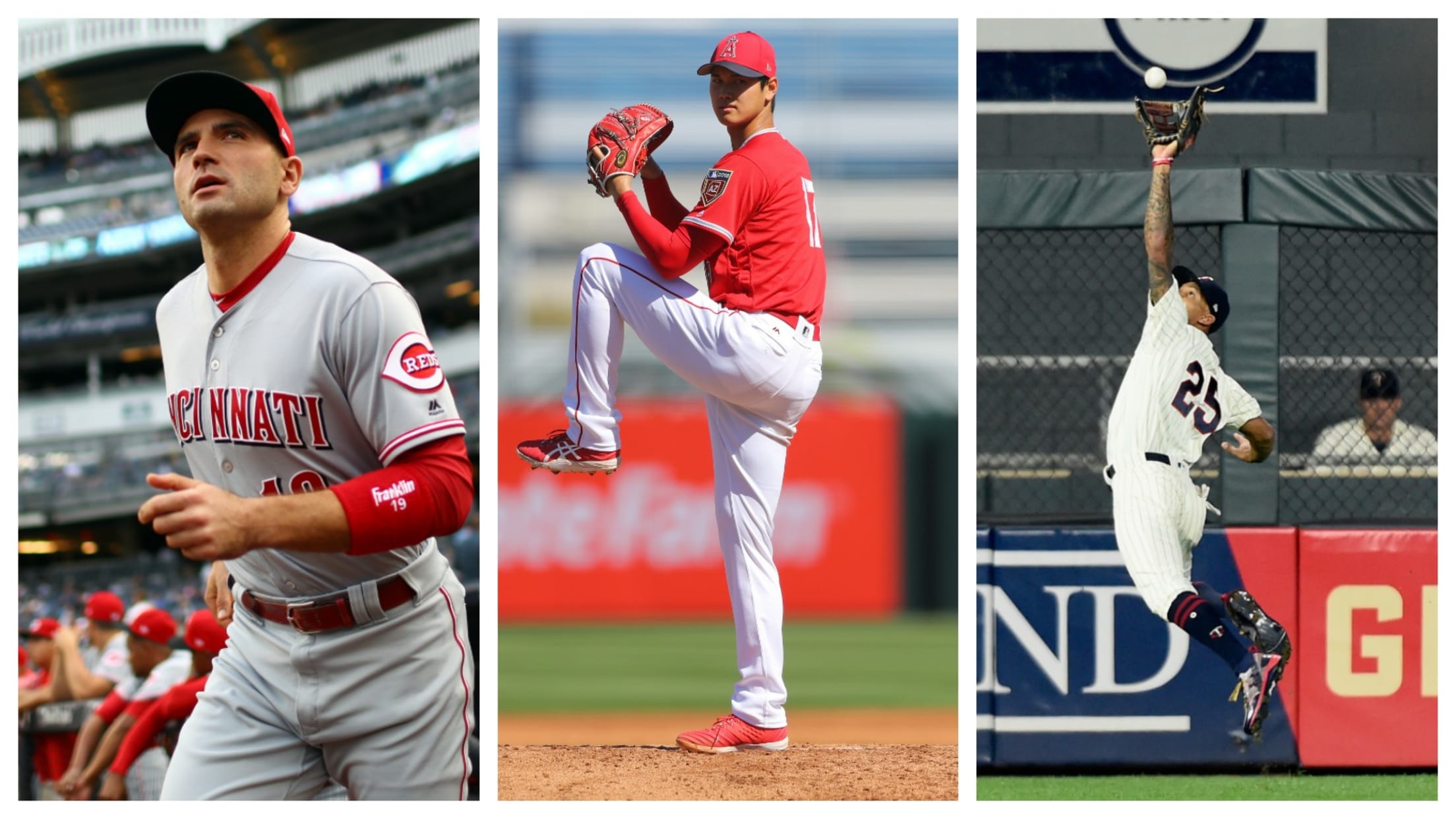 When the season starts, there are many questions you have to ask yourself: Who will win the World Series? Did I make the right choice in my fantasy draft? If there were a team of Mike Trouts, how many games would they win?
But the most important question is: What should I watch?
When you return home from work every night and flip on MLB.TV to soothe your mind, you want to make sure you're getting the absolute most out of your fandom.
Today we unveil the most watchable lineup to help you. These are the players who make you sit on the edge of your seat. There's something about the combination of their skills and personality -- of the mere interplay of their muscles and tendons -- that makes these the players that demand we pay attention.
So, let's go:
SP: Shohei Ohtani
While some of the elite pitchers have fastballs and breaking balls that stretch belief, Ohtani stretches our very understanding of the natural world. A mid-90s heater, an endless mix of breaking balls and he's going to hit?
Sure, his Spring Training performance wasn't the strongest, but it's Spring Training!
If there's one player this year who you're going to shout to everyone in the house when he steps on the field, it's Ohtani.
C: Gary Sánchez
Offensively, there's no doubt: In a season-and-a-half of baseball, Sanchez smashed a gobsmacking 53 home runs. That's four more than Yasmani Grandal and Salvador Perez, giving him the most among all catchers in baseball -- and Sanchez has played in far fewer games than everyone else on the list.
While he's not known for his defensive chops, he combines his Mike Piazza-like bat, with a laser cannon for a throwing arm.
1B: Joey Votto
Votto is patient at the plate, but aggressive when a pitcher makes a mistake. He can smash home runs, and he'll also choke up on the bat like your 4-foot-2 Little League teammate. He can be sensitive and giving, or he can mercilessly troll the fans at the park. He takes his work incredibly seriously -- even practicing his swing on first base -- but he'll goof off and buy his teammate a donkey. He is everything.
2B: José Altuve
It's amazing that Altuve's a big league starter, and even more amazing that he's the AL MVP for a World Series winner. Coming up through the Minors, he was undervalued -- and yet, he's so much more.
He's a defensive stalwart, holding down the keystone in arguably the best double-play combo in the Majors. He's topped 200 hits in each of the last four seasons and has swiped over 30 bags in every full season he's played. Even if you did believe in him when he was in the Minors, who would have thought he'd be topping 20 homers in a season with regularity?
SS: Andrelton Simmons
We're in a golden age of shortstops. It's only a matter of time before someone gets five of them together to take a poolside, shirtless pic. But there is no one more watchable than Simmons.
While Simmons had an offensive breakout last year, we're all here for the defense. But it's not just the plays themselves that demand your attention -- it's his ability to make the plays that you weren't even aware were in process.
When he faced the Astros last year, Simmons deked Carlos Correa into running for second by leaning back as if he was going to let the throw from the outfield go through. Only problem: He grabbed the ball, got Correa in a rundown and then threw Altuve out at the plate.
While the rest of the league is playing Super Smash Bros., Simmons is defeating Garry Kasparov in chess:
3B: Nolan Arenado
Over the last three seasons, only Nelson Cruz has more home runs than the Rockies' third baseman. That's right -- not Giancarlo Stanton, not Edwin Encarnacion, not Crush or Khrush Davis.
His OPS has improved every season he's been in the big leagues.
And he plays third base like he was making an And1 mixtape.
LF: Adam Eaton
When the outfielder went down only 23 games into his debut season with the Nationals, the man with the most nervous stance at the plate was on pace for career highs in on-base percentage and slugging.
Moving over to left field now that Jayson Werth is gone and Michael A. Taylor has earned the center-field job, Eaton can show off his bat and his amazing glove. In 2016, Eaton finished third in the Majors with 16 outs-above-average.
CF: Byron Buxton
There's a reason he was nearly a three-time No. 1 overall prospect: He's what happens when you put a space shuttle engine into a midsize sedan. He's a constant, overwhelming speed demon that robs everything hit near him in the outfield.
That's not just me talking, either -- he led the Majors with 25 outs above average last year.
While the defense was always there, he seemingly put it all together last year. He hit a career-high 16 homers, was 29-of-30 stealing bases and, from Aug. 1 until the end of the season, hit 11 homers with an .884 OPS. Superstardom is coming and you don't want to miss it.
RF: Aaron Judge
It was perhaps the most exciting season since the last time a rookie hit 50 home runs. Oh, right: That's never happened before.
The point is, there aren't many comparisons for Judge. Not only was he nearly the AL Rookie of the Year and MVP, and not only did he crush home runs, but he drew walks, scored runs and was truly great all over the field.
There has never been a 6-foot-7, 280-pound outfielder in history. This is unprecedented. Because it's unprecedented, we have no idea what to expect next.
DH: Giancarlo Stanton
I have 60 reasons for this one. Reasons 1-59:
Reason 60:
.@Giancarlo818, do you even lift?

👀 @MensHealthMag pic.twitter.com/sWk68KTsRh

— MLB (@MLB) March 6, 2018