Dwayne 'The Rock' Johnson applauded this fan's one-handed catch and impeccable fashion sense
This is the story of a fan making a great catch on a foul ball. But it's no ordinary fan, nor is it an ordinary foul ball catch. This is a sequence that's sure to bring a smile -- or at least a raised eyebrow and smirk -- from Dwayne "The Rock" Johnson.
No, this Blue Jays fan in seats along the third-base line in Sunday's game against the Astros at Rogers Centre made sure to stand out with his play, a snare of a liner off the bat of Yordan Alvarez in the first inning.
The play itself is pretty great -- this big, burly man effortlessly reels in the screaming liner with his bare hand, beer in the other:
Wherever he is right now, probably enjoying a pleasant Sunday afternoon, the Rock took note of this moment:
Raw handing a foul ball with a can of brew in the other all while wearing my infamous THUG LIFE tee shirt. 😂👏🏾#FannyPackDrip @BlueJays @jeskeets https://t.co/qPiLvNvbdx

— Dwayne Johnson (@TheRock) September 1, 2019
Did you see the guy's shirt? Let's enhance the image ever so slightly: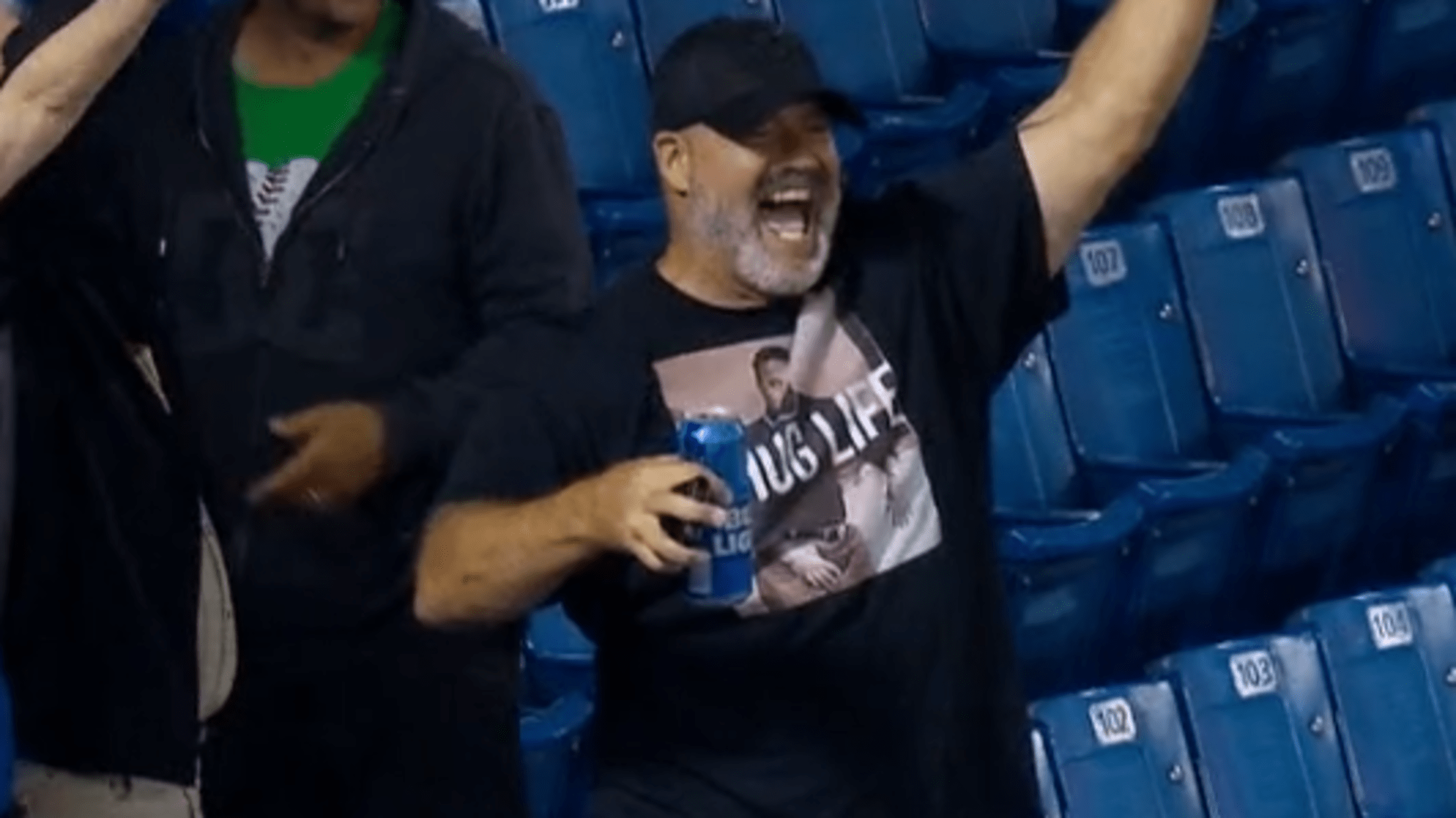 That is a t-shirt with a photo of The Rock on it. But not just any photo of Mr. Johnson, mind you.
No, this is perhaps the most iconic, most meme-worthy photo of the wrestler/actor/gym enthusiast ever taken by any photographer anywhere. I'm talking about this one, which the Rock amusingly shared to Instagram a few years back, recreated on "Saturday Night Live" and spoke with Jimmy Kimmel about on national television:
It's nice when a former fanny pack champion knows he's been defeated... @TheRock #fannypackers pic.twitter.com/M3RcronJtB

— Jimmy Kimmel (@jimmykimmel) December 13, 2017
That turtleneck, big jeans, chain and fanny pack look is A LOOK. And it's one only the Rock could pull off -- besides, who would tell him otherwise? I'm not about to go up to him and clown him on his outfit. In fact, I tended to wear fanny packs quite often back in the day.
What's more, aren't fanny packs in style these days? The Rock was clearly a fashion-forward visionary back when this iconic look was unearthed for all to see.
Back to that fan at the Blue Jays game again. He's also buff. Look at his arms -- this is a man who works out. And, he didn't use a pesky glove to catch the ball. It was all hands, biceps and arms. Based on all of this, I have to think Dwayne would see this fan's display and give him a rousing nod of approval on all accounts.
Teams in this article:
Topics in this article: