These are the best road trip dress-up themes of the 2018 season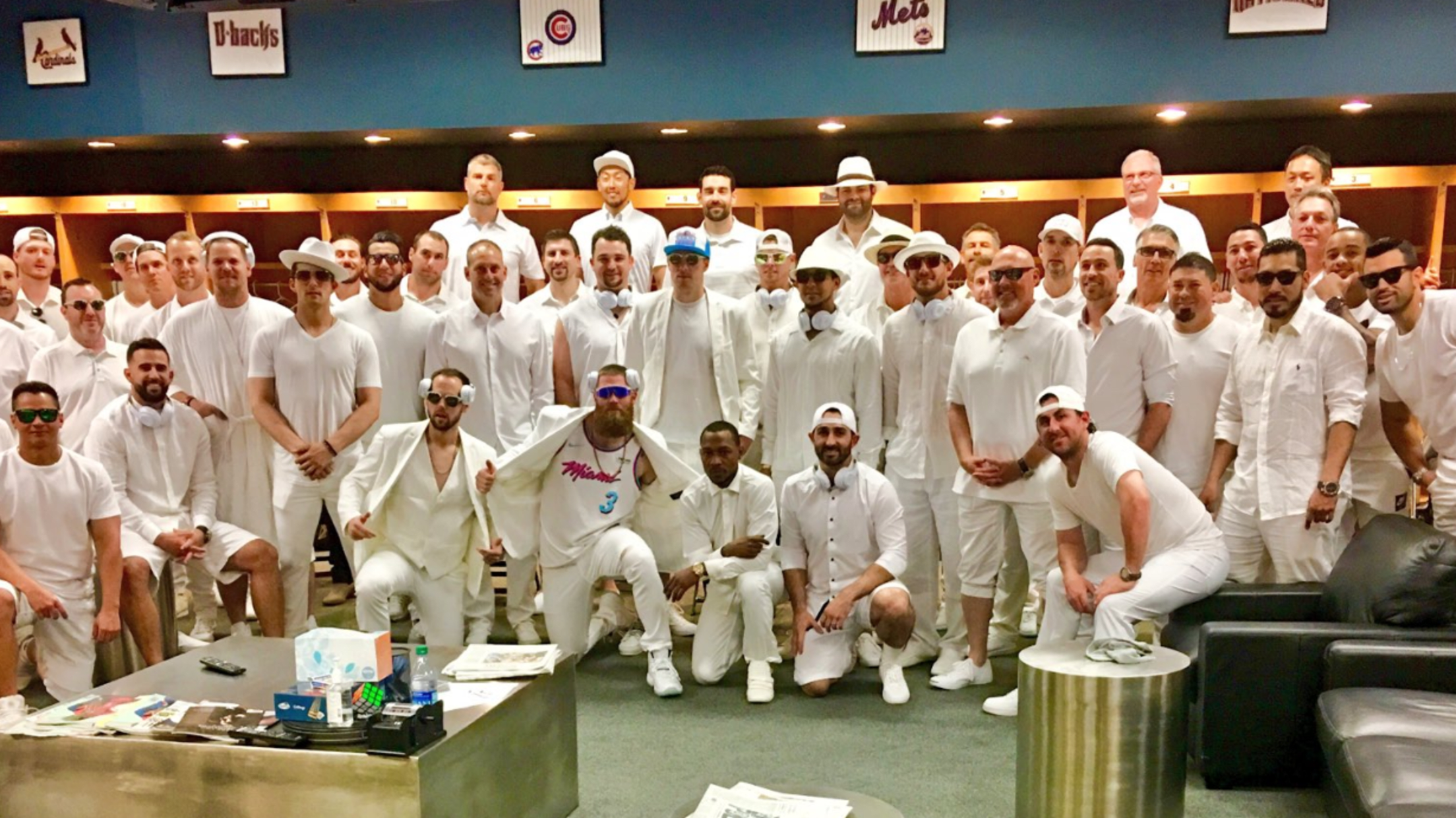 The BBQ's Best 5 is exactly what it sounds like: Each week, we'll pick a category around the world of baseball and talk about the five best things within that group. Today, we're highlighting the best five dress-up themes from MLB team road trips in 2018.
A big part of being a professional athlete in 2018 is flaunting your sense of style. Some players like to go more over the top than others, as we learned last month at the annual All-Star Red Carpet Show. However, teams have also shown us that on occasion, players like to coordinate their outfits around a certain theme, usually before a long road trip.
These are the five best MLB road trip dress-ups of 2018 -- so far, at least:
5. The D-backs get their "Miami Vice" on
While many dress-up themes involve elaborate costumes and creative homages, others are centered on a simple, smooth look. The D-backs showed us a great example of this with their brilliant, almost blinding all-white attire on a June trip to Miami:
Miami Nice. 👌 pic.twitter.com/L6JFNW6CNX

— Arizona Diamondbacks (@Dbacks) June 24, 2018
4. The Pirates pretend to be a basketball team
This is the second year in a row we've seen a full squad go with the hoops theme after the Angels did it last August:
Squad #happyfligth pic.twitter.com/Y4waK0i7Bk

— Machete Maldonado (@Machete1224) August 10, 2017
But the Pirates took the theme to a whole new level with the inclusion of David Freese as the referee, who was surely handing out technical fouls all throughout the Buccos' flight. Nothing gets by that guy.
Also, new Pirate Chris Archer pulling out the jersey of WNBA All-Star/ESPN analyst Chiney Ogwumike was an impressive touch as well.
3. Brewers honor Bob Uecker
At 83 years old, Uecker rarely travels on the road with the Brewers anymore. So when the legendary announcer joined the team for a three-game set in Pittsburgh in late June, the Brewers took the occasion to honor Uecker by dressing up just like him.
Get up, get up, get outta here... GONE....to Pittsburgh! #UeckerTrip pic.twitter.com/mx0A3aHFRa

— Milwaukee Brewers (@Brewers) June 17, 2018
But the Brewers didn't just settle for Uecker's trademark bold blazer, they also rocked T-shirts featuring an iconic picture of Uecker in a speedo from the 2008 Sports Illustrated swimsuit issue.
As a couple of you noticed, good work by Counsell and Sedar on their t-shirts for the Bob Uecker dress-up flight.

Brewers photo on left, and Al Tielemans' absolute classic from the May 19, 2008 issue of Sports Illustrated on right. Ueck refers to it as "my swimsuit issue." pic.twitter.com/eh86MlNdbz

— Adam McCalvy (@AdamMcCalvy) June 18, 2018
2. D-backs dress up as SNL characters
When the D-backs traveled to New York City earlier this year to take on the Mets, there were a lot of different directions they could have gone in regards to dress-up themes. This innovative bunch zigged where others may have zagged and pulled off one of the more impressive road trip displays in recent memory.
Who pulled off the best @nbcsnl outfit for the trip to NYC? Take a look through in our new #Dbacks Photoblog at https://t.co/sBvZ0zftcb and let us know. 👇 pic.twitter.com/VqLbSMUeEM

— Arizona Diamondbacks (@Dbacks) May 17, 2018
Someone please put that picture of Archie Bradley and John Ryan Murphy in the Hall of Fame ASAP. We will stand for nothing less.
1. All the Cubs dress like Pedro Strop
While Strop's high-90's fastball certainly has heat to it, his fashion sense is downright volcanic. Besides having his own clothing line, the flamethrowing reliever possesses an awesome sense of style best described as a blinged-out warehouse mural.
To honor Strop's iconic look, the entire Cubs roster dressed up as their beloved teammate on a recent road trip to Kansas City.
Joe Maddon's outfit is obviously the show-stopper, but we're particularly fond of Ian Happ's gold-trimmed suit. If imitation is indeed the sincerest form of flattery then Strop might be the most beloved man in baseball.