These are the five things to look forward to for Players' Weekend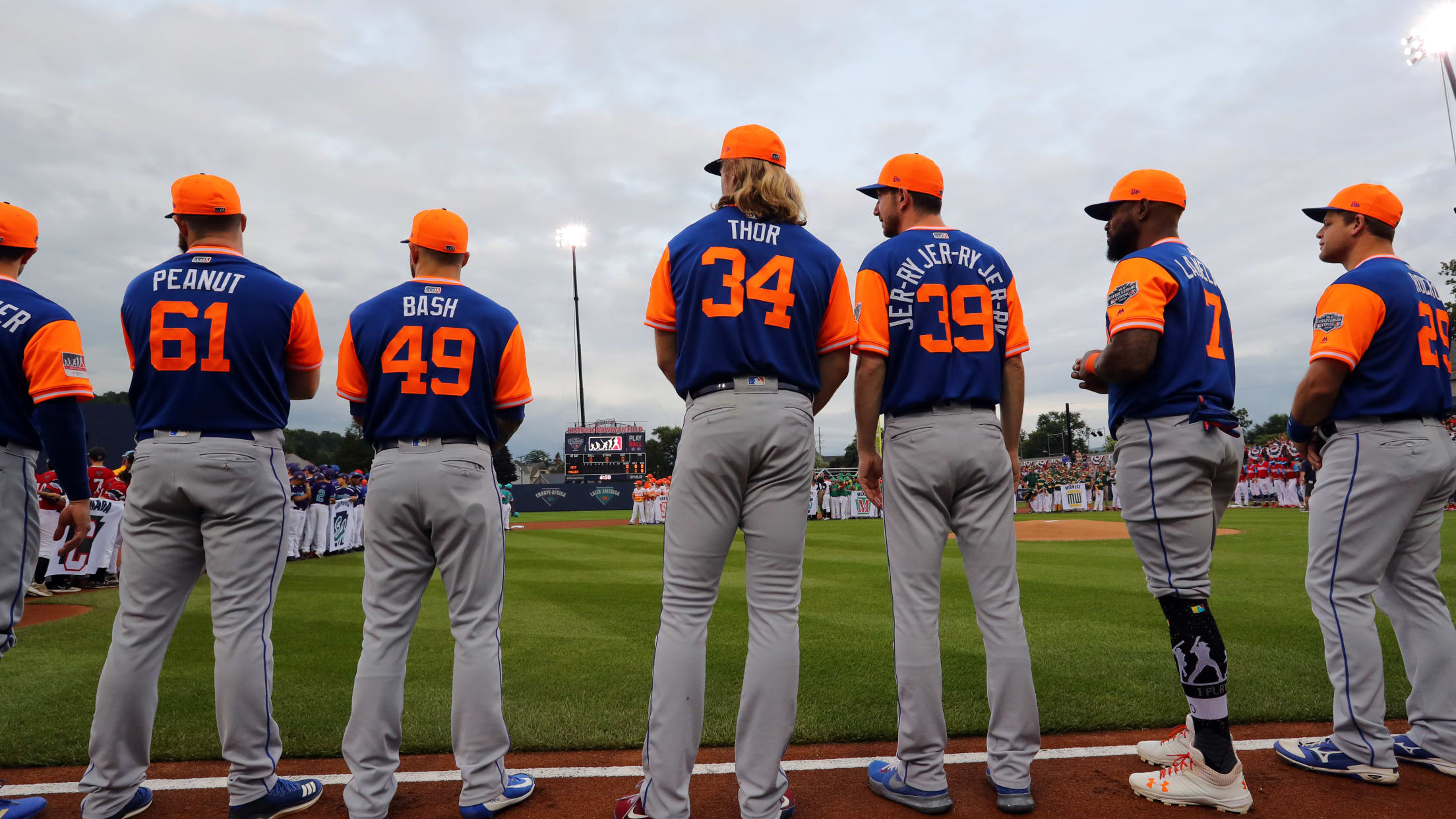 (Alex Trautwig)
The BBQ's Best 5 is exactly what it sounds like: Each week, we'll pick a category around the world of baseball and talk about the five best things within that group. Today, we're highlighting the five things we're excited to see during Players' Weekend.
Players' Weekend returns this Friday as all 30 teams will don special uniforms featuring the players' nicknames, in addition to a variety of other custom equipment designed by the players themselves. As we quickly learned last year, it proved to be a unique experience for both the players and the fans, and its second rendition should provide us with many more memorable moments.
There's a lot to choose from, but these are the five parts of Players' Weekend we are most looking forward to:
Wonderful nickname backstories
Nicknames are fun in and of themselves, but the backstories of how and why players earned these monikers can make us appreciate them even further. Some players like Carl Edwards Jr. will show off a clever nickname he earned in his first professional season:
Brandon Guyer earned "LA PIÑATA" for his knack for getting hit by pitches. His teammate Shane Bieber, aka "NOT JUSTIN, just didn't want to be confused with the world-famous pop star. Chris Sale got "THE CONDUCTOR" from his teammateDustin Pedroia because he "punches tickets" like a train conductor. And Brad Boxberger is revolutionizing MLB jerseys entirely with his emoji choice:
The nicknames are good. The backstories are even better. Hopefully we'll hear even more of them throughout the weekend.
Creative introductions
Last year, several teams took Players' Weekend as an opportunity to mix up their traditional lineups and introductions. Sergio Romo handled the duties for the Rays:
And the Phillies had their players introduce themselves as Little Leaguers, with their favorite players and all:
This year, the Giants have already given us a preview of their Players' Weekend squad with this adorable graphic:
Every Giant was once a Lil' Giant.

Players' Weekend: August 24-26 at @ATTPark #SFGiants pic.twitter.com/ElDDgw8ti3

— SFGiants (@SFGiants) August 9, 2018
How will other teams show off their Players' Weekend lineups?
Hilarious nickname matchups
Realistically, it may be tough to top last year's dramatic matchup between "OUTLAW" (Kevin Kiermaier) and "SHERRIFF" (Ryan Sherriff).
However, it is a shame the Rays and Dodgers aren't playing this weekend, because a matchup between "MINI HORSE" (Tyler Glasnow) and "WILD HORSE" (Yasiel Puig) would have been epic. Maybe next year.
The swag
In addition to the alternate uniforms and the nicknames, a huge part of Players' Weekend is the players being encouraged to go all out when it comes to custom apparel. Last year, numerous players showed off some flashy cleats and uniquely designed bats to celebrate the weekend:
Can't wait to rock these babies for #PlayersWeekend @UnderArmour pic.twitter.com/MujTjYIUfb

— Todd Frazier (@FlavaFraz21) August 25, 2017
Favorite Emoji's and the Lumber!🙌🏻🍑🔥😂 #PlayersWeekend pic.twitter.com/riqIDCuqE1

— Bryce Harper (@bryceharper3) August 26, 2017
My bat vs @Cody_Bellinger 's bat. Just two guys that rake! #PlayersWeekend pic.twitter.com/2SWsy6CrG0

— Alex Wood (@Awood45) August 25, 2017
Recently, we got a sneak peek of Trevor Williams' Star Wars-inspired cleats:
We can't wait to see what other crazy swag is brought out for this weekend.
Players living up to their nicknames
The only thing cooler than the players getting to wear their own nicknames is when the nicknames perfectly describe their actions on the field. Javier "EL MAGO" Baez wasted no time performing some defensive magic last year:
And Francisco "MR. SMILE" Lindor was hitting dingers and flashing his pearly whites all weekend long:
Which player will live up to his nickname this year? Will Ken "100 MILES GILES" throw triple-digit heat? Will James "McCANNON" McCann throw out someone trying to steal second base? Will the Nelson "BOOMSTICK" Cruz go boom? Tune in this Players' Weekend to find out.