It's a Maddon world: Three pitchers played left field for the Cubs, and it worked
There was some straight-up wackiness in Tuesday's Cubs-Reds game, which Chicago won in the 15th inning, 7-2, after an RBI single from Kris Bryant and a grand slam by Javier Baez sealed the deal. That slam, by the way, was a first for the Cubs franchise:
FROM ELIAS: Javiez Baez's 15th-inning grand slam is the latest in Cubs history.

— Jesse Rogers (@ESPNChiCubs) June 29, 2016
As per usual in the late innings of close National League games, the Cubs ran through many options out of their bullpen after Jon Lester departed in the eighth. More to the point, they found themselves needing to get creative in the final two innings of the marathon contest.
What this meant, amusingly enough, was that manager Joe Maddon could turn to three pitchers -- lefty Travis Wood and right-handers Spencer Patton and Pedro Strop -- as a three-headed pitching/left-field platoon tag-team for the 14th and 15th.
Patton took the mound to start the 14th in place of reliever Joel Peralta, which is a "normal" thing to see in the box score. Then, things got weird: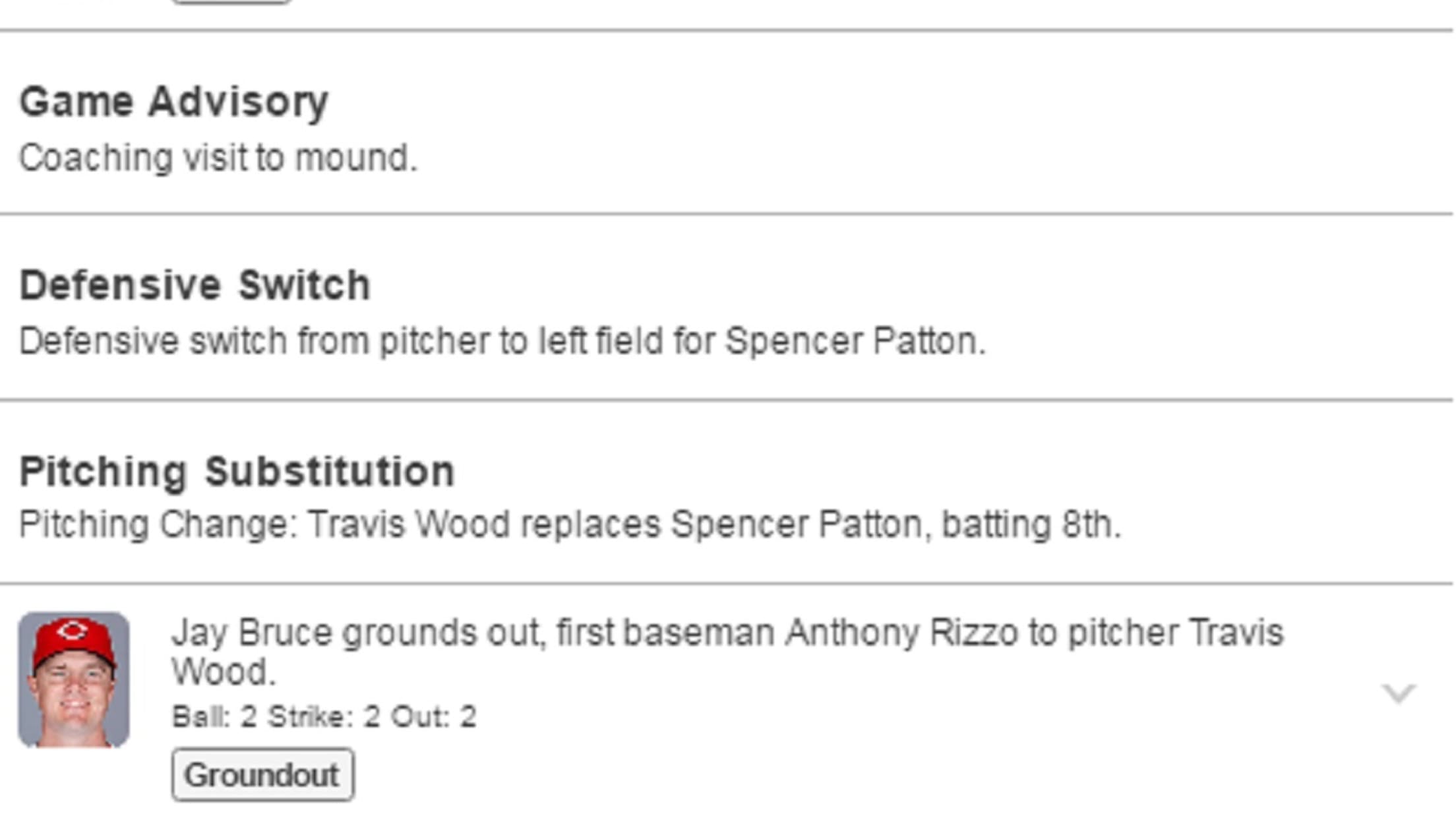 Got that? So Patton retired Brandon Phillips. Patton moved to left field and Wood came in to pitch. Wood retired Jay Bruce. Patton came in to pitch and then Wood moved to left field. Patton retired Adam Duvall.
Phew.
After Maddon's maneuverings worked and the Cubs survived the 14th, they had a lead to protect -- so in came reliever Pedro Strop, who replaced pitcher Jason Hammel (who had pinch-hit for Patton during Chicago's go-ahead rally in the top of the inning) in ... wait for it ... left field. He was excited to report for duty out there:
This whole phenomenon is pretty rare, considering Tuesday was the first time in 30 years that multiple pitchers moved from the mound to outfield and back in the same game. The last time was in 1986, when the Mets did so with Jesse Orosco and Roger McDowell:
Credit to the Cubs for revisiting the history books in dramatic fashion on Tuesday, using three pitchers in the field in the same game for the first time since 1913, and doing so in the late innings of a hard-fought extra-innings road game.
Left field depth chart: pic.twitter.com/1RUGXqlab3

— Chicago Cubs (@Cubs) June 29, 2016
It sounds ridiculous, but it worked perfectly. Catcher/beloved team patriarchDavid Ross summed it up nicely after it was all over:
What a game! Think that is the definition of a Team win!! @Cubs

— David Ross (@D_Ross3) June 29, 2016
After all the furor died down, MLB.com's Cody Pace caught up with Maddon and Wood about the night's activities. Said Maddon of the strategy toward the end and what made this whole thing possible:
Everybody, all hands on deck, we were down to almost nothing at the end. The grand slam obviously was huge just to really build that cushion to permit us to more comfortably go into that last inning because I had no idea what was going on. Travis was unbelievable. To do what he did tonight, because I was not going to use him and I was not going to use Strop, those were two guys that were on the no-fly list. Travis, my God, what an athlete. Jon Lester was spectacular. Yesterday's pitcher. He was spectacular.
The skipper was pretty confident in throwing Wood out there, too:
Honestly, with Travis, you just treat him like a position player. I'm that comfortable with him. You can put him out there. He processes everything well. I had no concerns about that, about having a pitcher go play the outfield, taking an outfielder out. If we didn't have Travis available, I probably would not have done that.
Wood told Pace this was his first stint in the outfield since high school, though he and the Cubs had spoken about the opportunity in the past:
It was a lot of fun. I would've like to have recorded an out. You know, showcase some talents out there because I've tried to get Joe to put me out there all year long, give me a couple starts. It was fun and we grinded out the whole game and were able to pull it off. Javy with a big hit, first off, KB with the big hit, getting that run to get us ahead and then Javy came in and let us have some breathing room and we were able to close it off.
Teams in this article:
Players in this article: