Two fans trying to catch the same home run is a recipe for hilarious, heart-wrenching disaster
If your moment comes, will you seize it? There you are, sitting in the bleachers, glove on (or bare hands raring to go, whichever method you prefer), tracking every fly ball in case it bucks the odds and heads straight for you.
You're ready. You've got this. There's no way, just NO WAY, you'll miss this chance. It's destiny. All those years of waiting, hoping, dreaming of catching a live home run ball, have built to this moment, right now. It's here.
HERE IT COMES. Get ready -- hey, wait, what's the other guy doi -- OH NO!
NO NO NO NO NO. This can't be happening.
Oh, but it did -- in Wednesday's Cardinals-D-backs game from Chase Field, to be exact, off the bat of Wilmer Flores, who lined a homer to the left-field seats and caused this monumentally epic disaster of a flub by these two fans, both vying for glory.
Instead, neither caught the ball, as their gloves popping into each other's dislodged the prized sphere from black shirt guy's and back onto the field, directly facilitating what has to be the most on-point depiction of what this feels like that has ever existed in any ballpark.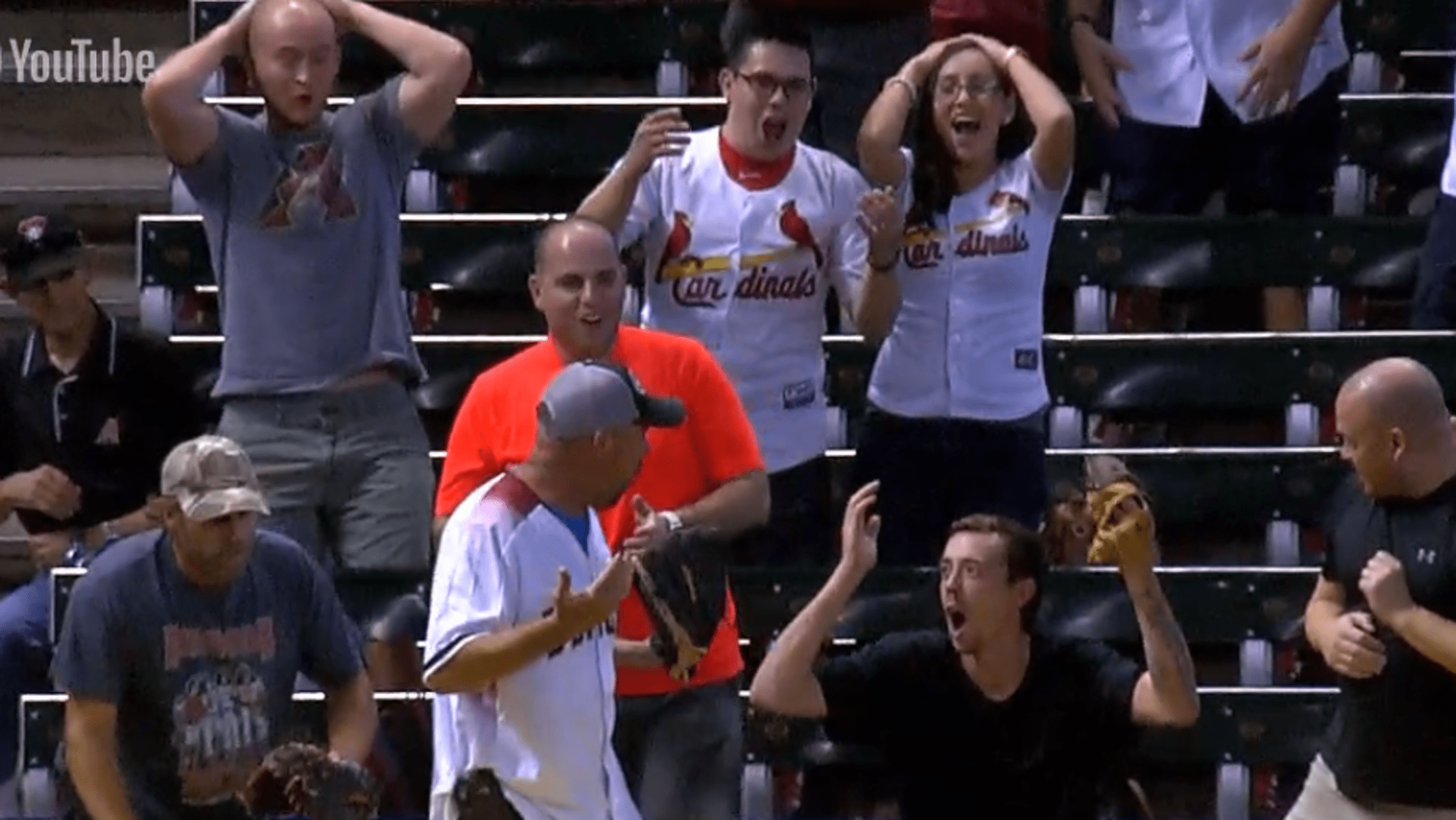 No fewer than five other fans in the vicinity of the two directly involved in this catastrophe put their hands up, incredulously, engaging in that communal "WHAT ARE YOU DOING??!" sound that can be heard at any baseball game whenever a fan misplays a surefire catch in the stands.
We've all been there. Or, maybe not all of us, but I have certainly been there. It's a rough feeling. I haven't had the fortune of catching a home run ball in a live-game setting, though, nor have I misplayed the chance like the two dudes in Wednesday' night's mishap.
I feel for you both, D-backs jersey guy and black shirt guy. Really. Catching baseball is significantly more challenging than we're led to believe, especially after watching world-class athletes do it with ease on the baseball diamond. They're pros, we're not. They make the impossible look easy, while we ... well, we look like this as fans sometimes:
That catch was almost Taylor made. 😬 pic.twitter.com/CpUmHjMYWP

— MLB (@MLB) September 3, 2019
It's a tough feeling, filled with coulda-woulda-shouldas and the concern that this opportunity might not present itself again in the future.
But alas -- it might. It could. It will.
That's what brings us back to the ballpark. That hope, that dream, which may still happen to one of these guys next time, despite Wednesday's flub that was elevated to an all-time fan-catch disaster due to their fittingly intense reactions.
Instead of failing in the most dramatic way possible, maybe they'll channel this fan the next time out:
Meanwhile, in Los Angeles.... 👀🔥

(via @MLB) pic.twitter.com/xnsxD5sOj5

— Oakland Raiders (@Raiders) September 4, 2019
We all hold the key to unlocking our own destiny, after all. What will you do with yours?
Adrian Garro joined MLB.com in 2016. Throughout his travels, both Bartolo Colon and Vin Scully have placed their hands on his shoulders. Not at the same time, though. That'd be amazing.
Teams in this article:
Players in this article:
Topics in this article: