In hindsight, maybe challenging Vladimir Guerrero Jr. to a mascot Home Run Derby was a mistake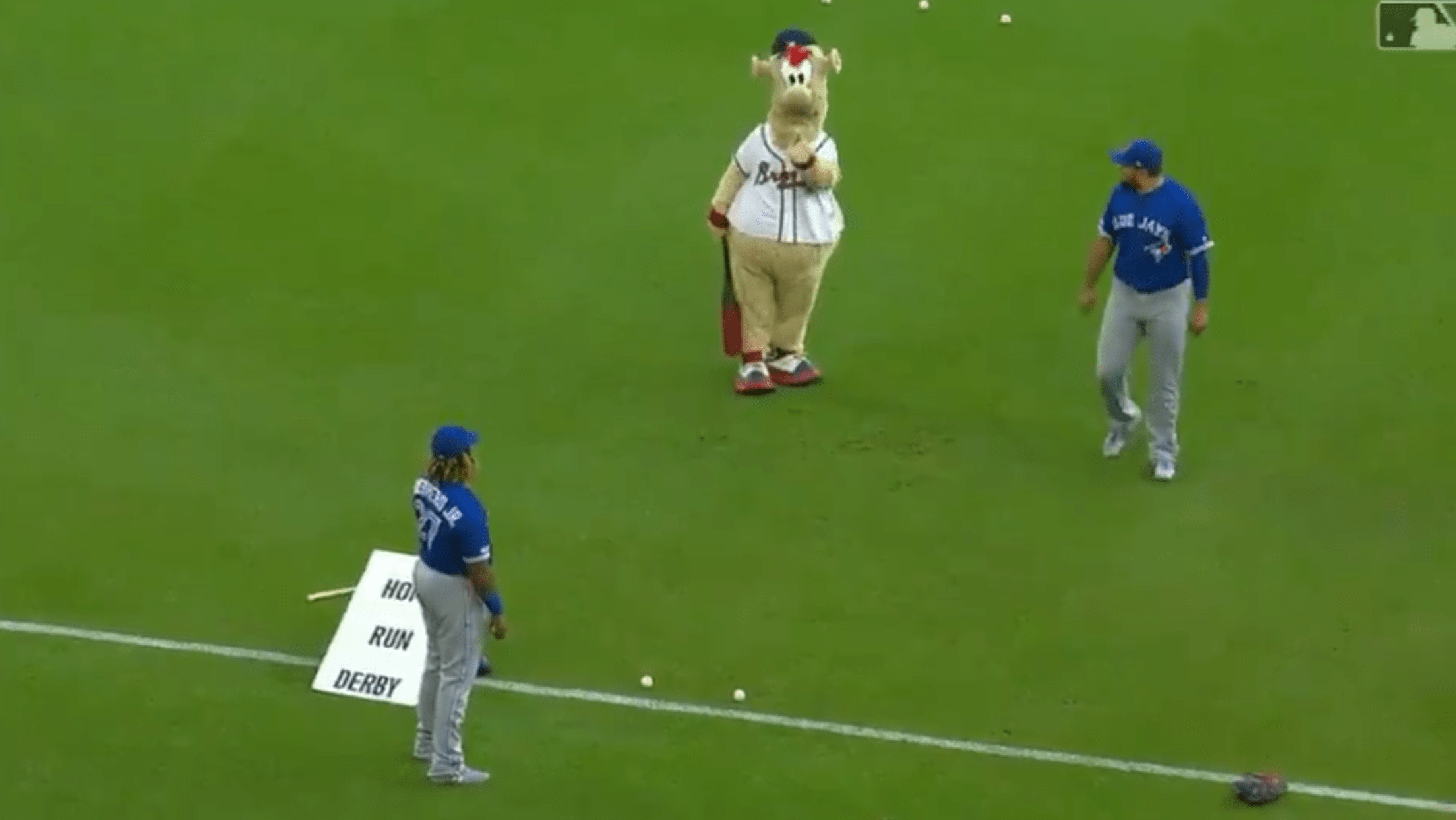 To be the best, you have to beat the best. That's what they say, and they're right.
That phrase has never been more applicable than Monday night in Atlanta, when the Braves mascot, Blooper, learned a valuable life lesson when he challenged Blue Jays phenom Vladimir Guerrero Jr. to a Home Run Derby prior to the evening's Blue Jays-Braves game.
Vlad Jr. is coming off an otherworldly showing at the Home Run Derby in early July, when he put together one of the most jaw-dropping showings any of us have ever seen. He was a video game in human form:
With the Blue Jays and their intimidating young talent coming to SunTrust Park for an Interleague series this week, it was inevitable that Blooper would get up to pregame shenanigans to some degree. And he's proven himself no stranger to taking big risks, having attempted to rope superstars like Bryce Harper and Manny Machado into schemes to defraud them of hundreds of millions of dollars. So he had to think of something big when Toronto came to town.
With Blooper's proven willingness to put himself out there to really take a chance, then, challenging Vlad Jr. to a home run-hitting contest was a definite risk he was willing to take. It was also one Blooper lost, handily, as Guerrero mashed a homer with a miniature souvenir bat and, in a showcase of his full talent set, didn't really let Blooper hit his stride when it was his turn to bat.
In the end, Vlad emerged victorious, because of course he did.
You come at the king, you'd best not miss. Blooper definitely missed in this challenge to one of baseball's brightest young sluggers, but you know what? He tried. It's more of an effort than I would have mustered, considering I'd be quivering in my boots if I had to try to take down Vlad Jr. in a home run battle. He's a baseball superhero, whereas I'm ... not.
As far as Blooper is concerned, an effort was definitely made. At least there's that.
Teams in this article:
Players in this article:
Topics in this article: